These Craft Kits For Kids are filled with activities to cure kids' boredom. Get a kit they come with everything you need to do the project. This makes it easy to pull out to do with the kids. And gives them arts and crafts to make at home.
We make our own crafts for kids. Yet, still love to get kits with everything. Summer is right around the corner. I love stocking up on activities for when the grandkids come to visit. Use them for slow mornings. After big days filled with outings. I let them do kits when I'm cooking (and still nearby to help). Plus, they are great for older kids who don't nap! They are great kids' activities for during down-times…
The kits for crafts can also be used for rainy day activities. Or snow day activities that are indoors.
Affiliate links may be included in the post. By clicking the links for qualifying purchases we earn a small commission. This is at no additional cost to you.
Craft Kits For Kids
Have things to do for the kids. Activities for kids-things to do, on hot days, rainy days, or when kids come to visit! This list of craft kits for kids on Amazon is a must-have. Today I'm sharing some of the best craft kits for kids! These are perfect for summer days, as boredom busters and even use as a list of gifts for kids.
If you don't shop at Amazon. You can also find kid's craft kits at Target.
Boredom Busters For Kids
I have searched for the best craft kits on Amazon. Some I have purchased myself and they are perfect for keeping kids busy! They also make great gifts. And I love getting them for when the grandkids visit. Or to send as gifts to the kids. I hope this helps you entertain your kids this summer or any time of the year.
Tips For Selecting a Craft Kit For Kids:
All kids develop skill levels at different times. Some early, some late. And their skill level depends on if they are exposed to crafts and activities… The ages recommended are listed by the kit manufacturer. With that said; read the skill level for the crafts in the descriptions. This will help you pick the best one for the child you are getting it for.
Activity Kits For Kids
Craft Kits For Kids Amazon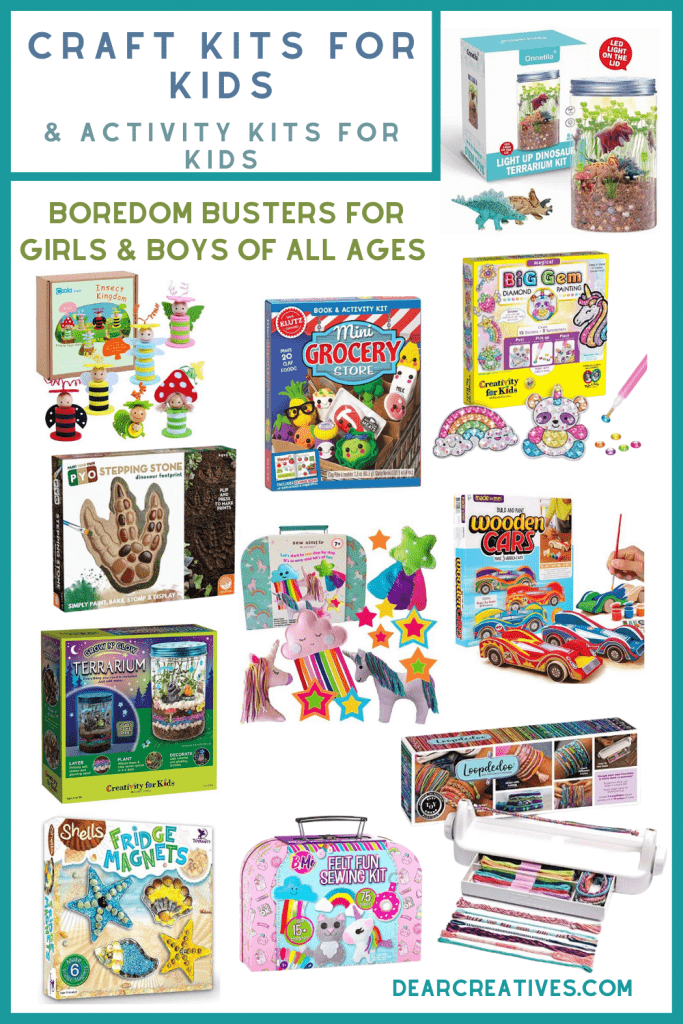 Find butterfly crafts, unicorn crafts, summer crafts for kids, garden craft kits, beach crafts, felt crafts, dinosaur crafts, and more! Getting a kit like this makes crafting fun and easy!
What types of things do you like to do with the kids? Or grandkids?
New here? Be sure to Subscribe.
Pin it for Later
Related Posts To Help You Keep Your Kids Busy!
51 Cardboard Tube Crafts For Kids (craft book review)
51 Things to Make With Egg Cartons ( craft book review)
The Best Arts And Craft Supplies For Kids (broken down by age)
Kids Crafts and Kids Activities
Make A Boredom Buster Kids Activity Jar DIY. It's filled with ideas and things for the kids to do.
How to Make a Butterfly Feeder & House is a fun activity for the kids. Let kids get into the backyards and garden, it shows them how to help butterflies thrive.
Kids Butterfly Craft – make faux butterflies with foam beads and household items. Fun and easy!
Flower Pot Crafts for kids – decorate mini flower pots, plant seeds…
Fun With Stitchables Kids and Stitching With Jane Foster are two books perfect for teaching kids to hand sew and include lacing cards meant for kids ages K-5th grade. (review) Crafts Books and Activities
Flower Pot Crafts These are fun and easy ways to decorate flower pots.
Grab the free printable template and step-by-step instructions for an easy kids' craft. Cloud-Rainbow Kids Paper Craft.
This book – Sewing For Kids – 30 Fun Projects To Hand And Machine Sew – (includes a pizza pencil case tutorial).
Younger kids can use a plastic needle and these learning resources; lacing cards and (lacing cards) – this one is perfect for toddlers.
See our list – Summer Crafts And Science Kits For Kids