Do you love getting outdoors in spring and summer? We have a Green Crafts Project for you today. Today I wanted to share a few things we started for Earth Day and our spring/summer green garden. Sammie and I created the butterfly feeder along with a home crafted butterfly house I talked about making.
We weeded our small herb garden, along with planting and pruning a few things. We planted a new thyme, basil and rosemary plants. I took a few photographs to share with you, then after the photos is a video tutorial with the steps showing what we did. I hope you enjoy it and consider creating your own butterfly feeder and home. But, I do have resources at the end of the post to a few items that are available for butterfly gardens.
Green Crafts
How to make a butterfly feeder DIY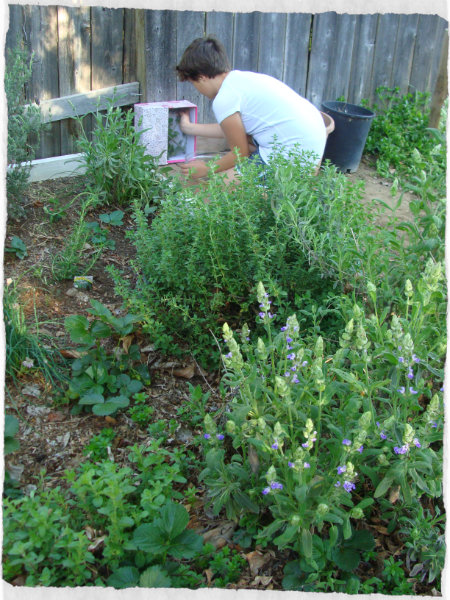 Here is a photograph of Sammie out working on the butterfly house that we made together. Along with our herb garden full of sage, chives, strawberries, oregano, and more. We had just weeded it.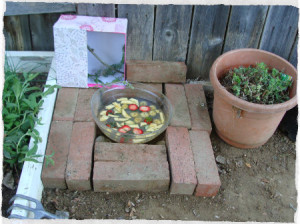 Butterfly feeders are great for attracting butterflies. The butterfly houses help protect the butterflies from bad weather, keeping them safe to live longer.
Next is a video tutorial I created for you on how to create a butterfly house. DIY the butterfly house, and nectar for the green crafts garden project.
Note: I didn't purchase the software I used to make the video, so this free version will take you off-site, and then you'll have to come back. I was testing it out to see how I like it before I commit to purchasing. More about that later! See note click the link under video before going! I think you will enjoy the tutorial, by the way, it's not long!
If you share: do not alter and link back to site 😉 Thank you!
Step by step instructions for how to create a butterfly house
The slide-show, it includes instructions for how to make the nectar for attracting the butterflies. Butterflies and bees help pollinate flowers and trees. We fenced our area off to ensure other small animals or children didn't get nearby. Using a low bowl that is smaller is a good idea. Also, you can see a few products you can purchase below if you rather buy than DIY.
This video collage The video collage may take a minute to load.
Check out the Butterfly Feeder Kit!
Do let me know how you like the tutorial so I will know if you enjoy viewing them this way & if you do I will make some again with the software & consider purchasing it.
Looking for more fun backyard activities for kids? Here's 9 more!
What did you do for Earth Day or this past weekend?
Deluxe Heirloom Gardening Kit

Deluxe Heirloom Gardening Kit. Vegetable Seeds. Jiffy Peat Starter Pots. Hummingbird/Butterfly Flower Mix. Kitchen Sheers. Gloves. Start-up Booklet. Garden for Spring, Summer, Fall, Winter.

Butterfly Feeder Kit Garden Toy Includes Nectar Reservoirs, Butterfly Landing Pads, and Red Nectar Wicks
Fun products for creating your own butterfly garden