Organizing Bins are great for organizing the home. Get ready to tackle the mess and make a place for the things you use. Even after cleaning, certain areas of the home get disorganized easily (especially if you craft or have kids or grandkids…). Or do you have too many things you don't use? Let's tackle those spots.
How To Organize Using Storage Bins? Declutter by tossing, selling, or donating unwanted items. Next, decide on a space to hold items (like a bookshelf, closet shelf, cabinet, or storage unit). Add the items to the organizing bins and containers…
Affiliate links may be included in the post. By clicking the links for qualifying purchases we earn a small commission. This is at no additional cost to you.
Home Organizing Ideas
Are you ready to refresh your space? First, be sure to make a plan. Then work on one small space at a time. See what storage solutions you have to use and need to purchase. And don't forget to label your bins!
Organizing Storage Ideas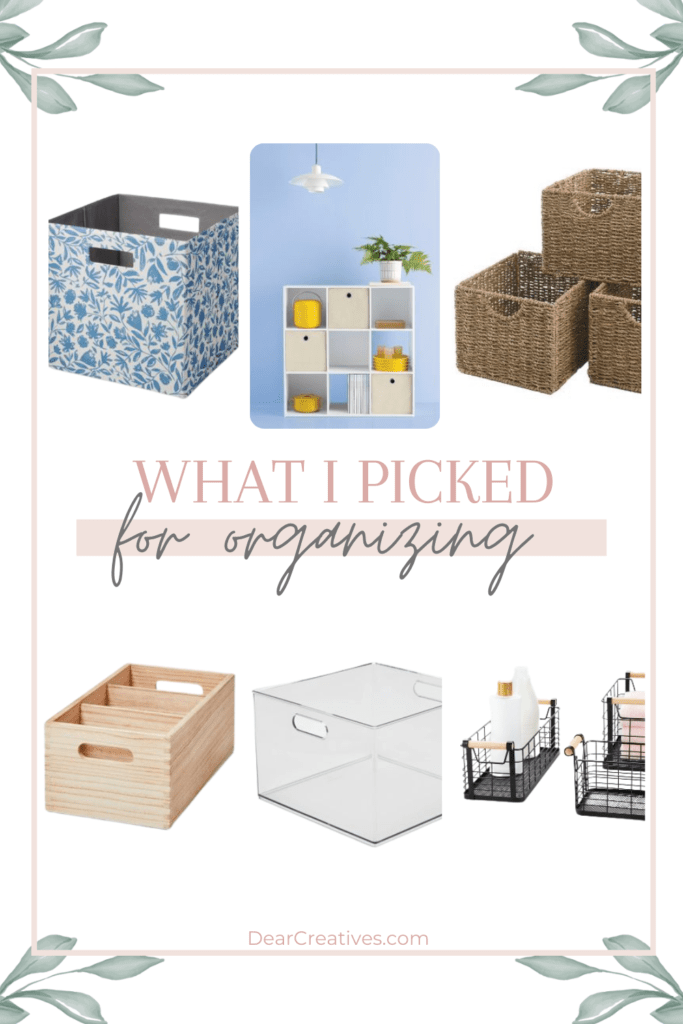 Organization Bins
Fabric Storage Bins

– These fabric bins are collapsible and great for the home, apartment, or dorm room. I use my fabric bin choice on a cart like this to store my Cricut, printer, craft, and photography supplies… Sammie uses her for storing clothes. Add the bins to 9 cube organizer shelves like this. The cube shelving is easy to dismantle and build, making them perfect for the dorm room.
Cube Organizers Shelving Units come in 6, 8, 9, and 12.
Wicker Seagrass Bins & Baskets in sets of 3 or singles. These are great for bookcases, guest rooms, and linen closets… They are great storage solutions for open shelving too.

Wood Storage Bins

with dividers

are perfect for little things that need separating. See all the styles of wood bins.
This wooden caddy is perfect for storing kids' art supplies or little things. It's easy to carry and set on the table for project time.

Clear Plastic Bins

are useful for storing things you want to see. Great for crafts, kitchen pantry, kid's rooms, closets…
Wire Storage Baskets – I like using them in the kitchen, bathroom, and laundry room. There are storage solutions and styles for so many uses to pick from.
Need a spinning turntable with storage? This wire turntable. It's great for laundry, kitchen, and craft supplies…
Do you have a baby, toddler, or kids? This 4-pack of fabric storage bins not only is adorable but, perfect for a little one's bedroom or playroom!
Plastic Bins like this are perfect for under sinks and storing smaller things grouped together. There are a variety of sizes and shapes.
What I'm Organizing
I can't wait to share photos of a few new areas of the home I am organizing. Here is what I have tackled so far!
Cleaned out and organized the game cabinet (which also holds art and craft supplies). I used a bin with a lid like this for the craft supplies for the grandkids.
My pantry got a refresh! I'm still adding containers to it. It's such a trouble spot.
The broom closet got new

hooks

and a bin for pet food. This will hold 20lb of cat/dog food. Or try these two-piece pet food storage bins with wheels on the bottom. This one holds more pet food!
I got a new Nespresso coffee maker! I organized the coffee pods in a glass jar with a lid (this isn't the exact one but, I love this size). And have the recycle bag with used pods in the broom closet.
Cricut storage solution (which has space for my new printer) I added them to this 3-Tiered Wired Shelf Rolling Cart.
Refresh Your Space!
Save up to 25% on kitchen & dining items. Plus, save up to 30% on floor care. Shop Target.
Need other storage solutions? You might like to Shop the new Home Edit Collection at Walmart. Tackle the messy spots in the home and get items contained, and stored properly.
New here? Be sure to Subscribe.
Pin it for Later
What is the trouble spot in your home that needs organizing? When do you start spring cleaning? Grab our spring cleaning checklist plus tips!
How To Store Christmas Decorations. Holiday Storage
If you don't have enough space make this craft storage idea for the wall. Craft Room Storage DIY