Are you ready to get spring cleaning yet? Today we are sharing cleaning tips that you can do yourself. Both for daily cleaning and annual spring cleaning of your home. We are also sharing a free printable spring cleaning checklist for you.
The sun is shining now, and we manage to see all the things we need to get cleaned, fixed up, and improved in our homes. Spring cleaning doesn't have to be daunting at all. With the right cleaning supplies, a few tips, tools, and an easy-to-follow checklist you'll be able to knock out your cleaning to do's in no time flat!
This post was originally sponsored by BabbleBoxx on behalf of Single Edition Media.
It's not hard to get into spring cleaning mode, once you get started. We received new products to use in this post and share our cleaning tips with you. I used a few cleaning products that make spring cleaning easier to tackle all kinds of spring cleaning jobs.
I started out in the kitchen. It's our most used room in the house and can easily get disorganized and dirty from all the use. Things I like to tackle first are purging our pantry, checking dates on canned and boxed items. We live in an earthquake area so we keep extras that need to be rotated or tossed depending on the dates. We also check dates on medicines and spices. We keep these items in the kitchen too.
Tips for cleaning your pantry or cupboard
Take everything out of the pantry or cupboard area.
Set them to the side on counter space or in an empty clean cardboard box
Check the product expiration dates.
Circle dates with a marker expiring soon. (put those products in the front to be used first, use *FIFO rotation)
Discard expired products safely, as needed.
For medicines we check dates and mark expiration dates on the front of bottles, to control discard dates better. (If you have small children make sure to lock medicines up!)
Clean the shelving.
Then line the shelves with Duck Brand Easy Liner, shelf liner.
Organize the pantry items again back into your pantry or cupboard.
How to Line Your Pantry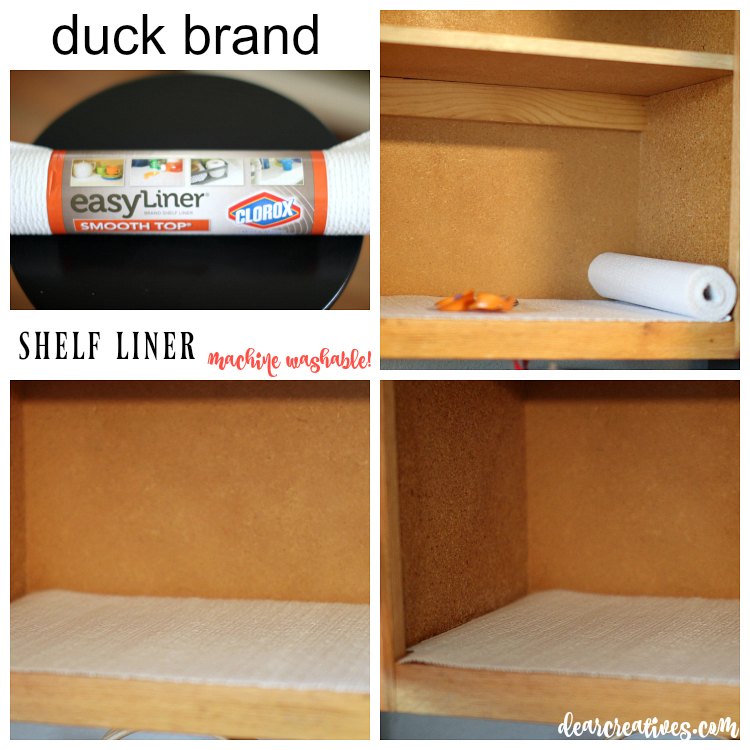 Duck Brand Easy Liners
antimicrobial liners. The grip bottom keeps the liner in place. After cleaning out your space measure, cut your liner
and lay it down covering your shelf. Replace your kitchen and baking pans or other items in an organized way. (Grab pantry organization tips right here with our home organization tips.)
Wipes clean easily for quick clean-up. Easy to cut, install, replace and reposition without hassle. It's even machine washable. *We don't have small kids; if you do lock up your medicines
. I really like the Duck Brand Easy Liner
and have also used it for lining where we store our coffee cups on top of the microwave.
How to clean your stovetop
Next, I deep clean the stovetop. First by taking the grates off the stove, removing the gas plate covers, and then cleaning it with Simple Green
. What's great about using this product for the stovetop is; if you have a hard-to-remove build-up, you can use full concentrate 1:1 dilution or if your stove isn't that dirty you can dilute it 1:30. See bottle for full instructions. *Note for inside my oven area I need to clean it a specific way per manufacturer directions. Always, follow your manufacturer's directions to ensure you keep your stove/oven in tip-top shape.
I used my Scrub Daddy
for scrubbing down the stovetop area and grates. It never scratches (good for non-stick pots too)! When it gets grimy I just rinse it clean, squeeze excess water out and use it again. Scrub Daddy's FlexTexture® stays hard in cold water for tough scrubbing or softens up in warm water. You can sanitize it in the microwave or top shelf of your dishwasher. I was super excited to try this product since I am a huge fan of Shark Tank and had seen Scrub Daddy on the show when they got their deal! I have found out I love this product.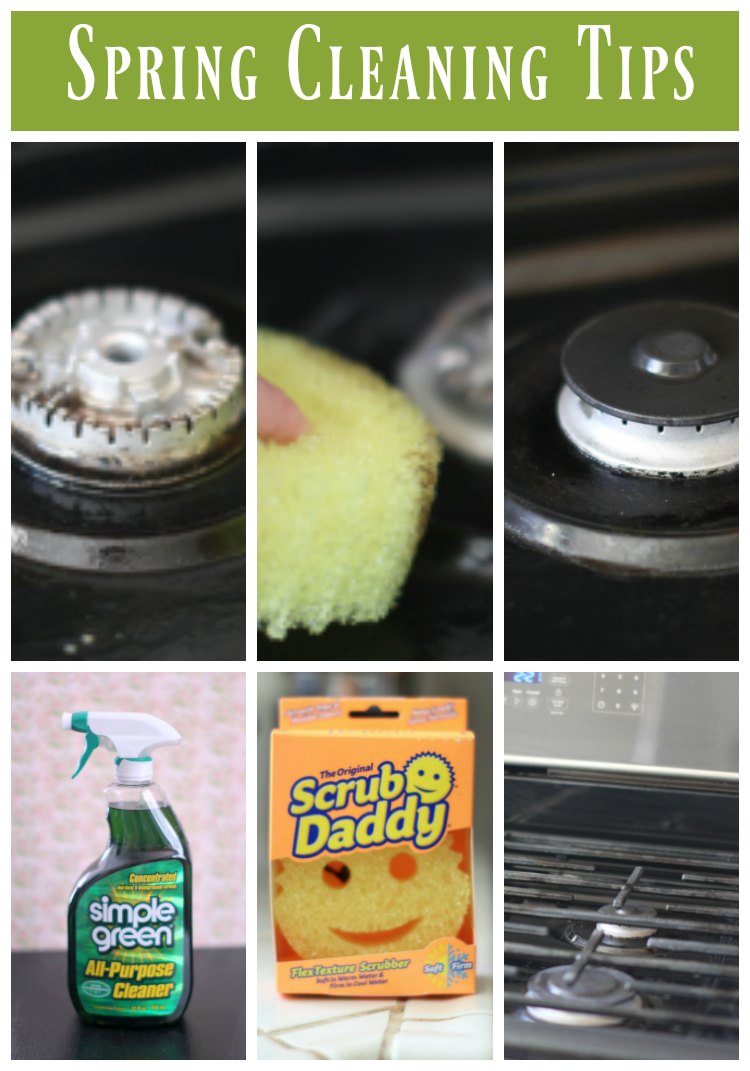 I love that Simple Green is environmentally friendly. I have always been a fan of this non-toxic and biodegradable all-purpose cleaner. Bonus Simple Green is made in the USA. We also use simple green for cleaning our outdoor grill, stove range hood, and top of the refrigerator.
Since this is a multi-purpose cleaner it's good for cleaning so many things, and it can go way beyond the kitchen. It works on countertops, tables, a pre-treat for laundry and even on carpet and walls. NOTE: (Not for use with suede, leather, unfinished wood, opals, or pearls.)
For tackling dishes I love the Scrub Mommy
it has Soft ResoFoam® which is 6x more absorbent, which means it has suds-generating properties and lathers up easily with less soap. Like the Scrub Daddy cold water it's tougher, warm water it's softer and uses the same methods for cleaning and sanitizing as mentioned above.
Cleaning products that will help you with your daily or spring cleaning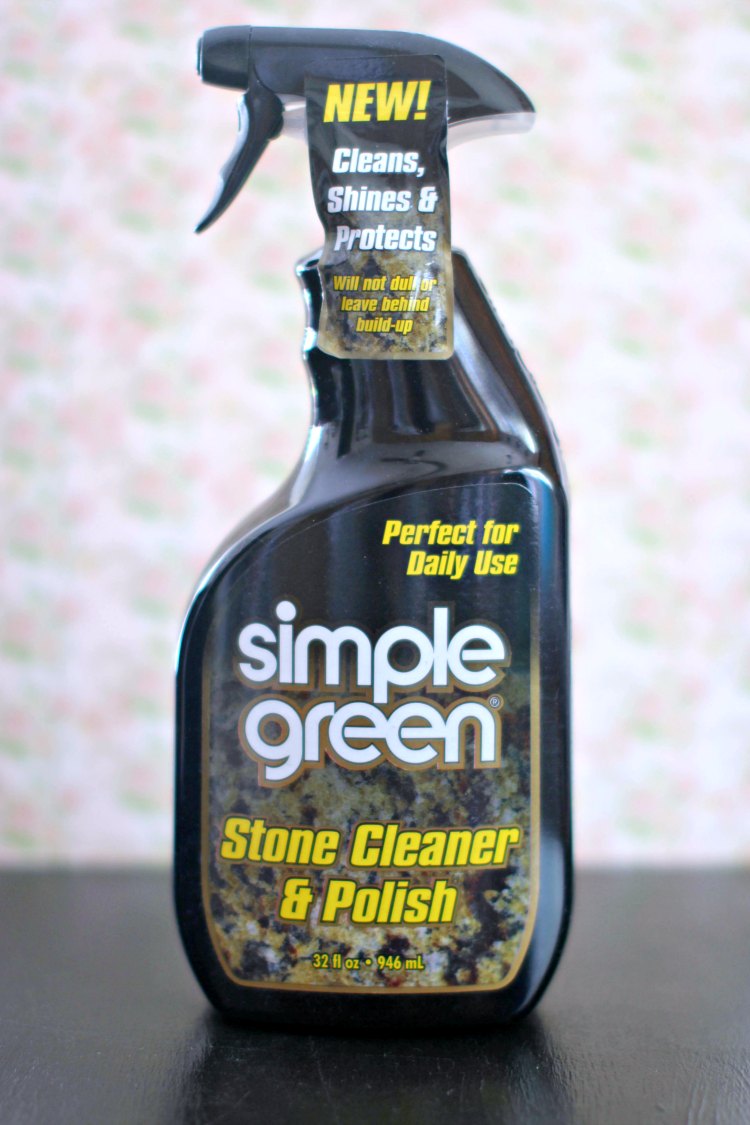 If you have stone, granite, marble, travertine, limestone, porcelain, ceramic, quartz, and engineered stone surfaces you'll love Simple Green Stone Cleaner & Polish
. This cleaner and polish are perfect for daily use. Simply spray it on and use a non-abrasive absorbent cloth.
We tried TriNova Wood Cleaner and Conditioner. I had never heard of them. Have you? It's a spray-on, wipe-off treatment. Not only does it clean but, it conditions and nourishes wood surfaces, which is perfect for restoring shine. It comes with a spray nozzle you can insert into the bottle and then start using. This cleaning and conditioning product is great for wood mantles, wood tables, fine-wood trims, and other wood surfaces. I used this to even clean my wood sewing machine desk.
I had used TriNova's leather cleaning and conditioner
to restore my leather sofa and ottoman. See how to clean and restore your leather.
Spring Cleaning Checklist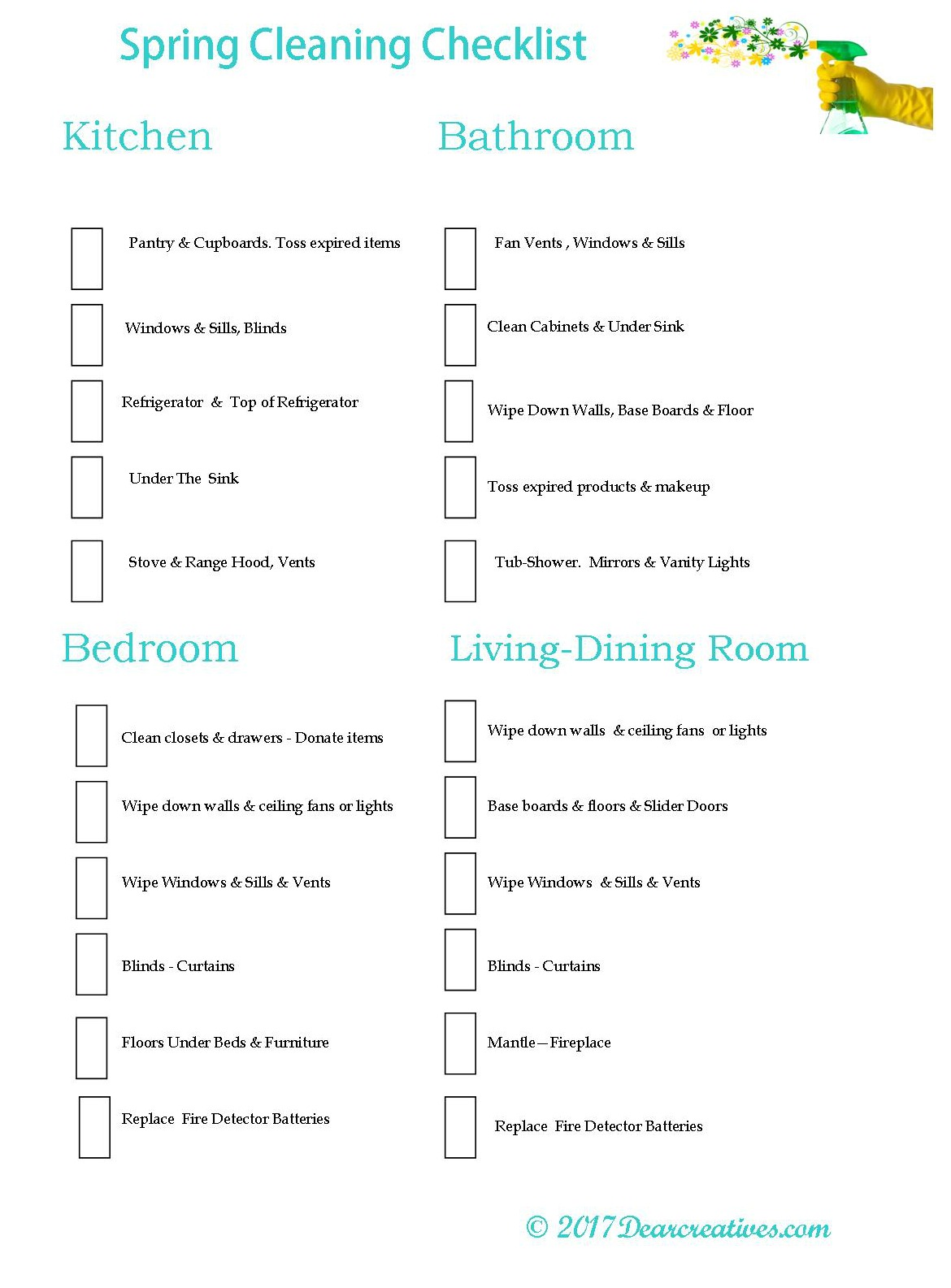 Be sure to pin the image below and share it with others, and click below for your copy!
This was made exclusively for you. *Personal use only.
Grab our other cleaning checklists too!
What areas of your home are you going to spring clean first?
New here? Be sure to subscribe
Pin it for later
Related Spring Cleaning Posts