DIY Baby Shower Banners – Are you looking for baby shower decorations? Today I'm sharing baby shower decoration ideas plus, a Woodland Baby Shower Banner I made. It was super easy to make. Plus a big hit for the mom-to-be and guests.
I grabbed a printable template for the baby shower theme. I thought I would show you how easy this DIY Woodland Baby Shower banner was to print and assemble! Plus, share a few tips and where we love to shop for baby shower garlands and decorations.
Affiliate links may be included in the post. By clicking the links for qualifying purchases we earn a small commission. This is at no additional cost to you.
DIY Baby Shower Banners
Over the years we have hosted a lot of baby showers. Decorating for baby showers can be so fun! From picking the themes and colors to getting all the baby shower decoration ideas. Host them indoors (for small parties) and outdoors as the weather warms up for bigger showers.
Who is having a baby that you know? We are sharing baby shower ideas and where to get decorations and baby shower banners for girls and boys.
In a hurry scroll to the bottom to find more ideas.
DIY Woodland Baby Shower Printables
When the mom-to-be doesn't know the gender of the baby pick neutral-themed decor. Colors like greens, earthy tones, yellows, golden hues, a combination of florals in pink and blue… For our baby shower, we picked a woodland theme. DIY baby shower banners are easy to find and assemble. Below are tips for assembling printable baby shower banners.
DIY Baby Shower Printables
The steps for assembling a printable baby shower banner are simple!
Shop for printable baby banners, my favorites are here (on Etsy).
There are plenty of ready to hang banners too.
Purchase the printable baby shower banner.
Download the printable file. Save the file onto your computer (give it a name you will remember) in a file on the computer.
Open the File.
Print it out using a high quality print (on the printer – under preferences – select high quality or best quality).
And use

high quality cardstock paper

.
Cut out the banner (after printing it) with craft scissors or other sharp scissors.
Use a hole punch (or cropadial) to punch the proper hole size for the twine or ribbon.
String the twine or ribbon through the holes.
Use cute

mini glittered clothespins

(avilable in pink, blue and other colors) to hold the letters of the banner in place.
Hang on a mantle. Or a wall or arch. Note: A

product like this

(mounting puddy) or this safe mounting tape. The products are removeable and will keep your banner in place. It won't hurt the wall or mantle you hang it onto.
If you have any questions feel free to ask me on my Facebook page or Twitter @DearCreatives!
Baby Shower Decorations
My favorite place to purchase DIY Baby Decorations and find baby shower decoration ideas are on Etsy.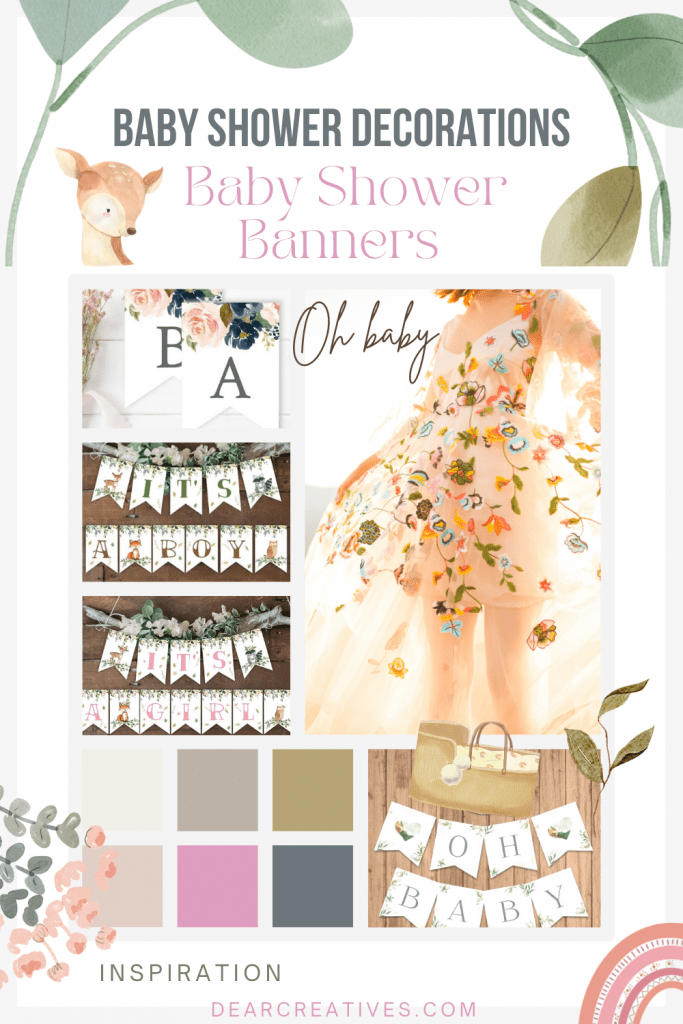 It's A Boy / It's A Girl / Oh Baby
Do you want an easy way to make a baby shower banner? Or where to find out where to purchase pretty banners for your showers? I purchased my baby shower banner printable and baby shower favors at Etsy. Pop over to find printable banners and themes to suit your baby shower or party needs.
Here is a list of Baby Shower Banner Printables and woodland baby shower printables (our favorites!) I hope this helps you narrow down and find the perfect printable for your party! Or theme and decorations for your baby shower.
Don't have time to make one? Get premade Baby Shower Banners.
Remeber to get photo props. Like this Woodland Baby Shower Photo Prop!
We purchased the mom-to-be belly corsage. You can grab one here – mommy-to-be corsage! She'll look so pretty in her shower photos! Having showers are so memorable.
PS I have also used my Cricut to make banners for weddings and baby showers. It's so easy to grab files and cut them out with the die-cutting machine. Use pretty card stock, ribbons.
Happy baby shower planning!
Do you make your own decorations for parties and showers?
New here? Be sure to Subscribe.
Pin it for Later
Related Content
Homemade gifts for baby