Do you love lemonade? But, maybe you'd like to elevate your lemonade recipe for a party? We are sharing a Pineapple Lemonade recipe. There are several times of year we need lemonade drink recipes. We love using drink recipes like this for parties and brunch. Do you host baby showers, wedding showers, birthdays? Here's where you'll find all our drinks and brunch recipes.
Summers where we live get really hot which means besides water there are times we just want different types of lemonade. Mixing things up in a pretty pitcher to serve always makes those extra hot days seem better. Finding the coolest place to sit, let the fan circulate or feel the breeze blowing. Pop your straws into the glasses and serve up this easy drink recipe with lemons, pineapple and agave syrup.
I can guarantee your day or party will just be a little bit sweeter! If this drink recipe isn't for you try our peach ice tea recipe or other drink ideas.
Pineapple Lemonade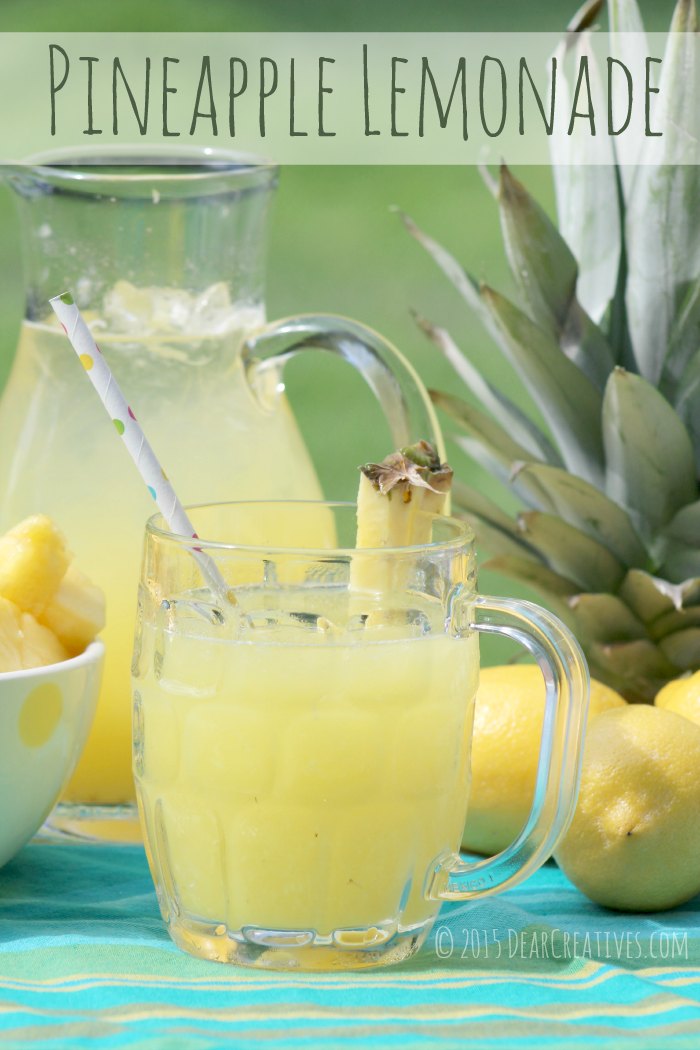 Pineapple Lemonade Recipe
Pineapple Lemonade
Refreshing summer or party drink. Non alcoholic. Easy to make and serve for parties, showers, brunch or just for sitting outdoors in the shade.
Ingredients
4

C

of pureed pineapple

1

C

agave

1

C

water

3

lemons

juiced

3

C

cold water

6

C

ice cubes
Instructions
Directions
-Put pineapple in a bowl add the 1/2 C agave. Stir ingredients and allow to sit for 30 minutes in the refrigerator.

-Puree pineapple with agave until all of the chunks are gone.

-Pour the other 1/2 C of agave into a large pitcher. Add the cold water and fresh lemon juice.

-Stir well to blend.

-Pour 1/3rd of the pureed pineapple into the pitcher. Stir well. Add ice to the pitcher.

-Stir the Pineapple Lemonade again before pouring into individual glasses with ice in each.

Keep in refrigerator until ready to serve.
Recipe Notes
The pureed pineapple will last for about 2 days if kept in a refrigerator. You can also fill an ice cube tray with the puree pineapple to add to your next pitcher of Pineapple Lemonade.
Along with today's recipe I'm adding sharing my Pinterest board full of options to pick from! I've been working on rounding up some of the best drink recipes. These are a combination of non alcohol recipes and alcohol recipes.
I don't indulge in cocktails very often but, know that many do enjoy serving them at parties and events. If your the kind of person who will be setting up an area for drinks this will be a great resource for you.
Narrow down what you'll be serving and have all your supplies at hand. You can make up your mixes and non alcohol drinks in advance. Make sure you set up your pouring station with glasses, straws, napkins and have a towel or paper towels handy for spills. If serving coffee be sure to have creamer, sugars, spoons and cups.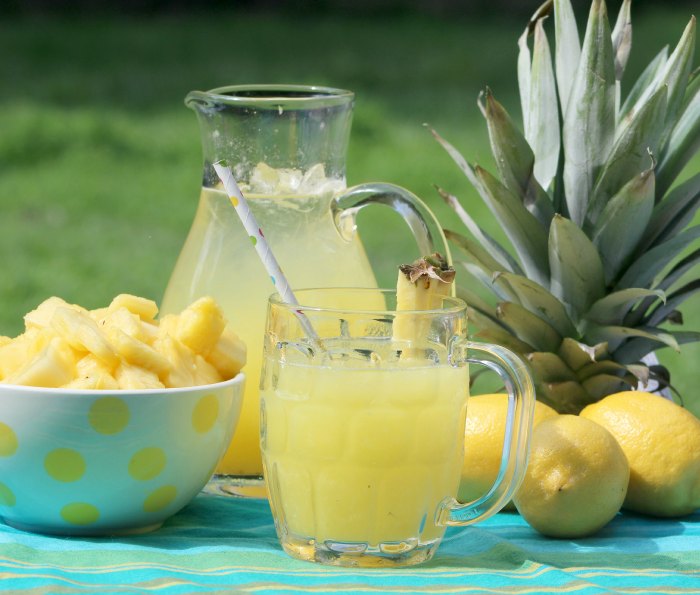 Before you know it you'll be serving up your refreshing drink recipes and beverages and having a great time. Below is the Pinterest board with over 345+ drink recipes including smoothies sure to be a hit for anytime or occasion.
Looking for more lemonade drinks?
Do you have a favorite drink recipe?