Strawberry Lemon Dessert (No-Bake) – This is delicious, easy to make, and only uses 6 ingredients! 10-minute dessert can be added to mason jars, dessert cups, or bowls.
If you love strawberries and lemon you have to try this! It is like a strawberry lemon trifle and a no-bake strawberry lemon cheesecake all rolled into one.
Looking for something else to make with strawberries? See all our Strawberry Recipes. Or scroll to the bottom of the post to pick a few more dessert recipes to try.
Strawberry Lemon Dessert (No-Bake)
Make this strawberry lemon dessert if you are looking for a no-bake dessert or a dessert for two. But, note the recipe can be easily adapted to serve more people.
This strawberry lemon trifle is one recipe you will be making any time you are craving a quick, easy dessert because it only takes 10 minutes to assemble. Hello, no-bake yumminess!
If you don't like lemons you can try this Easy Strawberry Trifle Recipe.
NOTE – The serving size and number of total servings depend on the size of the container and the amount you use. In a hurry scroll to the bottom to print the recipe!
How To Make a No-Bake Strawberry Lemon Dessert
INGREDIENTS
8-ounce package of light cream cheese softened
¼ cup of powdered sugar
1 tsp vanilla bean paste (or vanilla extract)
1 pack of graham crackers
1-pint strawberries
Lemon Pie Filling &Topping
Optionally you can use vanilla extract in place of vanilla bean paste.
Shop for items in the ingredient list
Make and serve the dessert in a jar by getting mason jars with handles.
Dessert In A Jar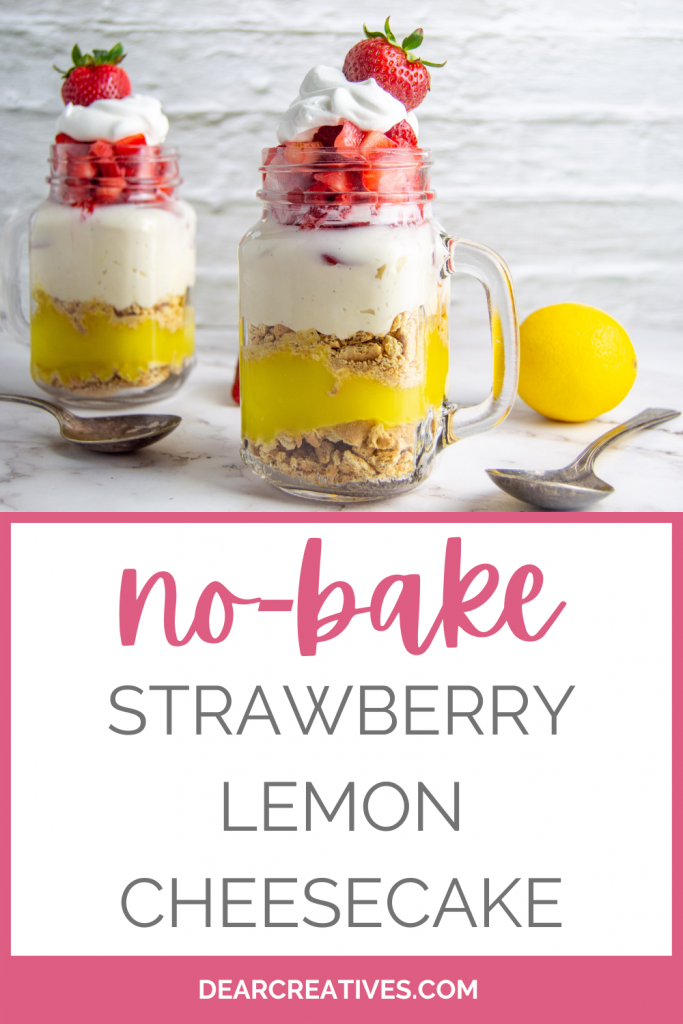 Strawberry Lemon Trifle
How to make a no-bake dessert!
DIRECTIONS
Begin by taking out the cream cheese from the fridge. Then, prep the strawberries, crush the graham crackers, and get the other ingredients ready for assembly.
Beat light cream cheese, vanilla, and powdered sugar for about one minute (with a hand mixer in a mixing bowl).
Crush graham crackers into small pieces (tips below for how to crush graham crackers).
Wash, dry, hull, and cut the strawberries.
Open a can of lemon pie filling.
Assembling the no-bake dessert
Sprinkle in a layer of crushed graham crackers in the bottom of the jars.
Add a few tablespoons of lemon pie filling.
Sprinkle more graham crackers.
Spoon in the cream cheese mixture and use the back of the spoon to spread.
Add strawberries.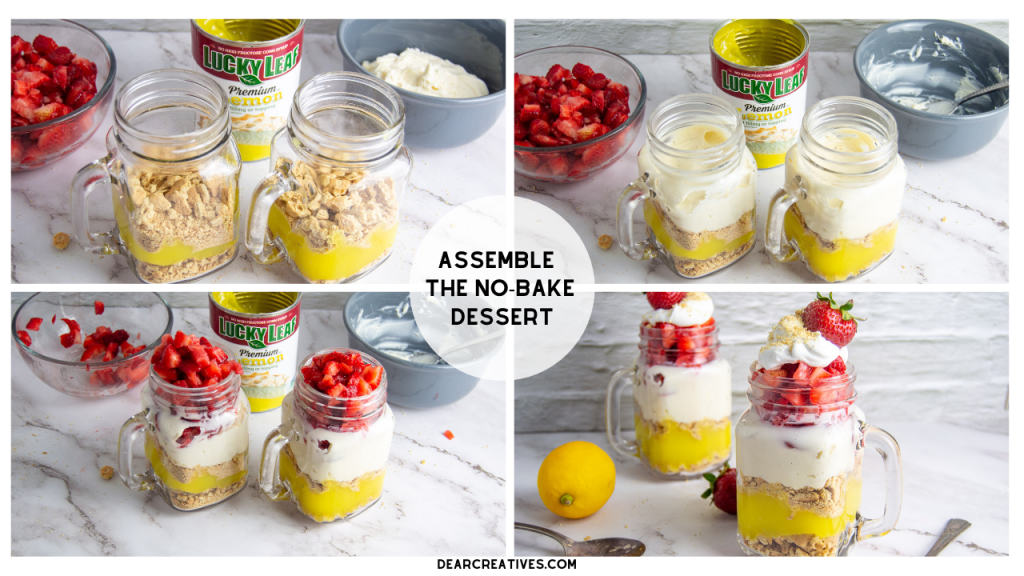 Top with whipped topping (like Cool Whip) or Whipped Cream (whipped cream, some crushed graham crackers, and a strawberry. (This part can be omitted or changed to your preference)
Do you like making desserts in a jar?
I hope you enjoy making this lemon strawberry dessert! Do lemons and strawberries go together? Yes! I love the combination of lemons and strawberries. Enjoy making this easy dessert and see for yourself.
Recipe Tips!
Ways to crush graham crackers
If you want the graham crackers fine, you can put them into a food processor or Vitamix and pulse them for a few seconds.
You can put graham crackers in a plastic baggie and use a rolling pin to crush them.
Or if you don't have a plastic baggie, you can simply keep the graham crackers in the package, unopened, and gently hit with a

mallet

until crushed. Be careful though, the sides may open, so do it slowly, a little at a time.
New here? Be sure to Subscribe. Grab our bonus printable recipe binder and cooking resources. Plus, never miss a post with our newsletter!
Don't forget to Pin it for Later
Pin it for Later!
Looking for more no-bake desserts? Desserts In a Jar? Or sweet treats to make? Or no-bake cheesecakes?