Every year I can jam and this year isn't any different. Today we are sharing our easy canning recipes for an easy strawberry jam recipe with and without pectin. We have quite a few local pick farms and fresh farmers stand down the street. You can't beat the pricing or the quality. I know you may have heard me say this before but, it's very economical to grab the freshest fruits and veggies of the season and preserve them for later. When prices are at it's highest, at times like this break out your canned goods to serve to your family.
This recipe doesn't use pectin but, I do have other recipes with pectin which I'll list at the bottom of the page. I've also shared a video resource at the end of the post if you are new to canning strawberry jam and need a how-to resource.
Also for those of you new to canning pectin is a thickening agent that helps gel your jellies and jams.
For some recipes, you can avoid using pectin. I really haven't played around with canning recipes before but, I found myself with the most beautiful strawberries from our farm stand and no pectin on hand so I decided to try making strawberry jam the no pectin method.
Strawberry Jam Recipe (No Pectin)
Easy Strawberry Jam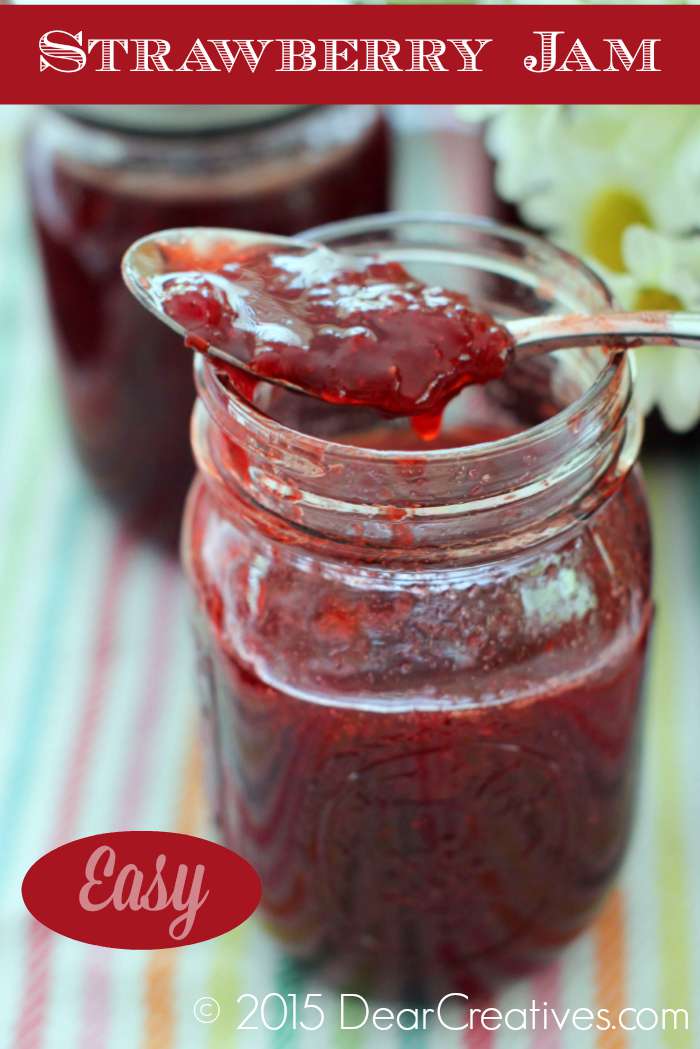 I think it was a pretty successful recipe but, it wasn't quite as thick as traditional jam. The strawberry jam still had a good consistency, I am still happy with how it turned out and how easy the recipe was.
Strawberry Jam Recipe
Pectin or No Pectin
I came across this article on avoiding pectin in canning recipes and what to replace it with. I thought you might be interested in it.
Another article breaking down pectin might be useful to you too.
Strawberry Jam Recipe:
For my No Pectin Strawberry Jam recipe; I adapted Ball Complete Book of Home Preserving (pages 22-29 are no pectin recipes) The book has 400 recipes! The book comes with tips for long boil jams, avoiding scorching pot bottoms and how to get to and test for gel stages.
This recipe is so easy it's for a batch with 8 cups strawberries hulled and crushed. I use a potato masher
in the pot then added the 6 cups of granulated sugar
. I kept reading how people used lemon in their no pectin recipes and added the juice of one lemon
.
You need to bring the strawberry mixture to a boil and temperature of 220 degrees
to gel. (which is how it will thicken)You need to watch the mixture and stir. Then follow proper canning processing for preserving. The video below will show you all the steps!
Honestly, when I have grabbed pectin it's usually from our local grocery store or Walmart. I have two favorites I've been really successful with in the past: Ball Real Fruit Classic Pectin and Sure-Jell Premium Fruit Pectin if you decide to use a Strawberry Jam recipe with pectin.
Step by Step How to Make and Can Strawberry Jam


If you need a refresher on how to can this is a great video that takes you through all the steps of creating homemade strawberry jam and canning it. I just omitted the pectin for my recipe today. But, either way – you can enjoy grabbing the last of the seasons strawberries and save those flavors for later or to give as homemade gifts! And if you find this just as strawberry season is beginning happy canning berries!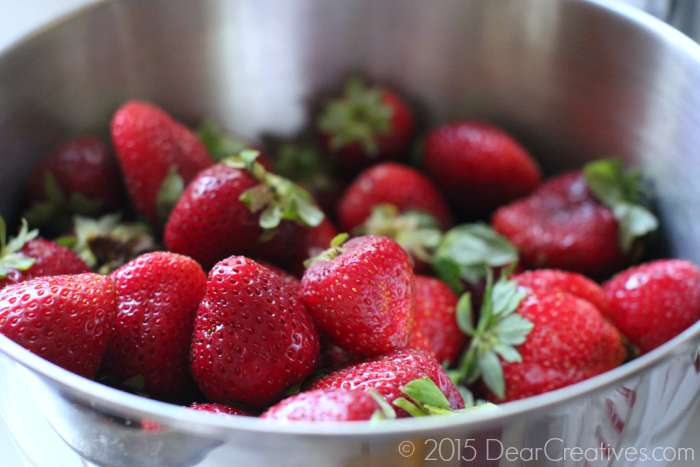 Don't miss out in August and September picks of the season for canning! If you live in the San Luis Obispo, CA Area you can check out this list of You Pick Farms
Our favorite Canning Supplies-

Did you can Strawberry Jam this year? Looking for other recipes with strawberries? See all our favorites, Strawberry Recipes.
New here? Subscribe (And get your free recipe binder, meal planners and other cooking resources!)
Related Content