Do you love easy no bake treats? There are plenty of times when we enjoy making a quick treat for the house full of kids, or teens. One of our favorite treat recipes the family really enjoys is Cheerios treats with peanut butter. They are easy to make, and easy to take which is a bonus if you are having a party or going to a party.
This is an easy recipe that can be made under 30 minutes. The dessert treats are great for back to school parties, birthday parties, Halloween and various get together s. We sometimes make them just for after school. When ever you make these I'm sure your family and friends will enjoy them too.
Cheerios Treats With Peanut Butter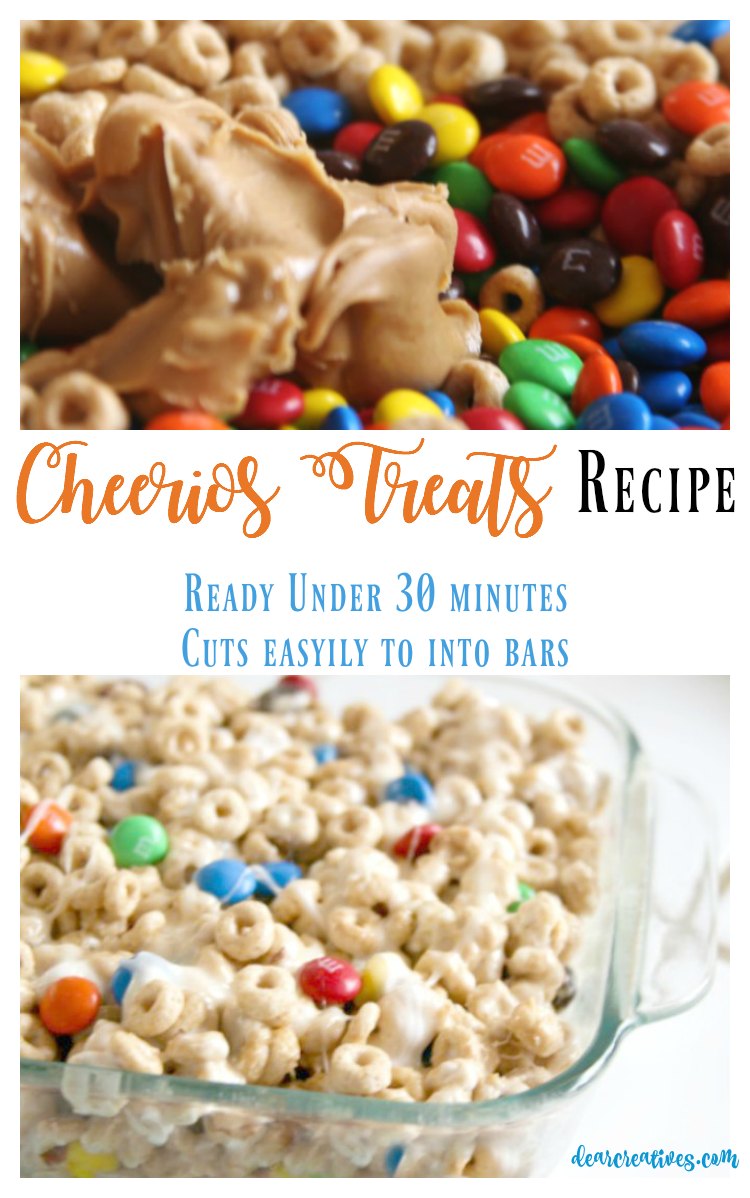 How To Make Cereal Bar Treats
Supplies you'll need are a big mixing bowl, spatula, microwaveable bowl and Pyrex dish (9 x 13). If taking them to a party grab a few disposable aluminum pans and wax paper.
Groceries you'll need are:
Butter
Mini Marshmallows
Box of Honey Nut Cheerios or your favorite Cheerios (equal to 5 cups)
Bag of M & M's
Peanut Butter
Pam (non stick cooking spray)
This Cheerios Treat Recipe takes less than 30 minutes to prepare and is no bake.
Pre-spray bowls and sheet pan with non stick spray such as Pam. Pre measure your Cheerios, M & M's and peanut butter adding them into your larger mixing bowl. Set to the side.
In a smaller microwaveable bowl (pre -sprayed) add marshmallows and butter.
Melt together butter and marshmallows in the microwave, stir.
Pour over and into your premeasured large mixing bowl with Cheerios (you can use any type of Cheerios you'd like), M & M's and creamy peanut butter. (I like using a heat proof spatula.) Like peanuts? Use the M & M's candies with peanuts.
Toss and press into a sprayed 9 x 13 inch Pyrex dish and let cool.
Cut and serve. Or if traveling…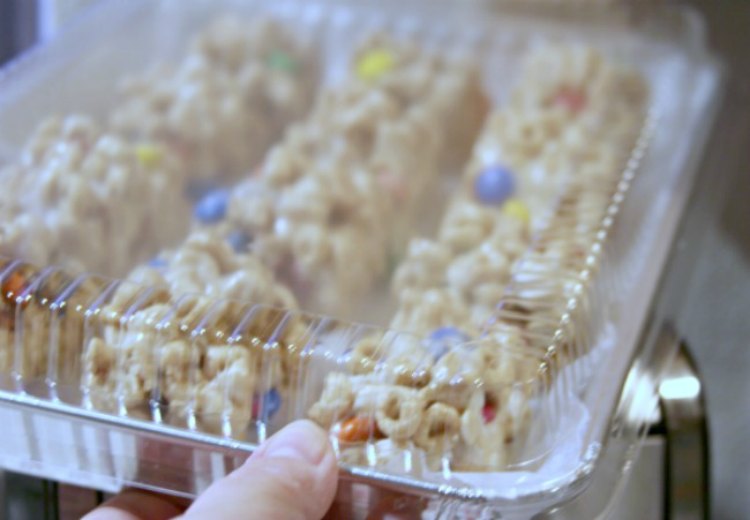 Cut and add them to a pre lined pan with wax paper , add treats to the disposable aluminum sheet cake pan with lids.
Cheerios With Peanut Butter And M & M's
Easy Cheerios Treat Recipe that can be made quickly and a big hit with the kids.
Ingredients
3

tablespoons

butter

1

package

10-1/2 ounces miniature marshmallows

1/2

cup

peanut butter

creamy

5

cups

Honey Nut Cheerios

or your favorite Cheerios

1

cup

milk chocolate M & M's candies or peanut M & M's candies
Instructions
Spray EVERYTHING that will touch the marshmallows mixture with nonstick cooking spray. (even the spatula)

Pre Measure into large mixing bowl: Cheerios cereal, peanut butter and M&M's, set to side.

Place butter and marshmallows in a large microwave-safe bowl.

Microwave, uncovered, on high for 1-2 minutes or until melted.

Pour melted mixture into pre-measured Cheerios cereal, peanut butter and M&M's.

Mix gently but, well.

Spoon into a greased 13 x 9-in. pan; press down gently. Cool slightly before cutting.

If taking them to a party cut the treats and place into aluminum pans with lids that have been lined with wax paper.
Recipe Notes
This recipe was tested in a 1,100-watt microwave.
Originally published as Cheerio Treats in Quick Cooking September/October 2002, p40
Our other treat recipes you might enjoy;
Similar treat recipes via Betty Crocker
New here? Subscribe and get a free printable recipe binder.
What is your favorite family treat recipe?
We have updated this recipe from our 2013 version.