Are you ready for a new fish recipe? We are sharing the Baked Salmon recipe. Eating fish is not a diet it's a way of life and wow this salmon is delicious. Straight from the January cover of bon appétit issue. This easy recipe is for a slow-roasted salmon that I tried from the January issue called The Cooking School Issue. This recipe not only is delicious, but it's also simple to make. How easy? Just let me show you how! You'll be saving this recipe to make any night of the week, meatless Mondays, for special occasions, or even Valentine's Day dinner idea. Do you want to add more fish to your diet to be healthier?
Baked Salmon
I must admit I am often intimidated by fine cooking magazines. Not reading them but, cooking from them. Thinking that there are mostly recipes that are amazing to look at and great to eat if someone else cooks it for you! But, trying to come out of my cooking comfort zone I decided to dive in to find a recipe to tackle.
The original recipe is officially called Slow-Roasted Salmon with Fennel, Citrus, and Chiles which I slightly adapted by omitting the fennel and just calling baked because after all it is simply baked at 275 degrees for 30-40 minutes for medium-rare salmon.
What I love about this dish, is you can use it again with other fish such as cod, halibut, John Dory or turbot fillets. We are huge cod lovers so I know that I'll be trying this recipe with cod another time. Since we hadn't had salmon in a while and fresh salmon was available on sale at our local grocers it was perfect timing for cooking salmon for dinner.
There are only a few steps to this delicious, flaky, and moist tasting salmon recipe! Bonus it's a one-baking dish meal!
STEP 1. Wash, then slice your lemon, orange, and jalapeno (or chilies) then lay them on the bottom of a baking dish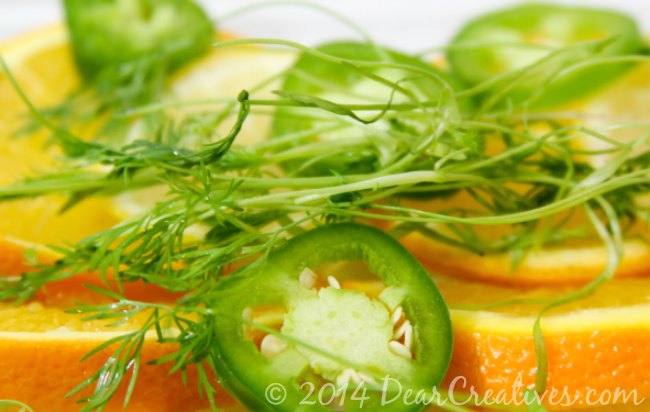 STEP 2. Next, wash and add to the dish fresh sprigs of dill.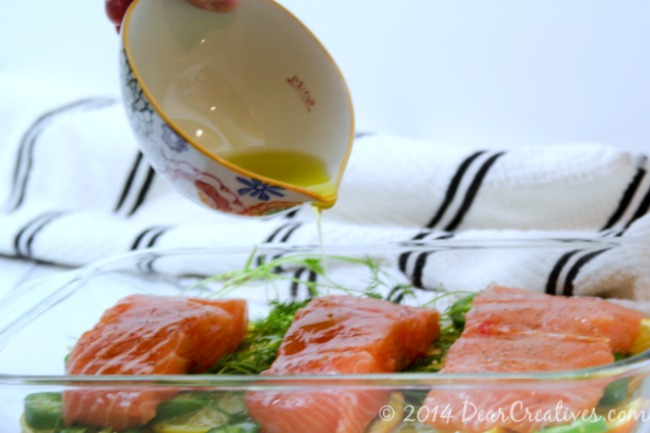 STEP 3. Lay the fish on top, sprinkle with salt and pepper, then pour olive oil over the fish. Which drops to the bottom of the pan, the layer of citrus keeps the oil from getting soaked up in the fish.
STEP 2. Put it directly into the preheated oven and bake!
Make herb rice, a green salad, and slice lemons while your salmon is cooking.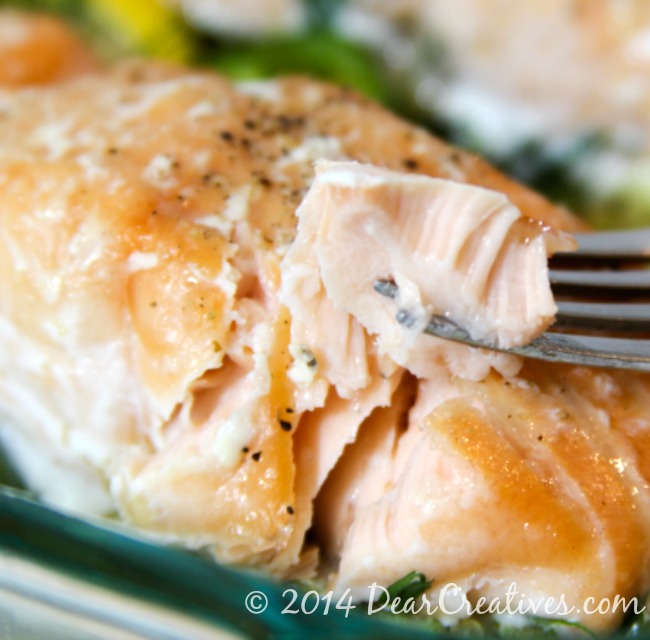 That's it, it is that simple. Then enjoy your baked salmon!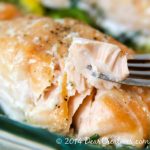 Slow Baked Salmon Adapted from Bon Appétit #Recipe
Baked Salmon - Delicious easy to make salmon that is baked in the oven. Perfect for meatless Mondays, any night or to impress your guests. Serve with rice, salad, or your favorite vegetables.

Ingredients
1

each:

1-2

Meyer lemon

1-2

Orange

2

Jalapeno

1

Dill Weed

bunch

3

good sized pieces of fresh Salmon

1/2

cup

olive oil
Instructions
Wash and slice lemon, orange and jalapeno.

Grab several sprigs fresh dill weed wash and shake dry.

Layer the bottom of a baking dish with these items.

Add salmon.

Pour 1/2 cup olive oil over salmon.

Bake at 275 for 30-40 minutes.
Recipe Notes
Double recipe for serving 6 or see original recipe using 1-2 lb Salmon for serving 6
Adapted from this bonappetit magazine recipe
Salmon Recipes for dinner
Don't forget to subscribe and add us to your inbox (PS you get a free printable recipe binder with other cooking and food organization printables)
Pin it for Later