Strawberry Iced Tea is a refreshing strawberry drink that is easy to make and perfect for any time of year. This iced tea drink is made with fresh strawberries but, you can try this with frozen strawberries too. If you are looking for a pink drink this is one you have to try!
I love this time of year to make strawberry recipes and drink recipes. You can also garnish this beverage with blueberries and add your favorite milk or non-dairy milk to make it a red, white, and blue, patriotic drink.
Strawberry Iced Tea
This iced strawberry drink is the perfect refreshing drink for a hot day, for showers, for any backyard get-together, or 4th of July celebration. We made a small batch but, this drink recipe can easily be doubled or tripled to suit your party!
I have to admit I'm kind of obsessed with Starbucks refreshers
. Have you tried them? My two favorites are the guava passion fruit, strawberry lemonade, and the pink drink. But, who can go there every day? If you are looking for a drink that tastes like the strawberry drinks from Starbucks you need to try this recipe and make it at home.
When you add the milk it makes it an iced tea latte. My favorites for lattes are almond vanilla milk
and vanilla soy milk
. If you are new here you might remember our iced chai latte recipe? If you like chai this is an easy recipe, how to make iced chai tea.
Ingredients
Fresh Strawberries 1 – 1/2 cups
Almond Vanilla Milk (optional) If you make it into a Strawberry Iced Tea Latte.
Ice
Typically I'm not a big green tea drinker but, Mighty Leaf brand
is really good! With this green tea with the strawberries, you don't even notice this recipe has green tea. I haven't tried this with black tea
but, you can! If I do I'll update you on my thoughts, but I do think it might take away from the berries taste? Or it will taste more like a southern strawberry iced tea. That's not a bad thing though, just slightly different.
How To Make Strawberry Iced Tea
Step by step
Gather your ingredients.
Wash and hull your strawberries.
Fill your tea kettle with water and heat the water to boiling.
Pour into a heat-safe mason jar or pitcher.
Add your teabag into the (heat-safe) mason jar.

Let the tea bag steep for 5 minutes.
Add your strawberries to a blender (or use a muddler) to muddle the strawberries. Blend quickly or pulse, only until strawberries are muddled.
Pour the strawberries into the pitcher.

Add 1/4 cup of granulated sugar or turbinado sugar to the strawberries, then stir.
Add the steeped green tea to the strawberry mixture.
Let cool completely, before serving!
Once cooled, add ice all the way up into your glasses and pour the strawberry tea into the glass.
Garnish and serve immediately.
If you don't want any muddled pulp in your drinks you can always strain it through a strainer. But, it tastes so yummy.
How to make an Iced Strawberry Latte
To make the recipe into an iced strawberry tea latte, follow the same steps as above but,
at step 12 leave room for adding your milk or
non-dairy milk
. Then stir.
If you like foam on your iced lattes and you have a milk frother
you can froth your milk to add a foamy, creamy topping.
Which way will you make this iced cold summer drink?
Today's recipe was inspired by a recipe from the Cookbook, Welcome To Buttermilk Kitchen which I received for free.
This cookbook is available on Amazon on Kindle and hardback. A preview is available. It is authored by Suzanne Vizethann.
I am trying a few new recipes from the cookbook before sharing my cookbook review.
You can find the original recipe for Strawberry-Iced Green Tea Latte on page 201 of the cookbook.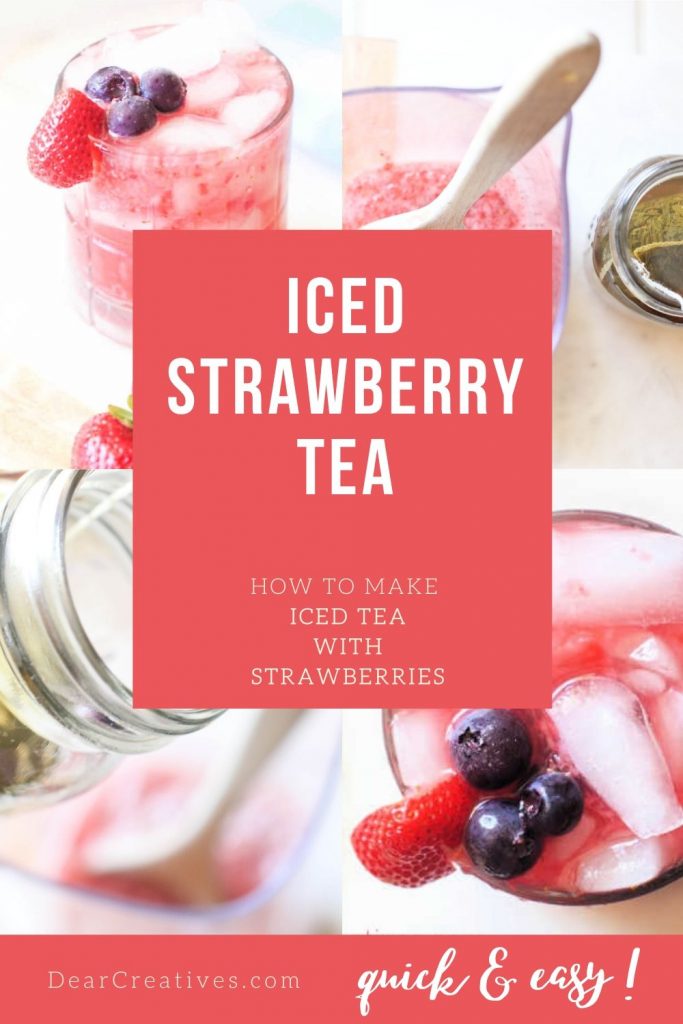 Any way you put your own spin on this easy iced tea drink with strawberries, you are sure to love it's refreshing, bright taste!
Related Drink Recipes
Looking for more things to make with strawberries?