Are you looking for a little summer style inspiration? Girls, it's summer sale time! Anyone else ready for a summer wardrobe refresh? I have been waiting for the 4th of July sales to pick up fashion/outfit staples to add to my closet, style, and summer outfits for women.
Right now when I go to grab something it's like, what to wear? Not this again! I'm going to show you a few outfits for summer that will add style and comfort to your looks.
You can wear any of these this summer whether you are having a summer stay-cation (and not feel like a sloth) or on-the-go (if you live somewhere you are heading back out). Let's take a peek at some of the summer styles that caught our eye.
Affiliate links may be included in this post. We earn a small commission for qualifying purchases. This is at no additional cost to you.
Cheers to another Fashion Friday with fashion moodboards to swoon over.
Summer Outfits For Women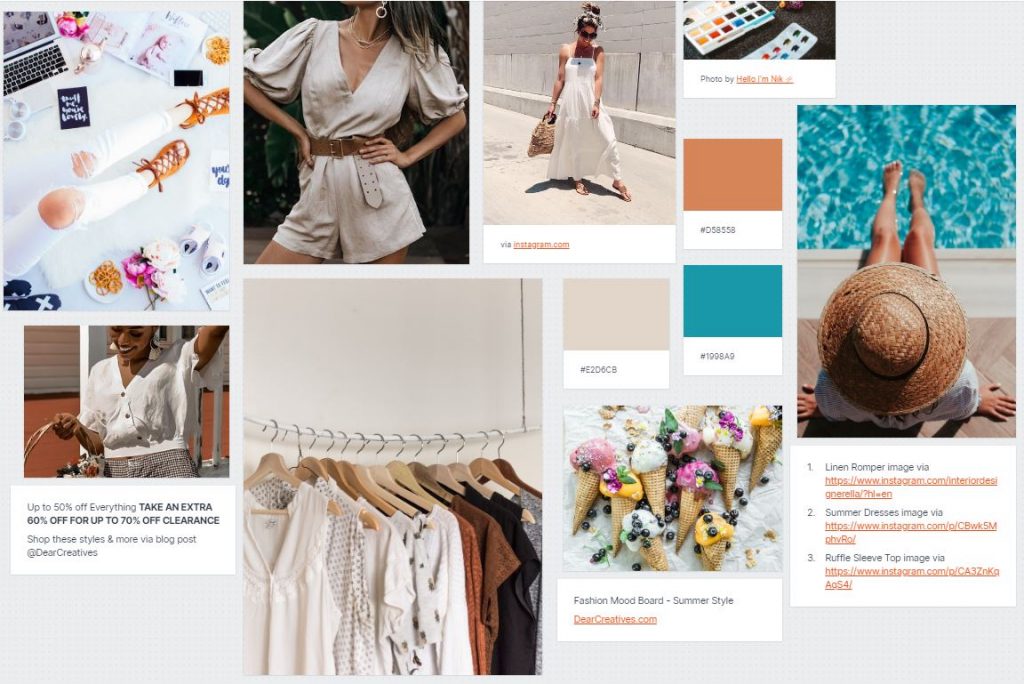 This romper is styled perfectly with the belt, necklace, and earrings. Nothing says summer like summer dresses with sandals (which happen to be a hot buy right now)Ruffle tops, icecream and flowers. Sitting by the pool in a sunhat and swimsuit with cute coverup. Ahh, dog days of summer bring it on!
Summer Outfit Ideas
Her Pick
Would you rather just wear a cute summer dress? This lace mini dress!
My Pick
High Waisted Button Tab Shorts are a way to look dressy but feel casual. They come in black or white.
Paired with a different top, like these trending Lace Tops.
These Sandals our just one of our favorites. Pair the slide with a breezy dress or shorts outfit this season. Stay cool and casual.
Add A Romper To Your Wardrobe!
Cool, casual and easy to wear
Style it with a belt, sandals. In the evening tie a scarf around your neck or add a necklace. This linen puffed sleeve romper is super cute and 50% off right now. It's the same romper in the fashion mood board btw.
Little Black Dress
Perfect for heading out to dinner
Her picks – This one screams little black dress for a date night and this little black dress says you'll wear this one everywhere this season. #2 for sure!
My pick – This tiered halter maxi dress or this stylish tie-front culotte jumpsuit because I prefer to wear pants and this is my version of the little black dress in a pant style.
We both are dreaming of the day things get back to normal!
Facemasks
By the way, I've been busy making the newest fashion accessory, facemasks. But, if you need them you can pick them up here facemasks. Which are mandatory where we are. Anyhoo, more about that later. Cue in Sammie, who needed more for getting out and about. Plus, it will be mandatory to wear them for her fall classes in Arizona. To all my sewers I promise to share a few pictures of these cute fabrics for coordinating and making facemasks and links to favorite patterns.
Honestly, though, she's going to need so many I know I'll be buying a few too. The good thing is with the face-covering purchase or the #ExpressTogether tee sold they support a good cause by donating $10 to Feeding America. Click over to find out more.
Shop summer outfits for women and get something new to wear!
New here? Be sure to subscribe (Never miss out on a post plus, we'll be sharing more places to shop over the 4th of July weekend!

)
Looking for more fashions?
What to wear for summer
Image Credits – Ivory Mix
Image Credits for the mood board –