The summer heat has come back to CA. full force. It's that time of year where the heat just comes rushing in. If your not up and out before 10 am you are going to be hit with the heat. Hydrating your body takes on a whole new meaning. You can only drink so much water. Right? We enjoy taking cover and sipping lemonades. Today's recipe for a Homemade Peach Strawberry Lemonade is one of our easy drink recipes that will be perfect for any day of the week. Or use it for serving at a barbecue, kids party, bridal shower, or baby shower.
You might have seen my blog post 5+ Ways to Beat the Summer Heat & Boredom Busters? If not when you are done with this yummy drink recipe you might enjoy reading it while sipping on your cool drink! Whether you make this homemade Peach Strawberry Lemonade for yourself or a party your sure to enjoy its the combination of flavors! Not to mention it's a cool taste to help you sip, relax and beat the heat
PEACH STRAWBERRY LEMONADE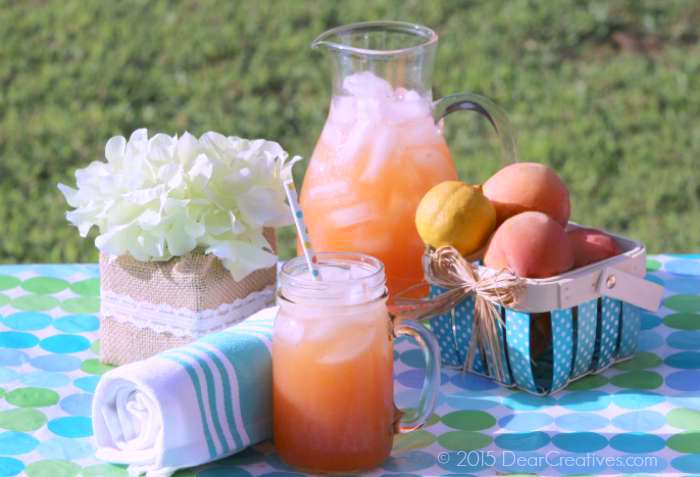 Print the recipe for lemonade with strawberries and peaches or pin it for later!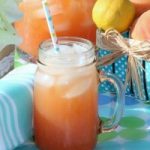 Homemade Peach Strawberry Lemonade
A refreshing homemade lemonade with peaches and strawberries. Make this drink in the spring or summer for yourself or for a party or celebration.
Ingredients
1

cup

water

7

peaches

washed, pitted and peeled

2/3

cup

honey

6

lemons

1

cup

strawberries

washed, hulled and sliced strawberries
Instructions
Follow and do the directions on "How to pit a peach", as shown in post.

Cut 6 of the 7 peaches into small pieces. Reserve one for garnishing in the pitcher.

Pour the juice from the cut peaches and the cut peaches into a pot.

Pour the water into the pot with the peaches.

Boil the pot for 3 minutes.

Pour the peach water into your blender and let it sit in the blender for 20 minutes before you blend it.

Begin to blend the peach water, pour in the honey.

Pour your peach juice through a strainer into a pitcher.

Throw away anything left in the strainer.

Add strawberries to a blender and blend until pureed

Juice the lemons.

Add the lemon juice, strawberry puree to the peach juice in the pitcher. Stir well.

Add ice.

Cut the 7th peach into sections to add to the pitcher or each glass of Peach Lemonade.

Garnish edge of glass with a strawberry or lemon slice.
Recipe Notes
Best served with ice, garnish with strawberry or lemon. Insert straw and enjoy!
Homemade Peach Strawberry Lemonade
If you use this recipe for a party here are a few of my favorite party items to have on hand. A lovely pitcher for serving your party drinks. Pretty party straws in polka dots and chevron comes with color options and biodegradable. Cute polka dot table cloth. It's nice to use baskets for adding to your tablescapes, along with cloth napkins. Just with a few little touches, you can create a peachy keen party!
Two of my favorite baskets for summer parties are this medium Decor Picnic Basket perfect for flowers or fruit or scatter a few Mini Picnic Baskets in various places or set them up as take away gifts if you are hosting a summer bridal or baby shower.
How to pit a peach-
In case you have never pitted a peach this technique will come in handy.
First, wash and dry your fresh peach.
Next cut the peach vertically, around the peach.
Once cut all the way around the peach, pull the 2 halves apart.
Gently using your knife cut the pit out.
You can then cut each peach half into smaller sections and then easily peel your peach.
Do you have a favorite easy drink recipe?
Reusable waterproof labels for party drinks. Great for birthdays, weddings, baby showers…
Looking for recipes with peaches?
See our peach recipes.
Related Posts – Easy Drink Recipes