This post is sponsored by WellPet but the content and opinions expressed here are my own.
Before we get into the dog days of summer I am sharing frozen dog treats we made for our dogs. Do you own a dog? We adopted our Chihuahua Dachshund mix a few years back and love pampering our pooches. Our youngest dog Luna will be three years old this summer, while Rex our Old English Bulldog is 7 this year.
Summers get extremely hot here. What about where you live? Have you tried making homemade frozen dog treats before? I think any pup will enjoy them. They are perfect to give your dogs at any time. But, especially on a warm or hot day. It's an easy way to help cool your dogs down.
This recipe for the frozen dog treats is so easy to make with a few simple, healthy, dog-friendly ingredients.


Let's make these 3 Ingredient Frozen Dog Treats!
Frozen Dog Treats
Luna and Rex go crazy for, "treat time"! Her tails wagging so fast you can't even see it in the photo!
Make these homemade dog treats in 15 minutes or less. Freeze them for a couple of hours. Take them out and let your dog enjoy a frozen dog treat any day of the week. These dog treats are easy to make and our dogs love them!
Frozen Dog Treats Recipe
Ingredients
1/2 cup of Greek Yogurt
1/4 cup of Natural Peanut Butter
3 Old Mother Hubbard P-Nuttier Dog Biscuits

(small size) Or 6 of the minis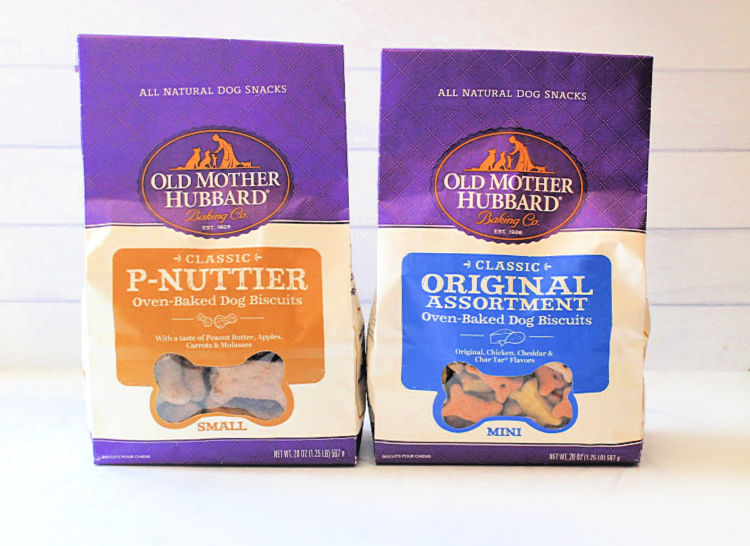 Set aside additional P-Nuttier Dog Biscuits to insert into the dog pops it will make them easy to hold and serve your dog his frozen treat!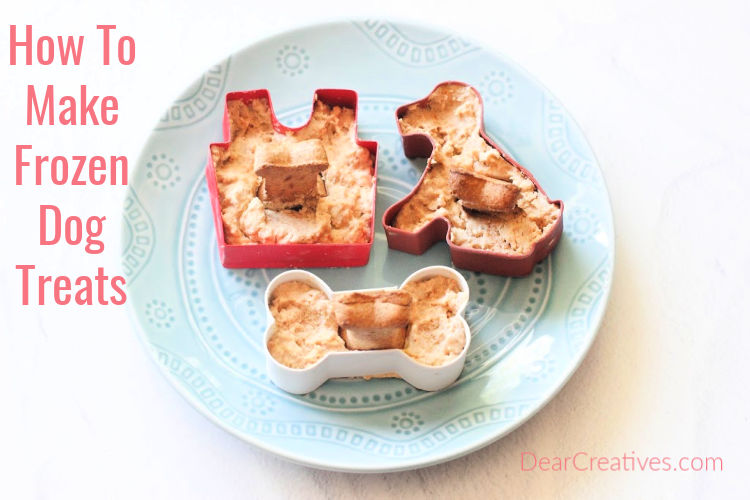 This recipe makes 4 dog treats. You can easily double the recipe if needed.
You can add the mixture to cupcake molds, cookie cutters, or ice cube molds.
Measure the ingredients and add them to a bowl.

Grind the 3 P-Nuttier Dog Biscuits in a blender or food processor. Or by mashing them with a mallet with the dog biscuits inside a plastic bag.
Mix the ingredients all together.

Add the mixture to frozen mold or cookie mold set, then onto a sheet pan.
Freeze a few hours.
Remove the dog treats from the mold. The frozen treats slip out easily from the cookie molds.

Give your dogs their frozen treats, "pupsicles" for dogs!
Experience the joy you can give your dog and see their silly dog faces as they eat and lick them.
Enjoy all the wiggles, wags, and smiles and funny faces your puppy dog will give you when he or she gets to enjoy her dog treats!
When I don't have time to make frozen treats for the dogs I just give them the dog biscuits. Reach for Old Mother Hubbard Dog Treats! You can even just pop the dog biscuits into the freezer on a plate to get them cold to give to your dogs!
I love using dog treats for training my dogs, reinforcing good behaviors, and just to show our dogs we them!
Have you heard of Old Mother Hubbard's dog treats?
All-natural ingredients
Each biscuit is slowly oven-baked to preserve the natural flavors in all the varieties dogs love to catch, chew, and eat. Our dogs love them! Luna and Rex approved!
Old Mother Hubbard's dog treats are a brand you can trust and has been around since 1926.
What does your dog act like or look like when it's treat time? Ours makes funny dog faces!
Ready to train your dog or treat your dog? Or make this dog treat recipe?
Old Mother Hubbard Dog Biscuits – Click2Cart Walmart – HERO FLAVORS (P-Nuttier & Original Assortment)
Old Mother Hubbard Dog Biscuits – Click2Cart Walmart – (P-Nuttier N' Nanners & Extra Tasty Assortment)