Lemon Decor Ideas + Lemon DIY Crafts For Home Decor
Who loves decorating their home? I love lemon decor ideas. Do you? We are sharing 20 DIY Crafts for Home Decor. Are you ready to brighten up your home? I have juicy, freshly squeezed summer DIY home decor ideas for you with lemons, and the color yellow.
Be inspired by these lemony, citrus ideas. Are you ready to make some of these DIY crafts for your lemon home decor? These are fun, easy citrus DIY and crafts to make at home. We think you will love these decorating ideas for summer.
I have to admit I love the cheery color of yellow. It just makes me smile. You might remember how I added yellow paint, and accents in the living room adding light and bright colors to my home decor. You don't have to use paint to achieve pops of yellow, green or orange. Use accent pieces you buy or make decorations for your home.
Adding yellow to your home is easy, and brightens up the mood. It can be as simple as adding throw pillows. You can see how I added them in my office makeover with a yellow/gold throw pillow too.
Lemon Decor Ideas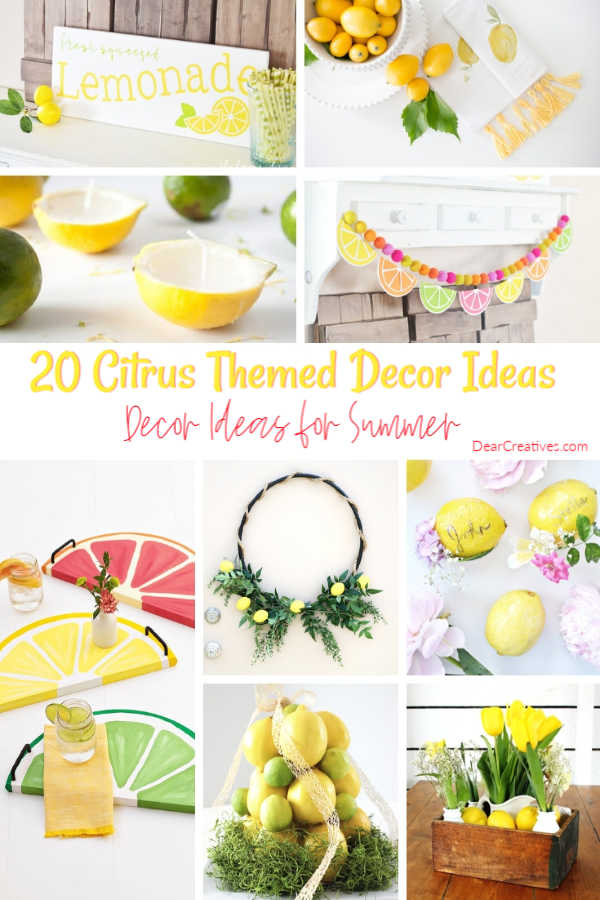 These summer ideas are DIY crafts for adults. But, some of the projects might be great for teen crafts; like the fruit coasters, lemon wreath or how to make a summer sign.
We made this list of 20 DIY Citrus Ideas to help you find a craft or DIY to create your own lemon centerpieces, summery banners, tea towels, citrus coasters and more! All things lemon, lime and orange goodness. If you are looking for something else or when you are done; see our other summer craft ideas.
DIY Crafts for Home Decor
Use these lemon decorations for your kitchen, living room, outdoors by the pool. And there are even some lemon decorations for a party; like the lemon name cards, drink stirrers and DIY coasters. You can make your own lemon centerpiece. Easy, P-Easy. Pick a summer craft to make and decorate your home.
Grab your lemonade and start looking at the summer home decor DIYs.
Don't have time to make something for your home decor?
We have you covered.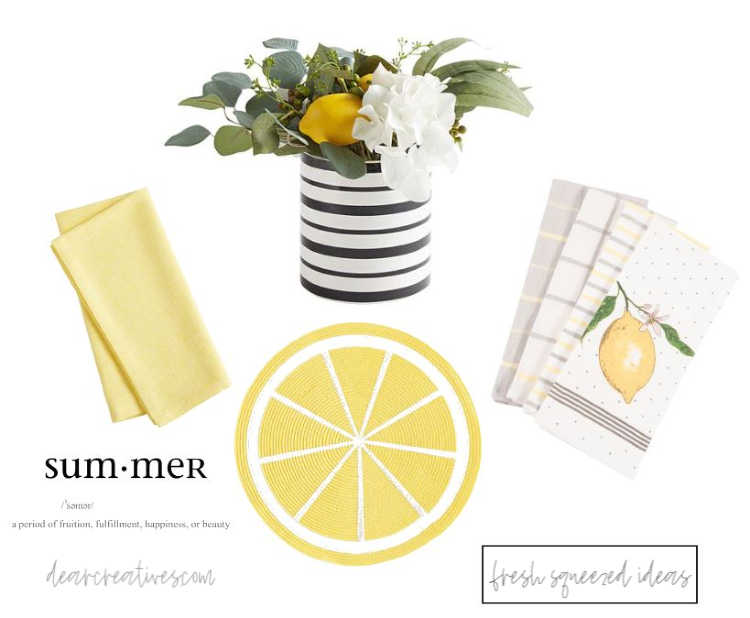 cloth napkins in summery colors | lemon slice placemats| flower arrangement in black & white container | lemon kitchen towels *online only
Ideas to add yellow, lemons and summer into your decor
If you are decorating your home for summer Save $15 OFF $75 OR $40 OFF $200!
What Citrus DIY will you make first? If you need inspiration for cleaning and decorating for summer. This video shares summer decor, how to decorate for summer but, has more lemon decor ideas fresh tips. wink, wink. Maybe I need someone to video me cleaning and decorating. I just might. Wink. I can't wait to show you how I decorate my home for summer.
Are you looking for more decorating ideas?
I love making DIY centerpieces. I made this DIY spring centerpiece and this DIY Easter Centerpiece. (bookmark it for next year) Make these summer DIY Woodboxes. Do you enjoy making or decorating with centerpieces? You might like this tutorial for flower arranging and styling flowers.
I have a new summer craft coming soon that you will love. It's easy, fun and fruity.