Dear Creatives, I am excited to share with you the products I decided to make over at Cafe Press & how my experience was along with what the results were. This Cafe Press review was one I was super excited about not only for myself but, because it also involves a chance for you to win a gift certificate to try them out yourself from today's giveaway! Now back to the review of Cafe Press; I went over to Cafe Press and took a look around. I new I wanted to use a few of my own images, but what to make? hmm I decided pick a few items vs just one printed canvas which I had been wanting to create. I really wanted to see the quality of the products and printing from Cafe Press. I was excited to see how my designs or photographs would look on their items. Let me share how the process of using Cafe Press went along with the product design results.
Disclosure: I did receive a gift certificate from Cafe Press to purchase products or design products of my choice enable & facilitate this review. All opinions are 100% honest, my own & I was not influenced by receiving mentioned items.

I really didn't dig deep regarding copyright policies at Cafe Press. I read they honor copyright & who the artist is prior. I uploaded my images & used a couple of my photography, illustration & art print ready images. What I have yet to find out is if they use my images on their site with my designs even if I don't open a shop? I did read if you don't tag items they won't show up in the market place. As an artist it can be something you really need to research first. For the everyday consumer you can just hop over to Cafe Press & grab someones designs on a product you see and like, then purchase it. Or you can use your own photos of your pets, kids, a digital design or what ever if you are creative. I actually spoke with my contact person & he had someone reach out to me. If you are looking for more information & can't find it you can go to the bottom of the site & fill out the contact form or a get help reference at the top of the page.
Now if you are designing your own they have an image size chart for what size image for each product.Cafe Press Image Size Chart
First pick out the product you want to make

Then make sure to edit your image to the size needed
Then go to the product – design your own
Follow the prompts
The interface is easy to use & figure out
I decided to create a few journals. I found them via the products under stationary. The journals are spiral bound. You can pick from lined or unlined. You can customize them by adding an image to not only the cover but, the inside cover & picking other options. Besides personalizing your own you can select from pre-made designs at Cafe Press's Today's Most Popular journals or by search & select by Topic, such as : art, vintage, pets, humor, hobbies, fantasy…
I decided to use two different photographs & then one of my own print version of my art work when designing the journal covers & insides. I picked the lined paper to be included in the journal. I love how they turned out. The covers are a pretty glossy finish, the binding is nice & the paper inside is great for writing.
One inside is with artwork the other with floral photography
The next product I decided to create at Cafe Press was a compact to carry in your purse. I created the compact with one of my print art illustrations by following the similar process listed above. I am very happy with the quality. I even used a color of theirs for the background, giving it a seamless clean look.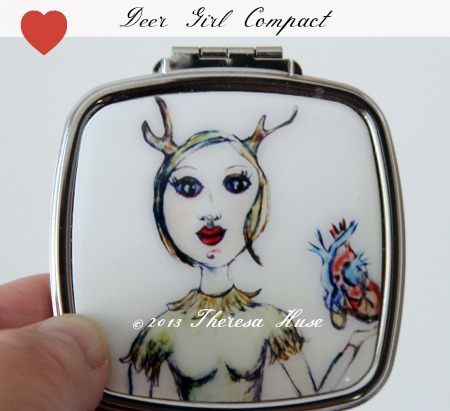 Easy open compact
For the next few items I tossed in trying a few magnets (shown above with journals) & buttons, again all the process is the same for each of the items you are creating at Cafe Press. Check size of image needed, make sure your image is the proper size, go to the item & select it then design your own or go to design your own & select product.
Inside of Compact
Now each time I completed a product design I just added it to the cart. Adding multiples are an option which will also reduce the cost of the same item. Using the Cafe Press site is easy, whether picking someone else's design or creating your own. The transaction process is easy, along with adding any discount code or coupon to the check out process.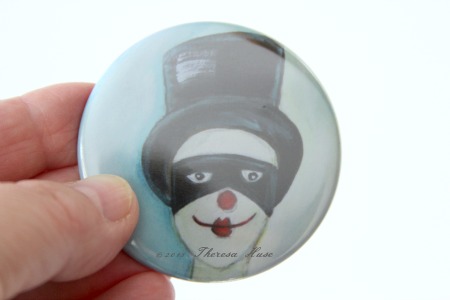 Buttons have a nice big pin to clip onto clothing
There was a mistake on my order. I had ordered 4 magnets 2 buttons, I received all magnets instead of 2 of the ordered buttons, but when I notified Cafe Press via email contact form on their site with the mistake. Cafe Press sent me a note the very next morning that it was being fixed & shipped out. The correction were made fast & at no cost to me. Although my order wasn't perfect my over all experience was good! I was happy with the products & am even researching if I would like to open a shop with them.
Now if you'd like to try Cafe Press yourself you can! & you can enter to win a Gift Certificate for $20.
Enter via the RaffleCopter & one of you lucky readers will have the chance for yourself! Maybe you'd like to try making or purchasing one of these if you win:
Would you buy something or design something from Cafe Press?