Do you love searching the decor trends? Have you ever looked at parts of your home, and thought it's time for a change? I'm sharing a big jump forward on our

home makeover

. I am sharing my new home office makeover, and workspace. Plus some home office ideas.
If you have missed past posts you can see them here home decor ideas. Today I hope to inspire you to jump in, make plans, and give your home a refresh or home makeover.
It's crazy how just making a few changes like patching up, painting, hanging curtains, and adding a few pieces of furniture can make all the difference in the world. Do you want to take your home office or home from drab to fab?
We are working on our home, and sharing each step of the way. You might remember where we shared how we updated our bathroom or converted a dresser into our kitchen island (that holds all our baking, cloth photo props, and other Cricut supplies)
Home Office Ideas
This will probably take a few posts to share the whole DIY process. Above is a snapshot of the before/after of our home's office space. Today I will cover a few design ideas, the before/after, the office furniture, and tips for shopping for decor online. Later I'll share tips on how to hang curtains. Tips for patching, and painting. Later I'll be sharing design ideas for the other half of our kitchen space. Be sure to subscribe to see all the home decor DIY posts.
Affiliate links may be included in this post. We earn a commission for qualifying purchases. This is at no cost to you.
Home Office Decor Ideas
-We moved from a farmhouse to a cottage, (downsizing) and then to this more modern house (which was bigger) styled in the early '80s. It's been a fixer-upper from day one. Imagine green carpets, funky appliances, old cabinets, funky floors, and lots of things needing repairs….. Above is the inspiration for my home office.
Room by room we have been trying to fix things up. This spring I want to

keep going on our kitchen remodel,

that currently is also

my home office/work craft space

.
I created the design boards while seeing what would work for my space
You might remember I shared some of my favorite office ideas for her, and office organizing ideas, plus the chair I purchased (this was for my sewing but, right now I'm using it in my new office). I really want a chair you can wipe down in my space (like the one linked above), since it's in the kitchen, and where I also do crafts.
Office Space For Her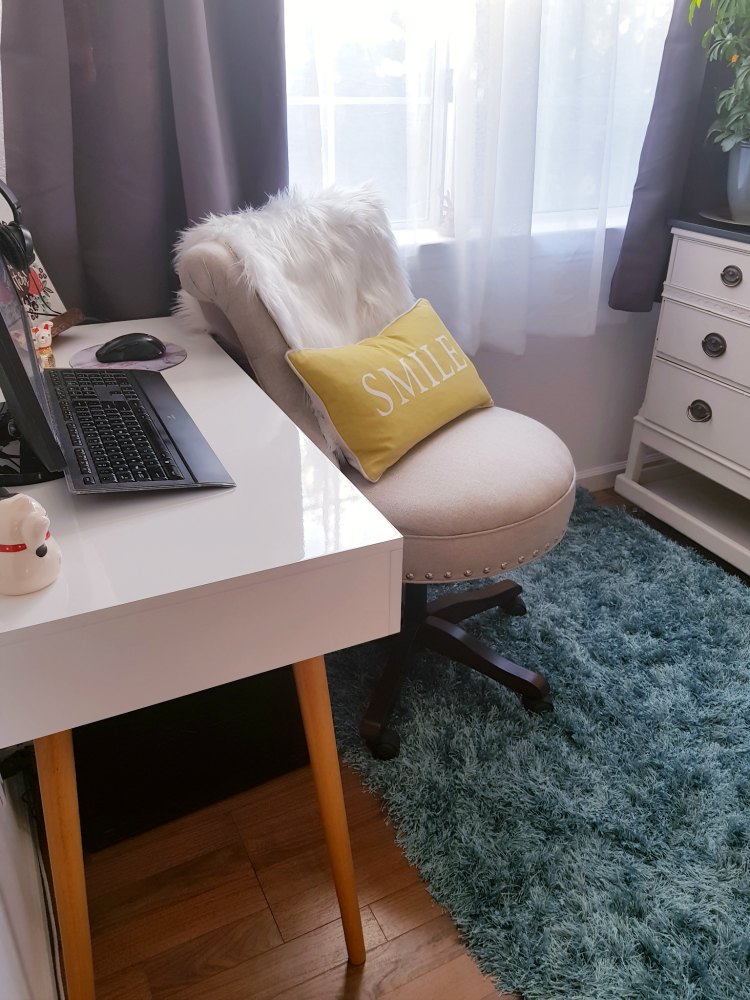 I've had the same desk forever (shown below), and have not liked it. There was no top desk space. My new desk!
I wanted something more modern, or mid-century modern.
This was a collaboration with Bellacor.
What do you think? I am over the moon I had the chance to pick out items that suited MY STYLE and design the best modern home office space for me.
This space is now beginning to feel like the perfect space for me.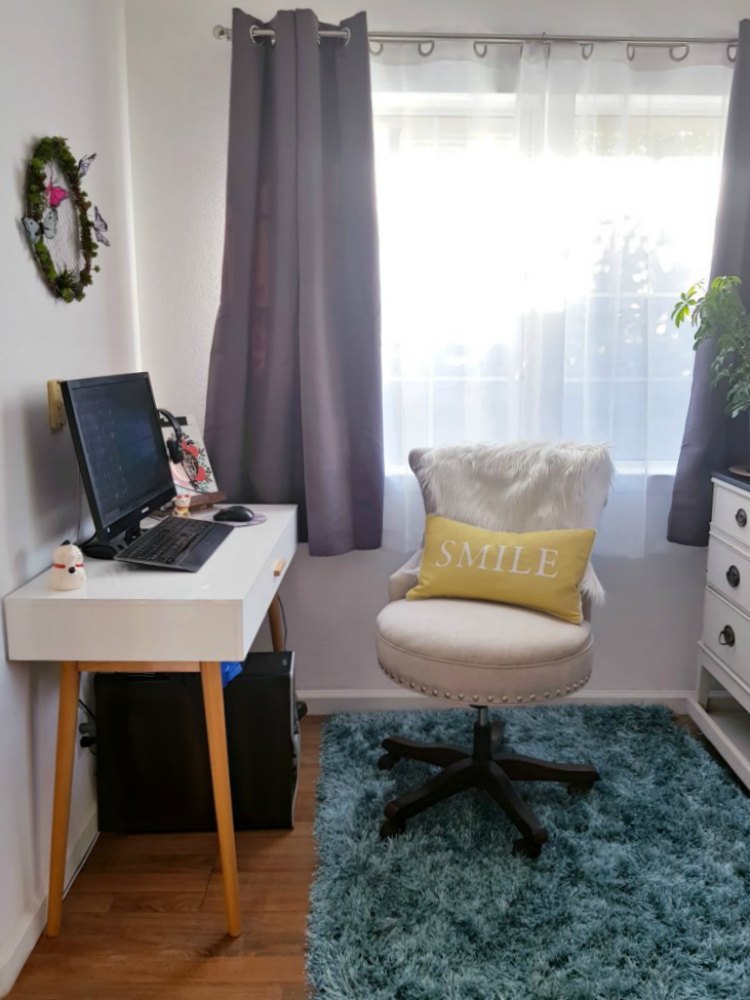 Before my space look cluttered, not having the proper storage (see images below). This can really be overwhelming at times. I love being neat, having my home – office space clean, and organized. The way things were I wasn't able to keep things clean and organized as I'd liked. I also wanted my space to feel comfy, and cozy. I work writing at my desk, researching, and then crafting/cooking in the other half of my space.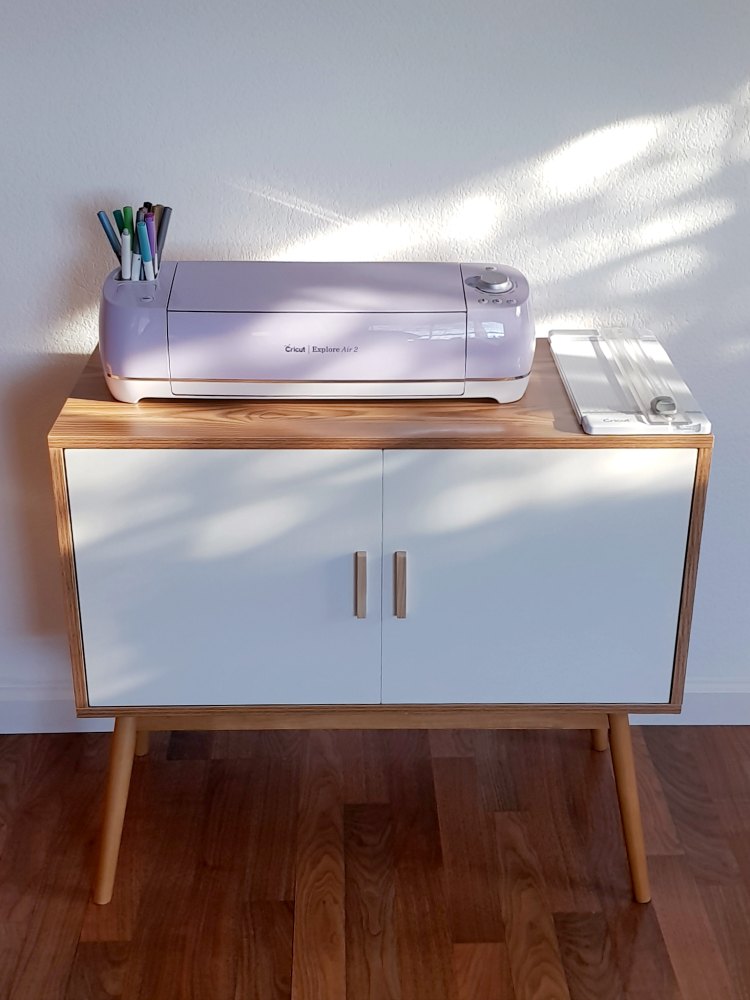 Home Office Makeover
How to makeover your office space
Recap of how far we have gotten with our kitchen/home office – workspace
Old linoleum flooring removed and new wood floor laminate in
Old appliances out, new appliances in
80s spaceship lighting out, new ceiling fan in
What's left to do to our remodel home office – kitchen space
Replace countertops
Fix, and Paint or replace kitchen cabinets
Add baseboards
Touch up painting
Change wiring hub for modems, and cables for home's internet
DIY Home Office Makeover
Here's how we started our home office makeover
Before – Home Office Makeover
Depressingly, ugly walls that need major help. Here's where we start to get down, and dirty so to speak.
For my space we started with picking a paint color
, and then wiping down walls, patching
prior to painting. We brightened up the space.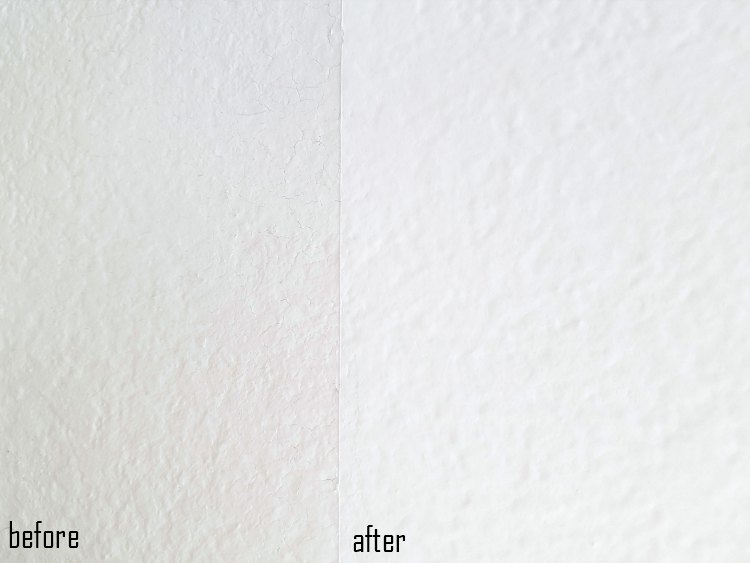 Why did I go neutral? I have lots of color throughout the house. And wanted a clean, white look for my space to make taking photos easier. I knew I could add home decor accents that would give me the pops of color I wanted, without affecting my photo space.
Are you painting soon? See our living room transformation, and how to pick paint colors, with design resources here, and here.
We removed this desk, first by sorting supplies. Purging unneeded items, and keeping only must-haves. We took down the blinds. We organized our home wiring hub that needs to be wired inside through the walls. It's the ugliest mess of wiring any house could have. Why wasn't it installed in the garage when the previous owners had it put in? I'll never know. Sigh. We will be tackling this mess another time.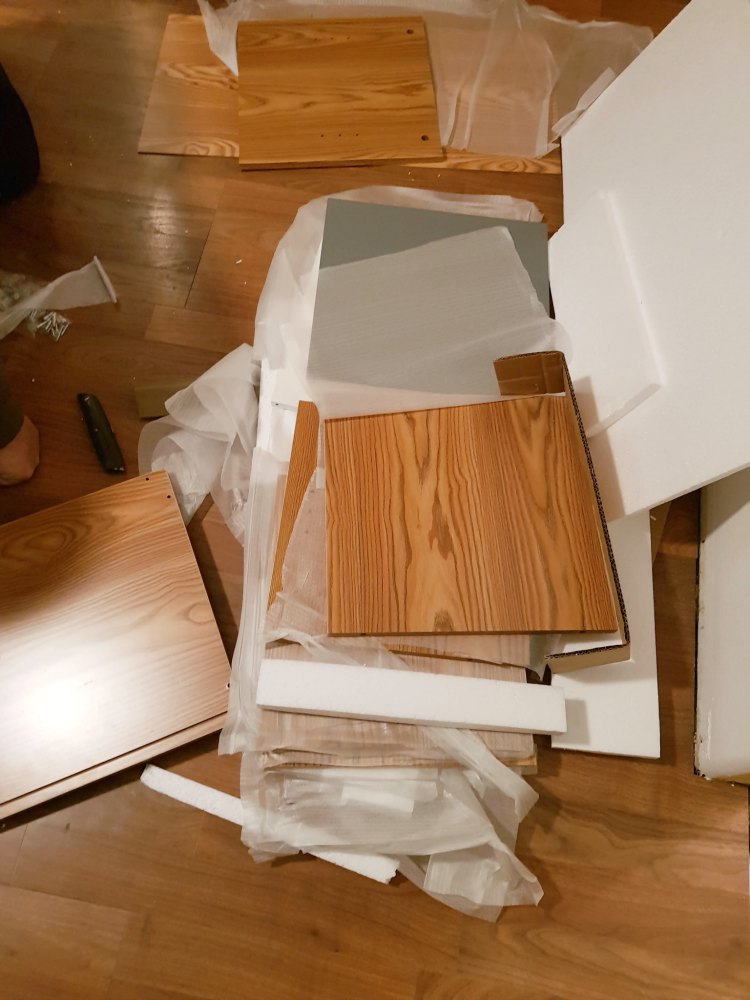 When we were ready for the office furniture; We un-boxed the Oslo white computer desk
with drawer (desk), and Natural Concept Table (cabinet) that we received for free, from BellaCor. If you have never visited them, they have a large selection of styles, home decor, home decor accents, and home remodel products to choose from.
Each piece came boxed, furniture pieces marked with tiny stickers, each with directions, a small bag of screws…, and parts for assembling the home decor office furniture. The desk only needed legs attached, and a drawer knob added. This was super quick to assemble, and easy.
The cabinet was a bit more time-consuming it came with many pieces, all clearly marked. This console was assembled in about 30 – 40 minutes by someone who knew how to assemble the items. You have the choice of using white doors or a dark grey which is on the flip side. (see below) Unfortunately, the top did come with a small scratch from the manufacturer. We were offered the chance to exchange it but, opted at this time to keep the product vs the timing of an exchange. (this image was taken before we added the baseboard, below after)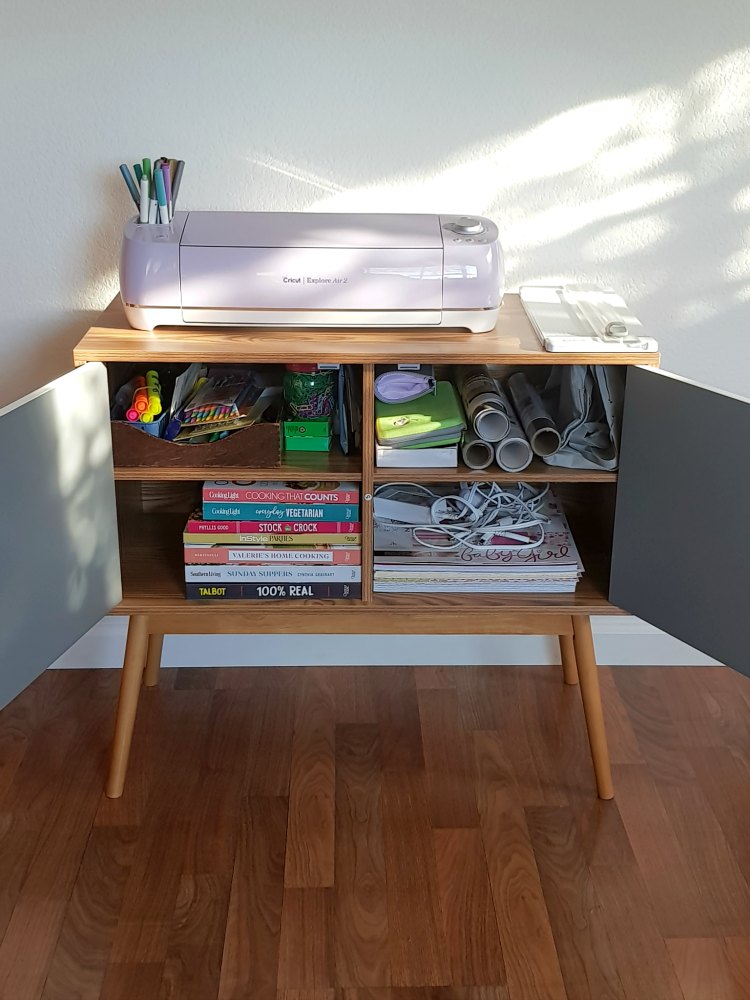 Despite this, I love this storage cabinet. It's the perfect size for all my office supplies, Cricut
supplies, and cookbooks
.
I knew I'd need the console for storage since I was going from a 3 drawer desk to a one-drawer computer table. This desk is perfect for keeping the most important things nearby when I'm working. Camera cables, notebook, planner pens, a tin with my SD cards, a flash drive, backup SD cards, and a password book.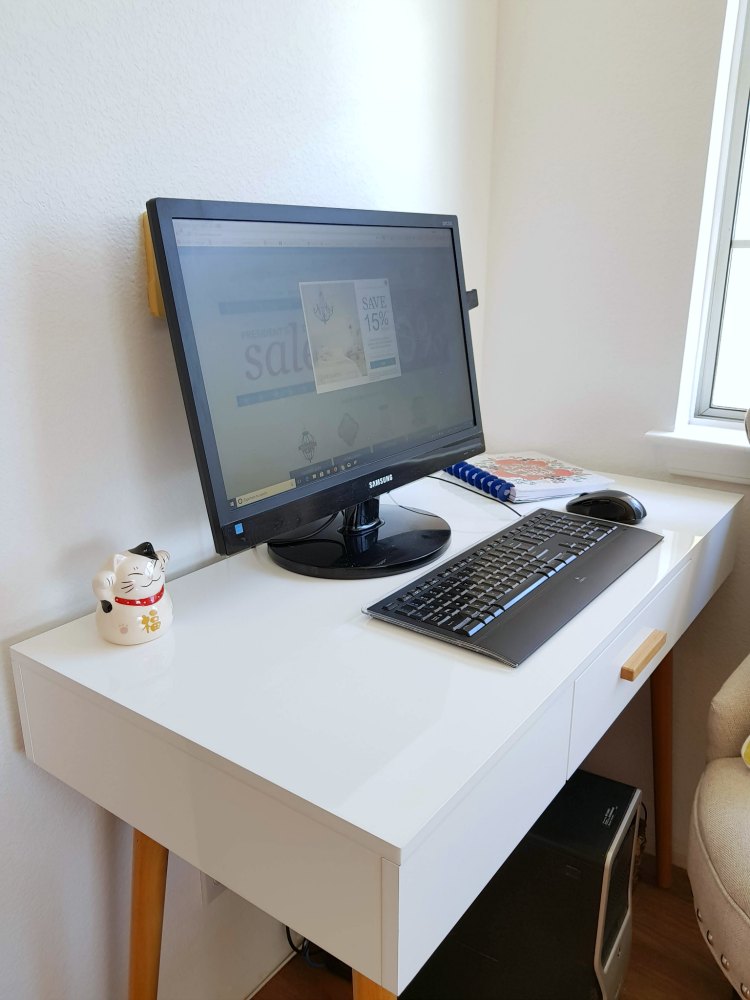 This photo is prior to putting up new curtains after painting. On my wish list is a Mac Desktop. This computer is a workhorse but, I can't wait for the day to upgrade to a pretty, and a good computer for designing
. Look at this desk!! It's so pretty, and even more pretty in person. With its smooth surface, pretty white top, and sturdy wood legs. I am really loving working from this desk.
Tips for purchasing your home decor online
Get Inspiration from Pinterest, Instagram…
Look at styles, and compare.
Create design boards or pin your favorite home decor styles.
Narrow down to your favorite styles. Mix, and match or stick to one style.
Get out your measuring tape, and know what size space you working with, and what you need (tick those boxes).
Make sure you read the measurements online of the product you purchase.
Make sure to read through all the specs (materials used… if you want wood, see what's wood. if you want easy to clean, see what's easy to clean…)
Read reviews.
Make purchase.
Assemble if needed, a place where wanted, and enjoy!
Give a review to help someone else shopping (on the store's site and if you have a blog).
Have you shopped BellaCor?
Why I like Bellacor they offer first-time buyers 15% off. It will pop up when visiting their site. They have an easy to spot daily sale items, coupons, and promos. When searching their site they do have a recent searched items bar. But, also bookmark (or pin) what you like if leaving the site to make it easier to find again. Also use different search terms, when looking for home decor, or search by styles; such as modern, mid-century modern, and farmhouse… We all love options right?
Assembly images, and closeup details of the furniture.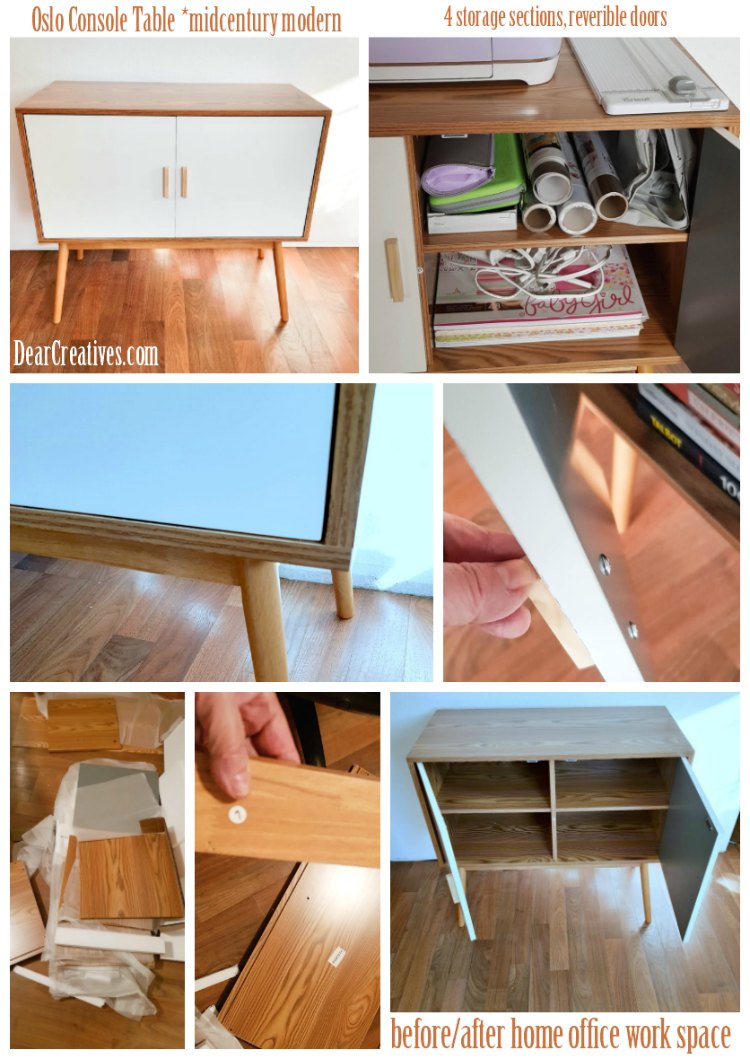 I really am enjoying the home decor products I received. They both are working great for my office workspace needs. Now I have my eye on this craft project center. I also spotted a farmhouse sinks that I'm crushing on, for when we fix our countertops and need to update our sink.
AFTER – Home Office Makeover
Why not take a peek at everything Bellacor has for your home decor needs? I can't wait to share a few more updates to this office space with you and give you the details on my accent pieces for the office, plus tips for hanging curtains.
Follow along to see what we are fixing up next. I love it when home improvements get done in my house. A refreshed space and home makeover are like a ray of sunshine.
New here? Be sure to subscribe, so you don't miss out on all our DIYs, and home decor projects. PS I'll be sharing the DIY for my office succulent chicken wire wreath soon.
What home projects and home updates are you making to your house?