Ready to make a cute spring centerpiece? In this spring craft tutorial you will learn how easy to create a centerpiece with wood eggs that have been decorated for spring and Easter. This is one of our spring craft ideas that we are always adding to.
With a few craft supplies you can make this diy. First decorate your eggs, after your wooden eggs are decorated, create your table centerpiece. Use Easter grass or moss and insert them into a pretty clear glass bowl. Creating this easy home decor centerpiece for your tables.
You can use your wooden decoupaged eggs in any type of your spring centerpiece, for table decorations or tablescapes.
Depending on how many wooden eggs you paint this can be a 30 minute craft. Or paint and decoupage 30 wooden eggs like I did. That amount will take you about few hours, total time. This includes dry time if your house is warm when your painting. That makes the paint dry faster.
Spring Centerpiece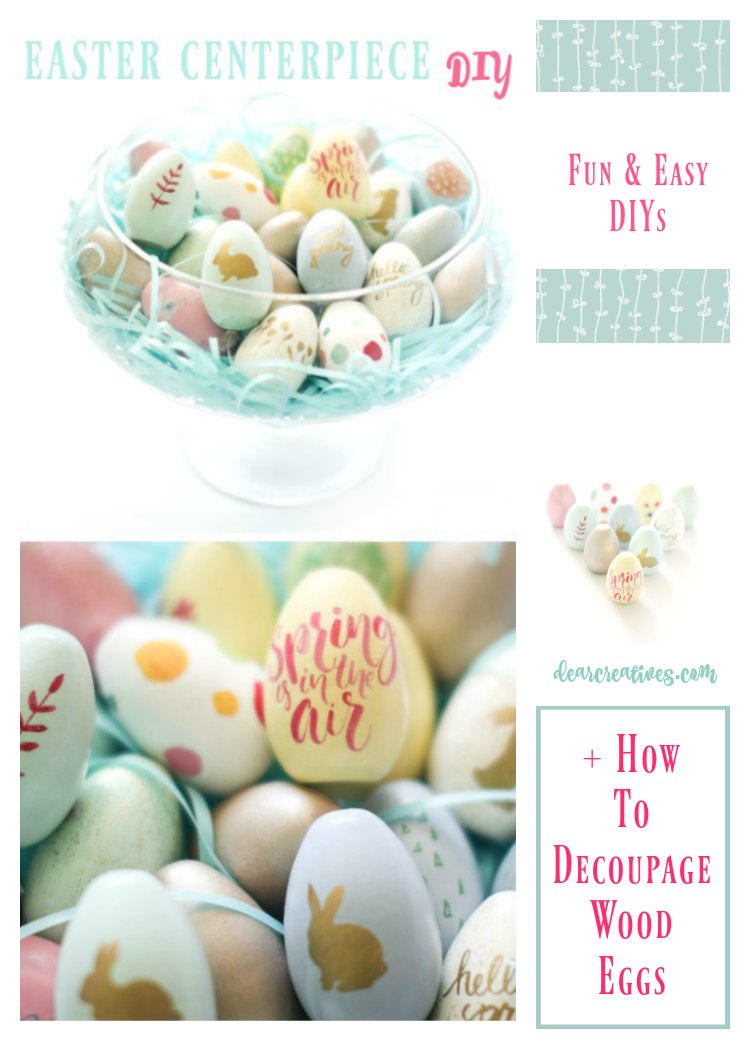 Let me share how easy and fun this spring craft idea is. You just need some wooden eggs
, paints, rub ons and decoupage glue
. The decoupage glue will seal the rub ons and make your eggs look a little bit glossy. But, you can purchase a matte finish
if you prefer.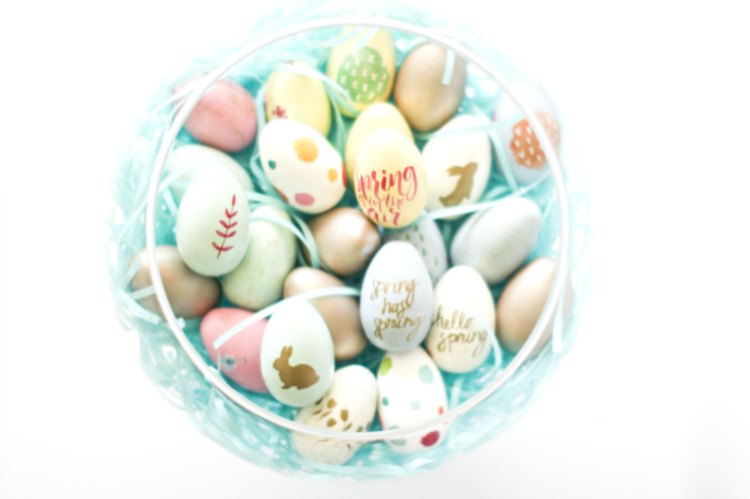 With the exception of the exact glass bowl and Easter grass being exact matches, I did find a few similar.
Easter Centerpiece DIY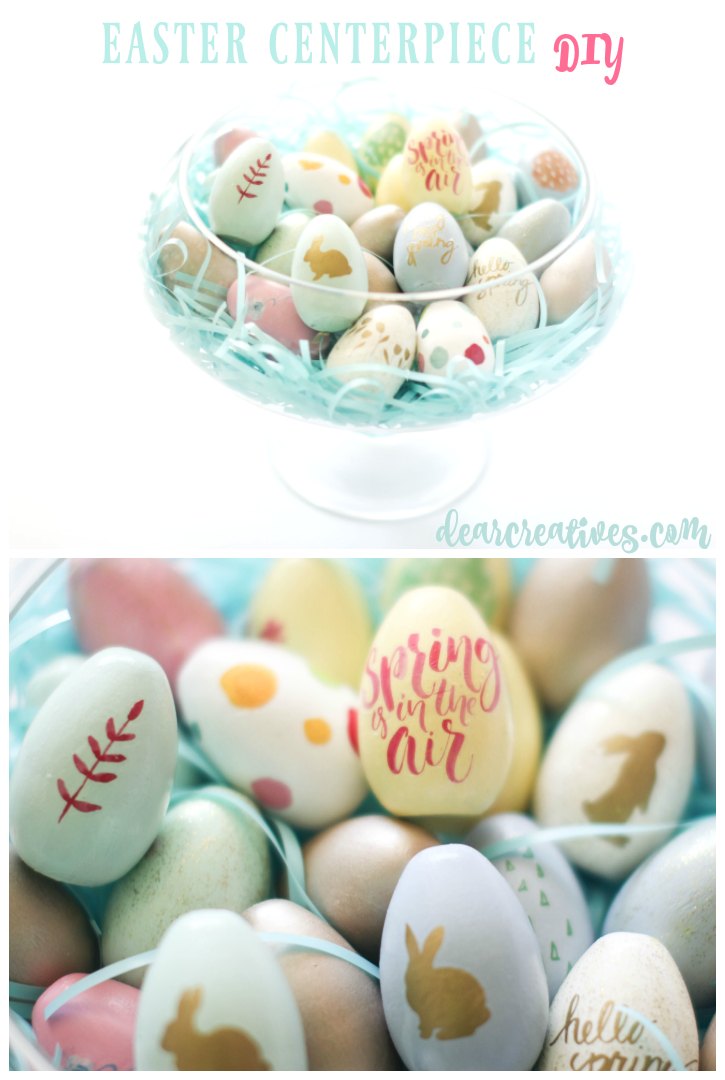 Craft Supplies Needed To Make Easter Decorations
Wooden Eggs (15 ct or 30 ct)
DecoArt Acrylic Paints (fan favorites)
DecoArt Acrylic Paints (crafter acrylics)
Paintbrush
Glue brush
Decou-Page
Rub Ons (spring rub on transfers) (lovely flowers) (open book)
Create the table centerpieces
Easter Grass or Moss
This one is similar to the one I used Flower Vase Decorative Centerpiece and this one is a bit fancier in three choices Compote Bowl Centerpiece
I like that this is an inexpensive centerpiece. Especially if you own the vase already!
How to decoupage on wood (and wooden eggs)
Gather all your crafts supplies and spring colored acrylic paints. I used recycled yogurt containers for the paint.
NOTE: *rinse and dry paintbrush slightly between colors
Hold your eggs end to end and paint them. Next set them on their bottoms. I carefully, paint the top of the egg and let them dry completely before I paint the bottoms.
Once they are all dried I turn them on their sides and paint the bottoms. Let them dry completely.
Note: * You may have to repeat the process for some colors giving them two coats of paint if so repeat steps 1-4.
Grab your rub-on transfers and carefully rub your designs on each egg you want to add them to.
Once you are done use Decou-Page to cover all your eggs. This will give them a nice slightly glossy finish and seal on your rub-ons.
Let everything dry and clean up.
How to create the spring centerpiece
Use Easter grass (for Easter) or moss (for spring) and insert them into a pretty clear glass bowl. When this is done you can set it on the table as is or decorate around it for more elaborate tablescapes to add to your spring or Easter celebrations!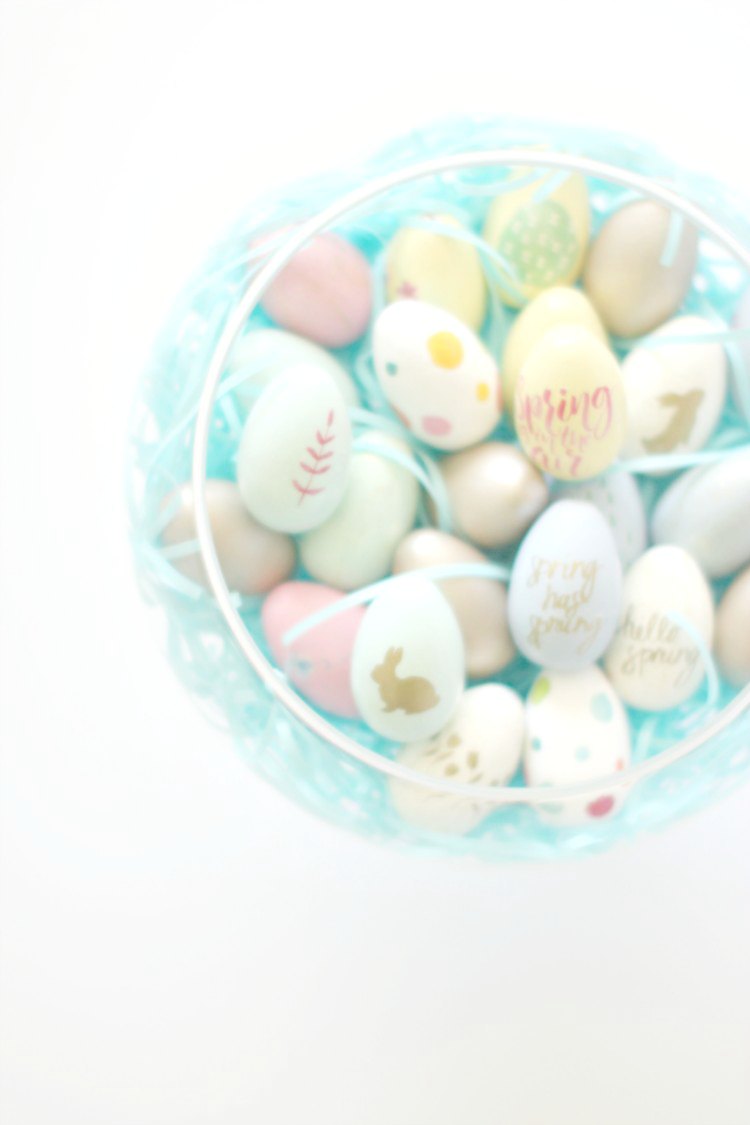 That was Easy, peasy! Right?
Grab a Free Recipe Binder or just add us to your inbox by subscribing
Need more spring or Easter craft ideas?