Are you ready to makeover a room in your home? I love finding the latest decorating ideas to share with you. Here's where you an find all our home decor ideas. We have a laundry list of rooms to refresh this year. Do you? I can't wait to show you what we are updating in our home. Until then I put together 11 tips for room makeovers; learn how to decorate your home .
When it comes to room makeovers there are ways to refresh rooms without having to get out the paint bucket. If you are painting or doing other construction it's best to do the dirty work before decorating your home. But, that doesn't mean waiting to plan your colors, designs and decor choices. Design and planning are key, bringing it all together when making home decor ideas or plans come together and look cohesive.
Decorating Ideas
Start fresh by making a design plan
Pick key colors. Coral is pantone's color of the year but, if that's too bold shoot for a lighter coral or pink. But, it's key to pick colors you love, on trend or not.
Always have some neutral or natural elements in your home decor. These key pieces are your anchor. Mix in your favorite colors as accent pieces that are easier to swap out as the trends fade. (Nobody wants a dated look)
Swap out seasonal items, dated decor, or broken items for fresh new picks mixed in with the decor you have already
Pick your style; Examples casual meets classic, modern design, boho Or mix and match styles.
Before decorating your home it's good to organize it
Don't know where to start when it comes to decorating? Start by organizing your home, and make a design plan. I know a lot of us are in organizing mode. I am. It's just the natural rhythm of tidying up
for the year, and closing out last year. It helps you see where you can improve your home's look and aesthetic. If this is you too, you might like to see our organizing posts (scroll down on this page to see them and get even more tips.)
How to Easily Update A Room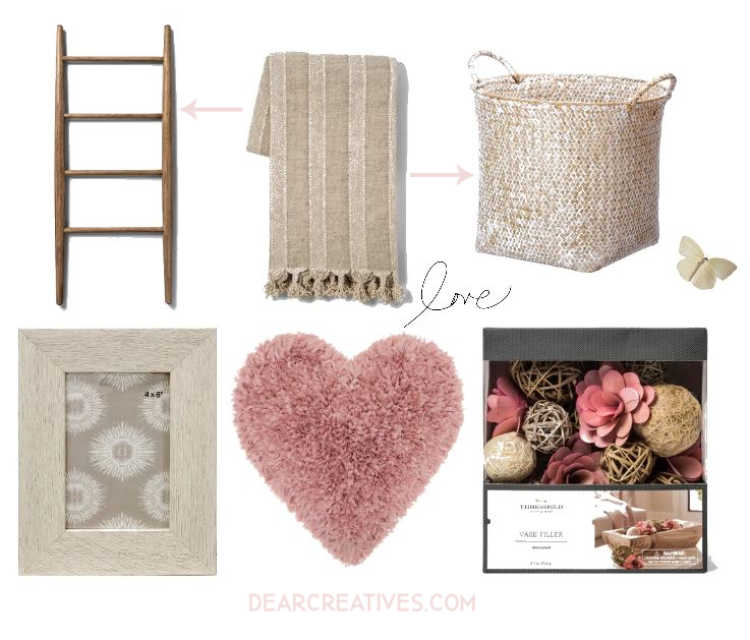 Decorating Ideas for Living Room
Drape a throw you aren't using, a string of hearts. string of fairy lights, or a seasonal banner on a decorative wood ladder.
Pretty throw blankets are a must in my house. We love how easy it is to swap out colors or use neutrals with throws. Go lighter for spring with a cotton linen throw blanket and still stay warm. Or add a touch of color with this cozy, plush, chenille throw blanket.
Various sized baskets are perfect for extra storage. Add toys, throws, or any like items together. White washed baskets like this are all the rage.
Use picture frames to update your home. Add a new decorative frame with a new or old photo.
Add texture and seasonal elements like this heart pillow. Don't worry if pink isn't your color there are other color choices for these pillows, and actually all the items listed.
Grab a vase and add filler with pops of color and scents. I love doing this it's so easy!
Some of these decorating tips and ideas are budget friendly ways to decorate until you are ready for a full room transformation. Designers say you should do that every few years.
Style
The key to style is purchasing your furniture in a style you like and then building on the look with your accent pieces. You can see how we updated our living room here and here. (using paint and home decor) Need more inspiration? See how we updated my home office work space, or grab tips on how to make your office cozy and tips for decorating a bathroom.
Are you working on updating your bedroom?
Bedroom Decorating Ideas
I hope you like today's home tips and decorating ideas stay tuned for more easy home updates that you can make to your home's decor. Be sure to sign up for our newsletter we have a few furniture makeovers coming and other helpful ways you can create the home you love.
New here? Be sure to subscribe and add us to your inbox.
Pin it for later
What room are you focusing on decorating right now?
Decor DIYs and More Home Decorating Ideas