Are looking for party food, appetizers, or something to serve your overnight guests? Make Sausage Pinwheels! They are delicious and easy to make.
What I love about this sausage pinwheels recipe is that it's so versatile! Make them for appetizers, breakfast, or brunch, or luncheon. They are great to serve over the holidays, for New Year's Eve or New Years Day, game days, or anytime you want to make them!
Use your favorite ground sausage to make them!
Sausage PinWheels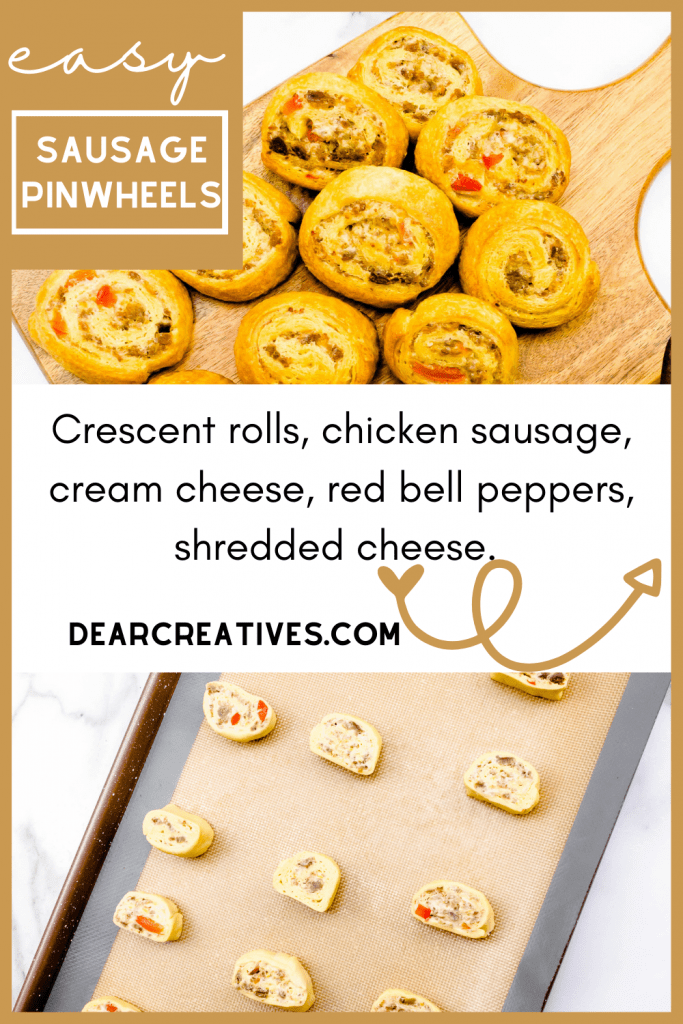 These sausage pinwheels are made with Crescent rolls. And Cream Cheese, plus a few other ingredients.
If you are looking for appetizer recipes. You might remember my Fiesta Cream Cheese Tortilla Roll Ups. Or these

turkey wraps

, which can be sliced smaller. I listed a few more appetizer recipes at the end of the post that might help you too.
Chicken Sausage Cream Cheese Pinwheels
Prep time will be about 15 minutes.
Cooking time for sausage (approx): 10 minutes.
Freezer Time (To firm up dough for cutting): 1 hour.
Baking Time In The Oven: 15 – 18 minutes.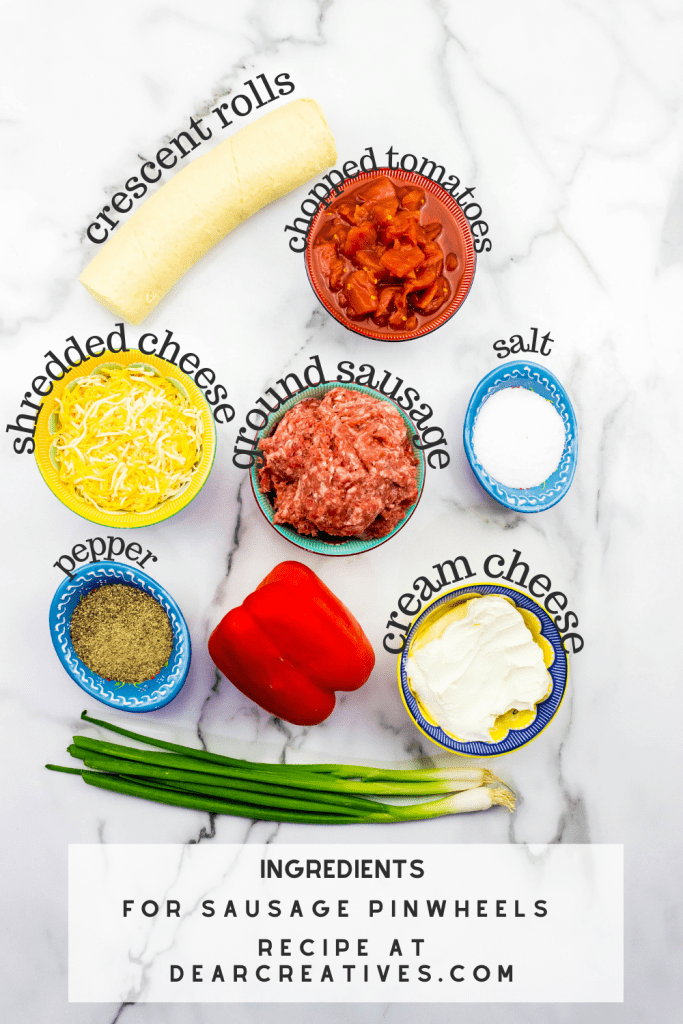 Ingredients
Servings – This recipe makes approximately 6 dozen. You can easily cut the recipe in half to make approximately 3 dozen.
1 lb. bulk chicken sausage (Or your favorite ground sausage – regular or spicy)
½ cup of diced red pepper
1 8-ounce cream cheese
2 tubes 8 oz each Crescent Rolls
Kosher salt
Black pepper
1 cup of shredded cheese
1 green onion, sliced (for the topping – this is optional)
Diced tomatoes ( for the topping – this is optional)
For this crescent rolls sausage pinwheels recipe – You can swap out the chicken sausage by using your favorite ground sausage. Examples ground pork sausage or breakfast sausage.
Supplies:
Instructions
How to make sausage pinwheels
Step 1
In a cast-iron skillet (or other large skillet or pan). Preheat the skillet to medium-high. Then add the ground sausage into the pan. Season with Kosher salt and black pepper. Cook according to package directions. Approximately 7 minutes.
After the chicken sausage is cooked. Add in the diced red pepper and cook until the pepper is tender (about another 2 – 3 minutes).
Next, add in the cream cheese, stir until everything is thoroughly blended. Turn the stovetop to low.
Prepare your baking sheet. Do this by either lining it with parchment paper or a silicone mat.
Then open one of the crescent roll tubes. Unroll the crescent rolls and separate them into 4 rectangles. You will want to seal the perforations with your fingers. Gently press out the crescent roll dough into a rectangle that is 6×4 and 1/2" thick.
Next, turn off the stovetop. Using a measuring cup and spoon, spoon the sausage filling into a 1/3 measuring cup and spread it onto a rectangle. Carefully spread it to within ¼ inch of the edge.
Then, carefully, start to roll up the dough, jelly-roll style, and pinch the seam to seal. Make sure the seam side is down. Repeat this process until you have used all of the crescent roll dough.
When you are done with the steps above. Place the baking tray and the sausage roll logs into the freezer for one hour.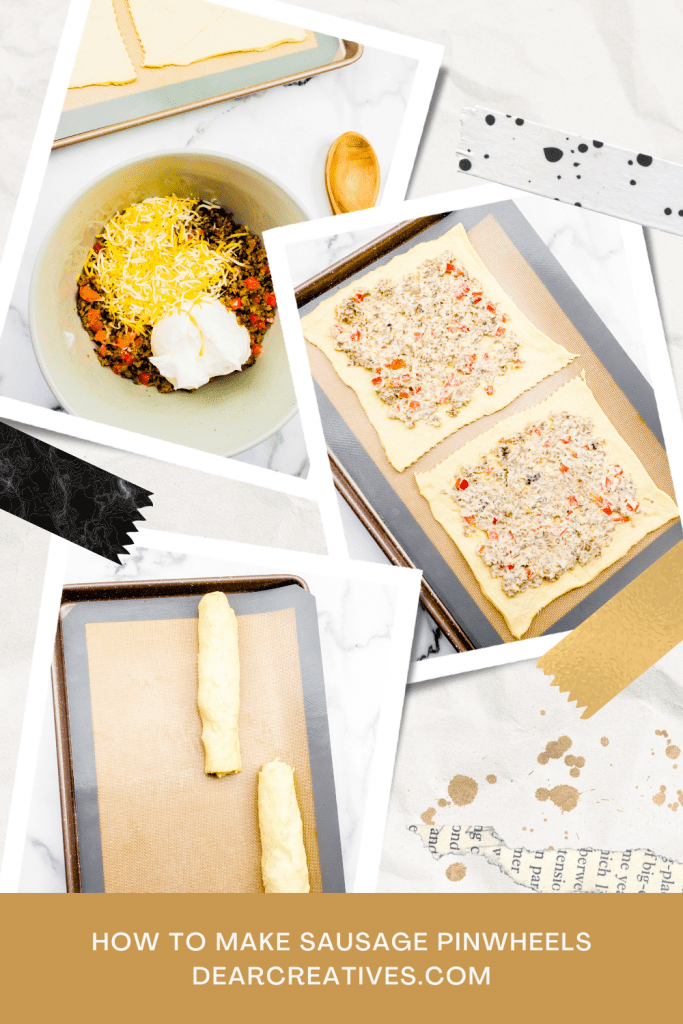 Step 2
After Freezing the sausage roll logs.
Preheat the oven to 350 degrees.
Carefully cut the log into 8 to 10 slices (depending on how thick you want them) and arrange them on prepared baking sheets (either lined with parchment paper or silicone mats).
Place in the oven and bake until they are golden brown 15 – 18 minutes.
Remove from the oven and serve while warm.
Using the optional garnishes. Garnish or serve with sliced green onions and diced tomatoes. Additionally, you can serve them with mustard or a mustard dipping sauce. I like sweet honey mustard but, you can serve it with spicy mustard too.
Not making this recipe right now? Pin it to make it later!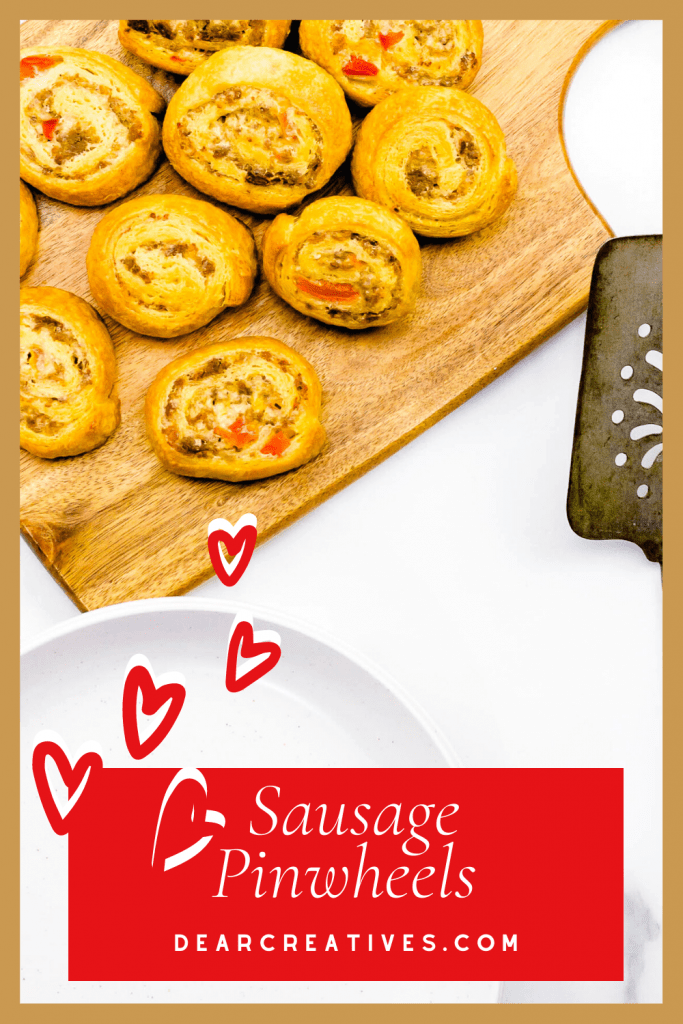 New here? Be sure to Subscribe. Grab our bonus printable recipe binder and cooking resources. Plus, never miss a post with our newsletter!
Don't forget to Pin it for Later
Looking for more appetizer ideas?