I'm excited for BBQ and picnic season. Are you? Maybe it's any excuse to grab a big bag of tortilla chips and make a yummy dip or salsa. Are you a tortilla chip lover too? One of my favorite appetizer recipes is salsa. Today I'm sharing my recipe for Strawberry Salsa. You need fresh ingredients but, you can make the appetizers ahead of time. Right now is the perfect time for juicy, big strawberries where. They are packed full of flavor.
I grabbed my organic strawberries at the local farm stand. I'm lucky it's just down the street. I take a box and load up with fresh fruits and veggies for the week. This past week I stocked up on strawberries, avocados, lime and garlic. I found a recipe online and adapted it. This is a really refreshing and a light appetizer which is perfect for eating with tortilla chips, topping cooked frish or cooked chicken. Summer never tasted so good with this Strawberry Avocado Salsa.
Strawberry Salsa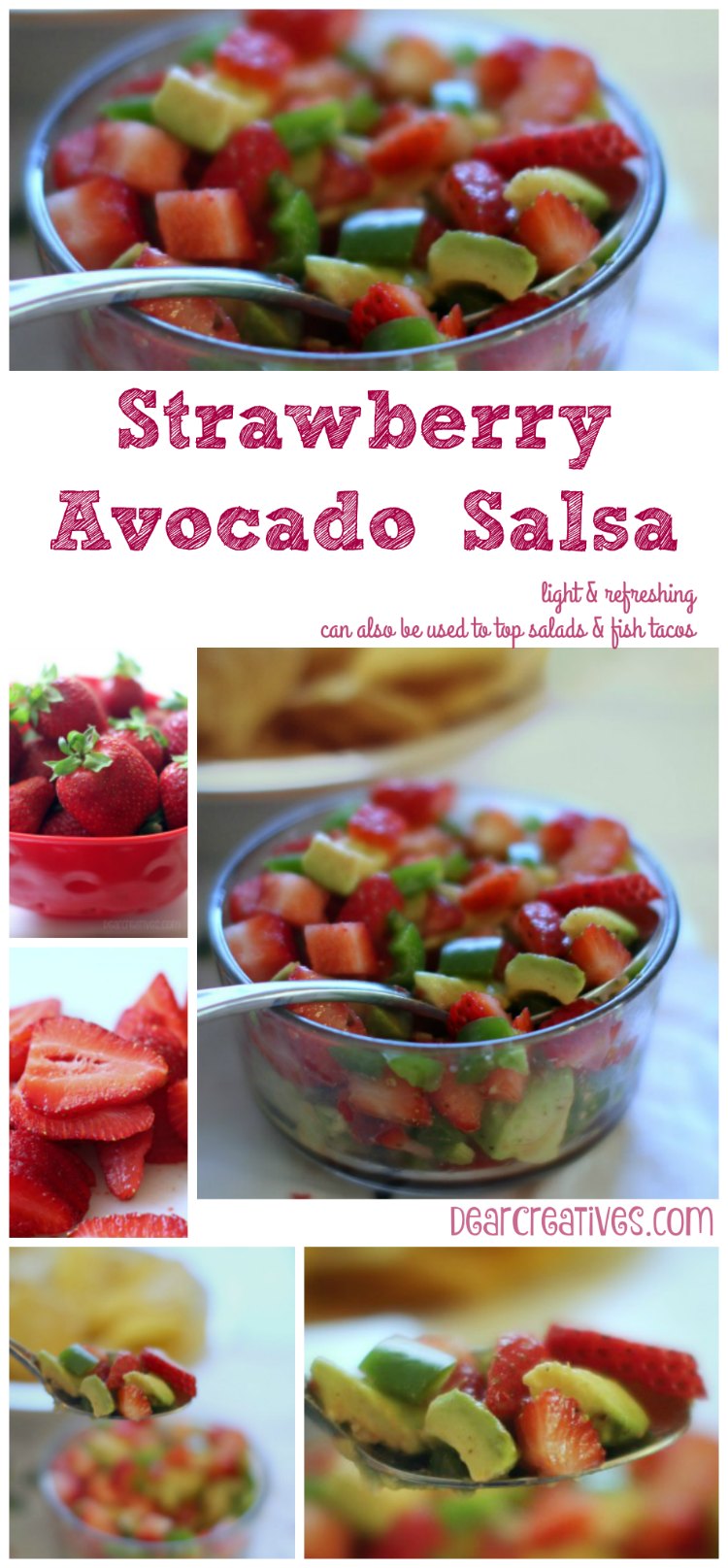 This is so delicious it will be gone in no time! I highly recommend doubling. If you have left overs you can keep it in the fridge for a day. But, the fresher the better! Again, you can make this recipe slightly ahead of time. The lime helps keep the avocados from turning color.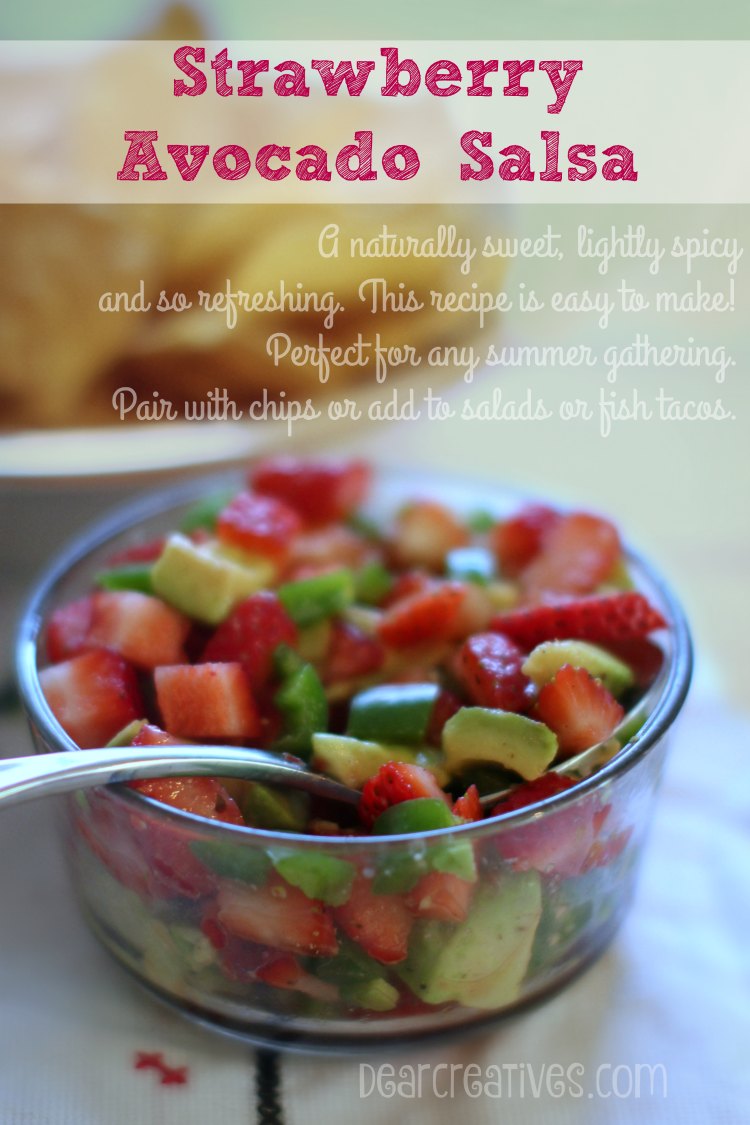 What I love about it is it's got that sweet, spicy taste to it. But, I have tips for adapting it's heat level below.
Salsa
Strawberry Salsa
This is a light refreshing strawberry salsa. Perfect in late spring or summer months with fresh fruits at it's peak. The with combination of strawberries, avocado, jalapenos and lime makes this is a must try recipe. Serve with tortilla chips or over cooked fish or chicken. Amazing.
Ingredients
2

avocados

1

basket fresh organic strawberries

1

jalapeno

2

cloves

garlic

1

lime

pepper
Instructions
Follow the steps below, after each step place your ingredients into one bowl.

Peel and cut up your avocado into bite size pieces.

Wash, chop your strawberries.

Wash and chop one jalapeno. (leave seeds in if you want it hotter, or rinse out seeds prior to chopping by splitting in half)

Peel and finely chop or crush with a garlic press! 1-2 garlic cloves depending on how big they are

Sprinkle with a little black pepper (optional)

Juice half of the lime into the mixture

Gently stir all ingredients in the bowl

Let flavors combine.

Serve at room temperature. Keep in refrigerator covered for longer periods of time. Best prepared closer to serving time, due to the nature of avocados turning color. The lime will slow this process down and add flavor to the appetizer.
Recipe Notes
Use gloves or slip your hand into a plastic glove when handling peppers.
You can add chopped cilantro to the mixture if you like. On this day I didn't have any on hand.
I don't typically salt my recipes but, if you'd like you can add a dash of salt.
Adapted from Maureen Callahan Cooking Light My Recipes
The appetizer dip recipe is so refreshing, easy to make, and can be adapted easily. Want to heat it up? Add hotter peppers! Or leave in the jalapeno seeds. Want it a bit milder? Reduce the amount of jalapeno and decrease the garlic by one.
I serve my salsa up in my clear glass dishes as I love to see the pretty colors of the salsa. Plus my set comes with lids, perfect for storing until serving time or if you have left overs. These storage sets come in various sizes, safe for all kinds of uses and includes the 4-cup round dish. To find out more about these Pyrex dishes 10 piece set with lids. What I love about Pyrex is my grandma used them, they are dishwasher safe and they are made in the USA.
You can also use the recipe as a topping to a salad grilled chicken salad recipe or top your fish tacos.
What types of appetizers do you enjoy serving?
New here? Don't forget to subscribe and get our free bonus. Plus never miss out on all our recipes, crafts and diys.