When it comes to any holiday or gathering the hero can definitely be the turkey. Cooking a turkey is much easier than you think with a few basics on how to roast a turkey and an easy recipe. I love recipes that aren't complicated. If I find one that sounds good but, has excess steps I try to reel it in making it easier without losing all the lovely flavors. Last years turkey recipe we tried was one that was a winner. I am also sharing all the steps of how to roast a turkey for anyone who is new to cooking one.
This Roast Turkey Recipe is easy, flavorful and turned out moist and delicious. I'll just show you how easy along with how we adapted the recipe and of course point you to the original in case you'd like to go gourmet. In the end it's your choice but, if you do end up making either I'd love to hear if you enjoyed it as well.
I really brought this down to the basics. We did brine the turkey prior to our recipe steps. Then we prepared what we would stuff inside the turkey. We make our stuffing for eating separate and I shared the recipe at the end of the post. It's highly recommended to do it that way. These USDA Turkey Guidelines may help you for purchase, defrosting and preparing your turkey. Did you know you shouldn't rinse your turkey? Since, 2011 they recommend you wipe it out. See guidelines for detailed tips.
How to Roast A Turkey:
Roast Turkey Stuffed With Onion Pears And Sage Recipe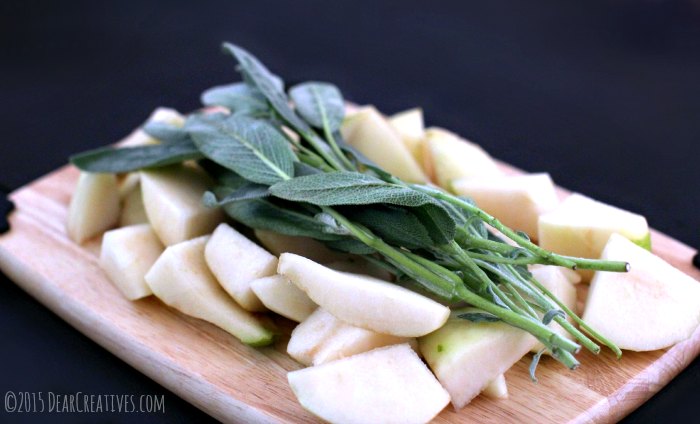 We washed, peeled and cut up several pears. Then we washed fresh sage and cut up one sweet onion.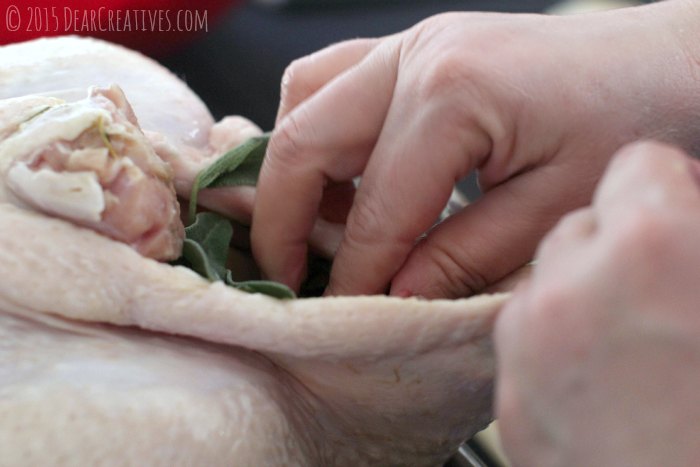 Place your turkey in a roasting pan with a rack inside. This is a best seller roasting pan with rack which is slightly bigger than ours. For 20lb.s and under our 15″ roasting pan with rack is on sale at Macy's from $79.99 down to $29.99! It worked great and that is the same price I purchased it for last year. If you need a stainless steel roasting pan see which is better suited for your family, I highly recommend either.
Then we sewed the skin shut with stuffing inside. Next we oiled him up with a little extra virgin olive oil.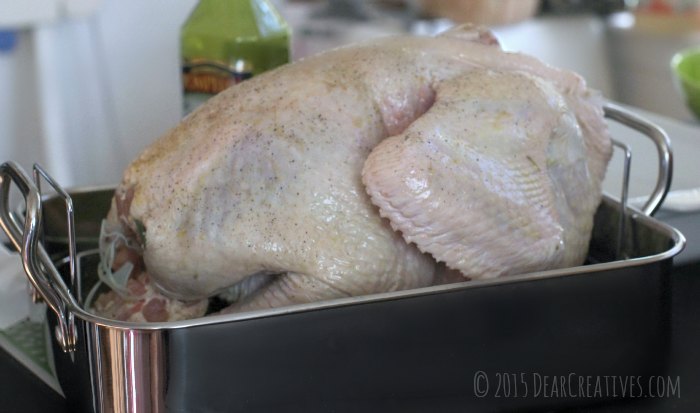 A dash of salt and pepper was added prior to putting the turkey in the pre-heated oven temperature 450 degrees.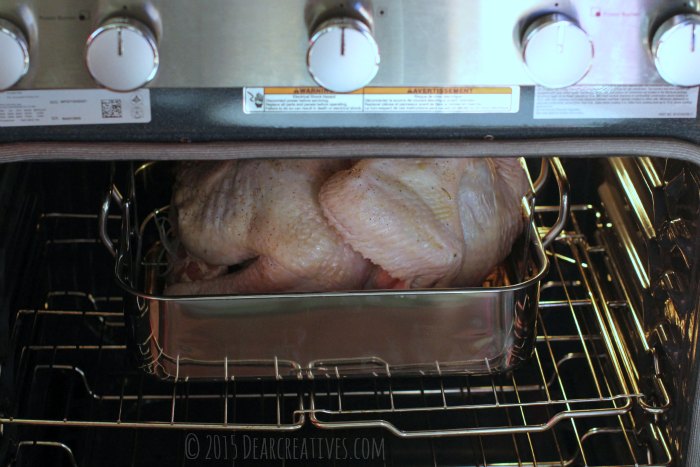 Into the oven uncovered. Make sure there is plenty of space at the top or lower / adjust your oven racks. Roast at pre-heated temperature for about 30 minutes, then reduce to 325 degrees following the USDA cooking guidelines for stuffed/or un-stuffed turkey. For our stuffed turkey 4.35-4.75 hours. *165 Internal temp.
Baste and check on your turkey during the process. This is my favorite baster I ever owned. It's the xoxo angled turkey baster with cleaning brush. Last year I broke in my brand new oven. I've been in love ever since. I was so happy to retired the old stove we had.
Keep basting until close to being done, reaching it's internal temperature of 165 degrees throughout the turkey. Use a good meat thermometer for checking. What I love about this one is that it has the internal temps. that your shooting for right on the face of thermometer. I also have a classic pocket food thermometer. It comes in handy having two as our family is big and we often times cook two meats.
How to Roast A Turkey:
Roast Turkey Stuffed With Onion Pears And Sage Recipe
Roast Turkey With Onion, Pears And Sage
An easy turkey recipe that has delicious flavors and moist.
Ingredients
Brine Your Turkey.

Take Turkey out of Brine.

Turkey

clean it out & wipe it out

1

sweet onion

1

bunch of sage

3-6

pears depending on the size of your turkey

Extra virgin olive oil

salt

pepper
Instructions
Peel and slice pears

Peel and cut up onion

Add cleaned turkey to roasting pan.

Rinse off and pat dry sage

Stuff into cleaned turkey cavity.

Sew Turkey cavity closed.

Lightly cover turkey exterior with olive oil.

Lightly salt and pepper turkey exterior.

Add Turkey to pre-heated oven 450 degrees

Cook for approx. 30 minutes

Reduce heat to 325 Finish cooking until turkey reaches an internal temperature of 165 degrees everywhere.
Follow the step by step instructions with images in the post
Recipe Notes
Brine Directions: http://www.adventures-in-cooking.com/2012/11/roast-turkey-with-pears-sage.html
Adapted from Adventures In Cooking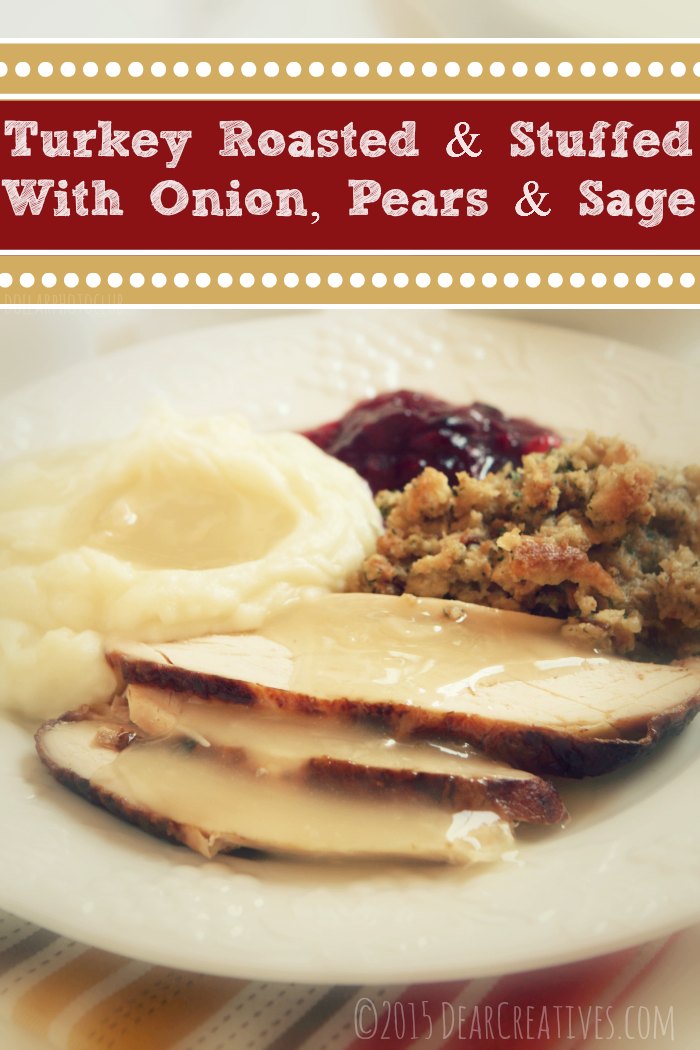 Have some Thanksgiving recipes you'd like to share with us? Submit them to our parties on Fri/Sat posts
Be sure to subscribe for all our posts and never miss out!
How do you cook your turkey? Do you have a favorite stuffing?