Summer is the time of year that so many of our favorite fruits are in season. The best part of living in California is the long growing season because even if you don't have a garden there are plenty of local farmers markets where you can purchase fresh, organic seasonal fruits and vegetables almost all year long. It is well worth dropping in on your local farmers' markets the prices are usually very fair, the quality amazing and there's a large organic choice to enjoy. This Meal Plan Monday is focusing on the freshly squeezed summer must make it, bake it and cook it. Today's hero is strawberry! Of course there's going to be some grilled recipes in the mix. Nobody wants to heat up their kitchens all summer long! Right? Right! Today's recipes are for all things strawberries that have been catching my eye that I thought you might enjoy too!
Strawberry Appetizer Recipes;
First up we love guacamole! What does this have to do with strawberries? Let me tell you. I spotted Love and Olive Oil's recipe for Strawberry Guacamole I knew this is one I wanted to try. Kick it up a knot-ch with pretty, seasonal, sweet strawberries and let your palette savor the bright fruity flavors.
Next from Better Homes and Gardens these two easy strawberry appetizers. Strawberry Goat Cheese Bruschetta Recipe and this simple Strawberry Bruschetta Recipe with cream cheese and honey.
Strawberry Salad Recipes;
Strawberry Main Dish Recipes;
Strawberry Grilled Recipes
Strawberry Dessert Recipes;
Strawberry Drink Recipes;
Strawberry Jam Recipes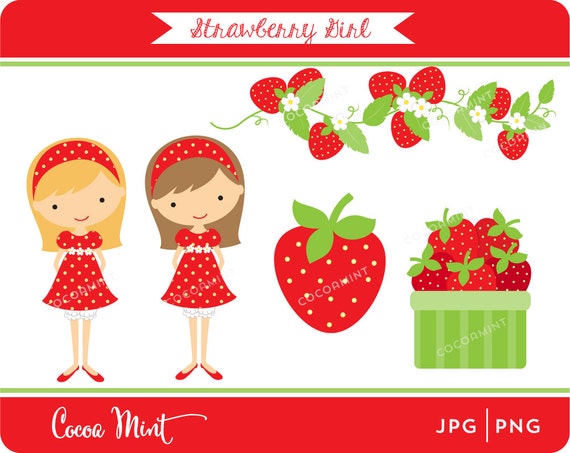 Maybe you'd like to throw a little summer girly strawberry party? DIY your own invites with this set of Strawberry Clip Art which is so adorable You can find it along with some strawberry digital papers which is great for digital scrapbooking too in Cocoa Mint's Etsy Shop.
What is your favorite thing to make with strawberries?
Today's Special Affiliate Offer is a great one you might not want to miss out! Just for my readers!
Save $50 on Cricut Explore Bundles AND Free Shipping (on $35+ Orders) at Cricut
Make your own explosively creative decor for your next bbq! Save $50 on Cricut Explore Bundles and make your own unique decor for your BBQs and outdoor get-togethers. Shop now and get free shipping on all orders of $35 or more when you use the promo code: FREESHIP35 at checkout. Take advantage of this great deal today, but hurry because this sale ends 7/8/2014!
But, if you miss out on this deal don't worry I have you covered! Save 33% off All Cricut Supplies and Accessories
I'll be sure to keep you posted of big savings that come along again so subscribe so you never miss out!