Are you on the hunt for a new refrigerator? Did you know that September and October are one of the best times to purchase major appliances? Other times are on weekends or holiday weekends. If you are remodeling or ready to upgrade your refrigerator we are sharing our tips for buying a refrigerator plus, one of the best refrigerators to consider purchasing.
Anyone upgrading their kitchens, getting ready for the entertaining season, considering easy DIY improvement projects or replacing an old refrigerator? If this is you, I hope this helps you find the best refrigerator.
This post was sponsored by Best Buy. All opinions are my own.
We were introduced to the LG InstaView™ Door-in-Door® Refrigerator with Craft Ice™, this fridge has captured my attention. Think stylish, functional, packed with the best refrigerator features, champagne wishes, and caviar dreams…this fridge has features that make entertaining easy.
If you love entertaining, are a foodie, cook all the time, love healthy eating… this may be the perfect style of the refrigerator for you. Hello, moms who cook and entertain "it's a dream fridge" (or dads who cook).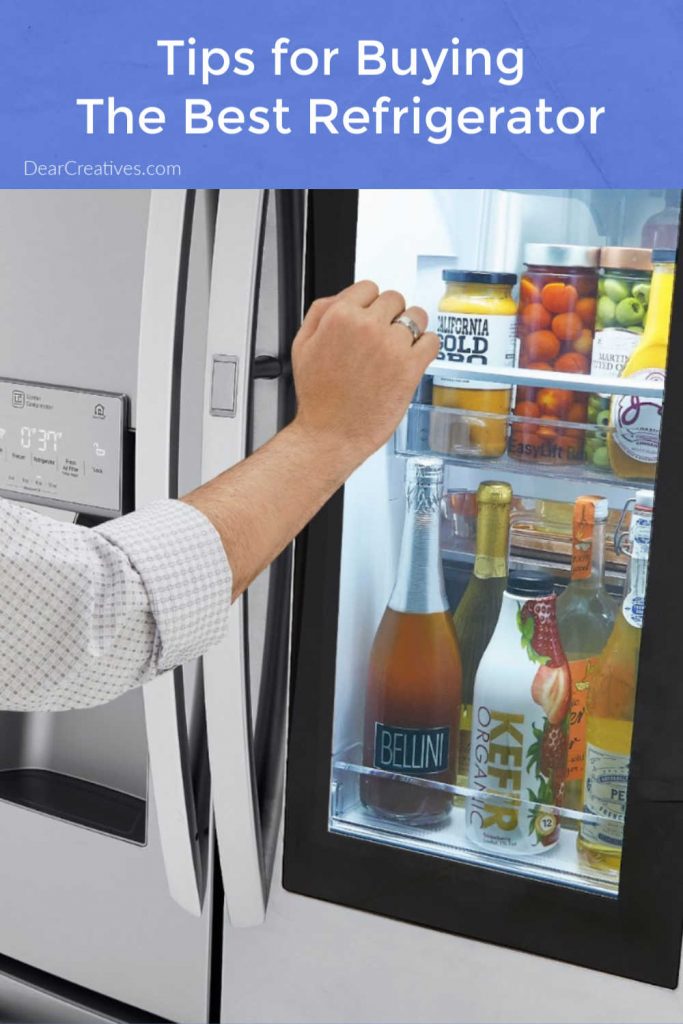 Tips For Buying A Refrigerator
Measure First, Shop second – What size Refrigerator to buy? Measure for what size you will need for the space you have. Decide where it will go before shopping and have your measurements written down and with you when shopping in the store or nearby if shopping online. (Side by side doors are typically larger refrigerators than ones with a single door)
Interior Size – Find out the interior space inside the refrigerator, look at the dimensions. (they are not created equal) If you are a foodie, cook or vegetarian or into fresh healthy foods, size matters!
Style – Side by side doors, freezer on top or bottom, pull out drawers, pull out trays… (Look, shop and pick your must-have features!)
Features – Consider what features you need and would use. Features such as; Print Proof Stainless Steel, Icemakers, Door alarms, Pull out drawers, Drawer dividers, Electronic controls…
Colors – Stainless steel is a timeless option and has been used by professionals cooks for years, and now along with homeowners. Other common colors are white and black.
Price – Know your budget but, be flexible if it is the right refrigerator for you. Check for warranties (how long? extended warranties? costs?). Are there appliance packages (when you are purchasing more than one major appliance, discounts are often given with bundling your purchase can save you big money). Consider financing (check terms and interest rates), and if there are rewards programs.
Find out Pick-Up Options – Are you in the delivery area? Is there Free Shipping, Free Delivery, Free Installation? In-Store Pickup options and times.
LG InstaView™ Door-in-Door® Refrigerator with Craft Ice™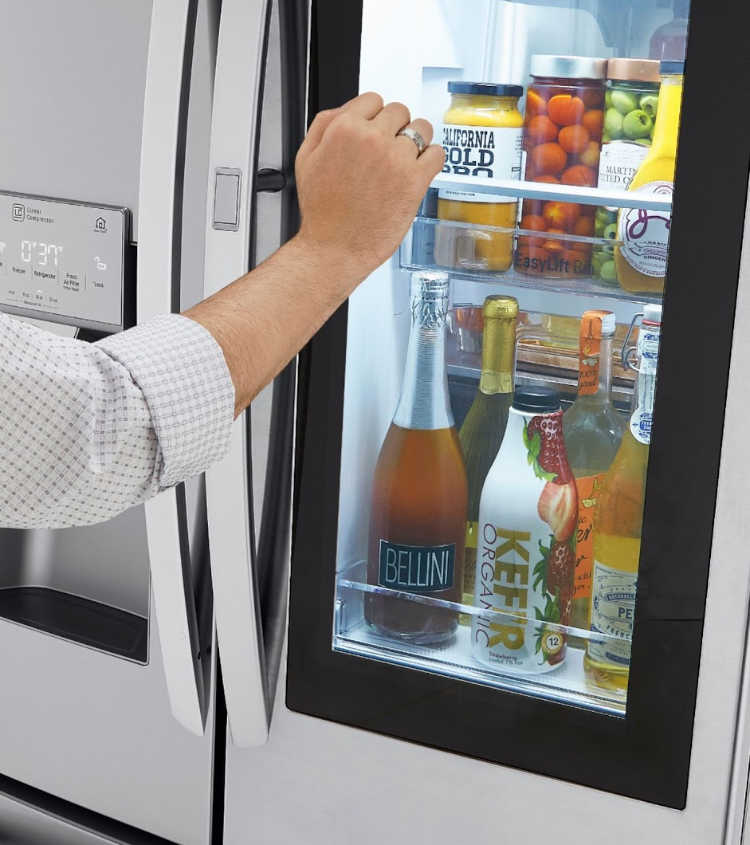 LG Instaview® Refrigerator
Have you seen the LG Instaview™ Refrigerator? If not, it needs to get on your radar! Go see it!
Let me tell you a few reasons why I am in love with this fridge and why we think you will love it too. This fridge is one hot pick!
I hate it when someone opens the fridge doors, looking in and wastes all the energy. (sound familiar??) Cold air spilling out, they can't make up their mind what they are looking for or want to eat… This problem has been solved with the Instaview Door-In-Door®! Tap on the door to reveal glass doors to see right into the refrigerator. Angels are singing as I speak.
Pretty, round, slow-melting ice! Ice, ice baby! When it's hot outside, you are making drinks, or are looking for game-changing ways to entertain, this is an awesome feature of this fridge. The Craft Ice™ maker that automatically makes batches of slow-melting round ice—without the work.
Door Alarm – This is a great feature to have if you have kids who forget to close the refrigerator door, the fridge is accidentally left open, or anyone forgetful working in the kitchen. The door alarm alerts you when the refrigerator door is accidentally left open to save energy.
Hello, fresh food organization! Organize contents with ease: Includes 4 split shelves, 3 fixed shelves, cantilevered shelves and more to provide ample space for storing items.
What features does the best double door refrigerator have?
INSTAVIEW DOOR-IN-DOOR
The LG InstaView™ design lets you see inside your refrigerator without ever opening the door—simply knock twice on the unique glass panel
Offering quick and easy access to favorite foods, the popular Door-in-Door® design gets even better with an adjustable bin that fits snacks and drinks of all sizes
Bin glides smoothly up and down and locks into place with minimal
CRAFT ICE
LG brings one of the hottest beverage trends home with the Craft Ice™ maker that automatically makes batches of slow-melting round ice—without the work
No more messing with expensive and time-consuming molds that only produce one or two at a time
A game-changer for home entertainers, Craft Ice™ opens a new world of high-end drinks and keeps your soft drinks, lemonade and iced coffee tasting their best
Additional ice maker on the door produces traditional cubed or crushed ice
What is Craft Ice?
Craft Ice is Ice that has a slow melt time helping beverages taste better longer. Made with filtrated water, which removes impurities. LG's exclusive round, slow-melting Craft Ice™ – helping beverages taste their best longer.
The list of features is so long, you really just need to see it for yourself.
Let me know what options are your favorites on this stylish refrigerator!
What tips for buying a refrigerator would you add to our list of helpful tips?
New here? Don't forget to Subscribe
Pin it for later
Related Content