Today I'm sharing Instant Pot Chicken Soup, with the colder weather finally here it couldn't be more perfect. I love warming up to a big bowl of soup when it's cold out. Don't you? Soup time can't come often enough for my daughter. What will she do when she heads to college without me to cook soup for her? Appreciate home-cooked meals even more!
What's awesome about using the Instant Pot to make soup is you still get all the flavor, it's healthy, and it cooks so quickly. If you are looking for other recipes to try in your be sure to see all our Instant Pot Recipes. We have our other soup recipes listed below. Let's get cooking!
Instant Pot Chicken Soup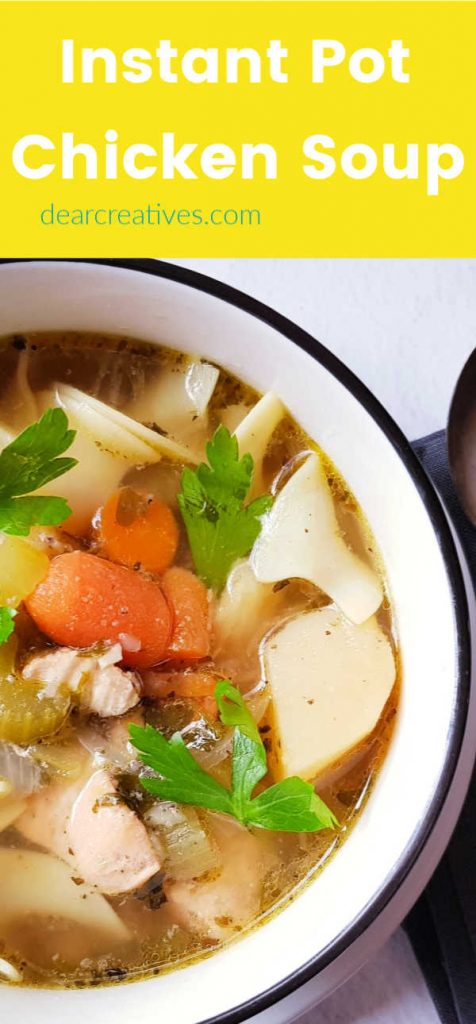 This Instant Pot Chicken Noodle Soup recipe is really easy to make. But, if you don't have an Instant Pot yet then you might like these chicken soup recipes:
You can see our other Instant Pot soups at the end of the post. We love making a big pot of soup to eat all year round but, in the fall or winter, when it's cold makes it even better. Making soup to keep healthy, or as good food to eat when you are coming down with a cold is so comforting.
What do you need to make Chicken Soup in the Instant Pot?
Ingredients
Olive Oil
Butter
1 Large Yellow Onion (peeled and chopped) 2-1/4 cup
4 Garlic Cloves (minced)
1 cup Celery
1 cup Baby Carrots
4 Russet Potatoes (washed, peeled and cut up)
1/4 cup flat-leaf parsley
A sprig of fresh Rosemary
2 Tbsp. Italian Spices
Salt and Pepper to taste
4 Bay Leaves
2-32 ounces of Organic Chicken Broth
1-1/4 pound boneless skinless chicken breast
1 cup egg noodles
Kitchen Tools Used:
Instant Pot What size Instant Pot to buy? We use a 6-quart Instant Pot. It's great for smaller families up to 4, maybe 5. If you have a bigger family, I would jump up to the 8-quart size Instant Pot.
Chef Knife is perfect for chopping up vegetables and cutting meat.
Cutting Board keeps your knife from slipping. Be sure to use it placed on a dry countertop or table when chopping.
Colander a kitchen must-have easily rinse off and drain water from vegetables.
Wood Spoon for stirring when sauteing.
Soup Ladle helps you get big heaping spoonfuls of your soup and vegetables.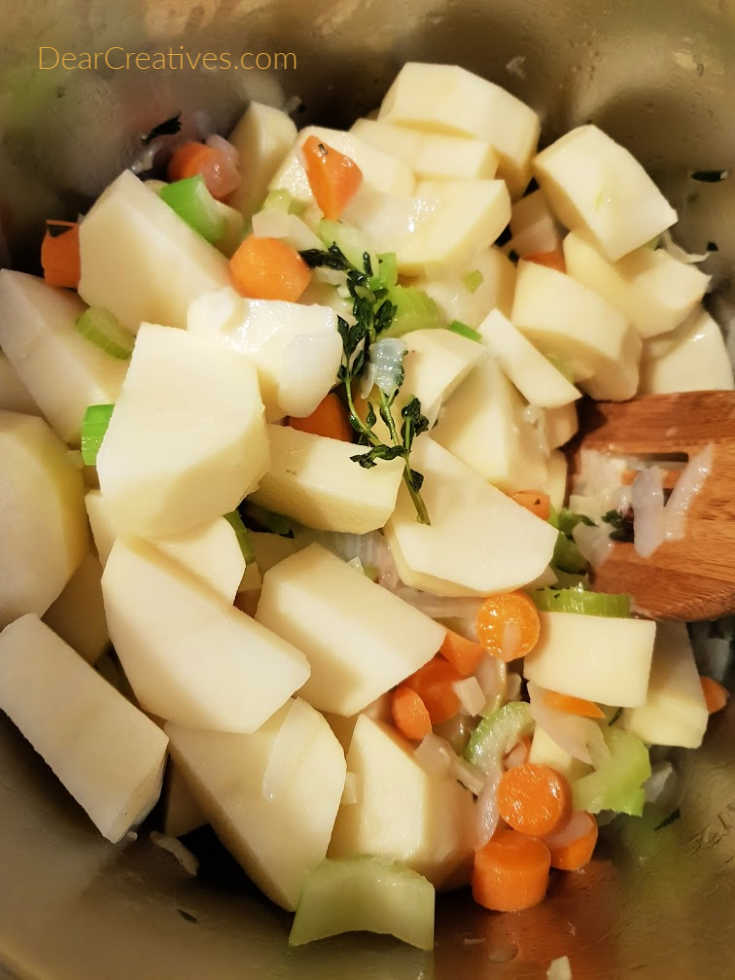 How to make Chicken Noodle Soup in the Instant Pot
Instructions
Start by washing, and chopping up the onion, garlic, celery, carrots, and potatoes (keep the potatoes in a bowl of cold water until needed)
Wash and Chop the flat leave parsley.
Cut up your chicken after you are done preparing your vegetables, if not purchased pre-cut.
Put your instant pot on saute add 1 tablespoon of butter and olive oil to the pot.
Saute the onion, garlic, and celery. Cook until the onions are translucent.
Add the chicken, carrots, and parsley, the sprig of rosemary saute a few minutes longer,
Then shut the saute off.
Add the potatoes and the 2 boxes of the chicken broths, all the spices, salt (1/4 tsp.) and pepper (1/2 tsp.). NOTE: Make sure the ingredients do not go over the MAX line.

Place the lid on the Instant Pot, make sure the lid is secure and the valve is set onto sealing.
Set the Manual – Pressure Cook Time for 10 minutes.
When done let the pressure release countdown naturally (about 10 minutes) Ensure the valve releases any final pressure/steam before opening lid by venting the value.
At this point, you can either add noodles to the Instant Pot, while keeping it set to warm, replace the lid, cook noodles until al dente. OR cook the noodles during the pressure release count-down time in a separate pot on the stove according to the package instructions until noodles are al dente, rinse with cold water (to keep them from sticking together) then add them to the bowls of soup before serving.
Serve with biscuits or crackers.
Enjoy a big bowl of chicken noodle soup!
Instant Pot Chicken Noodle Soup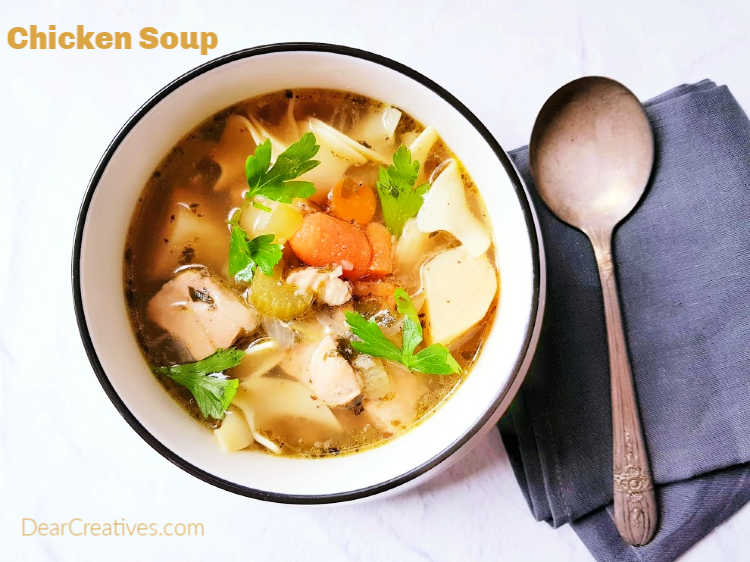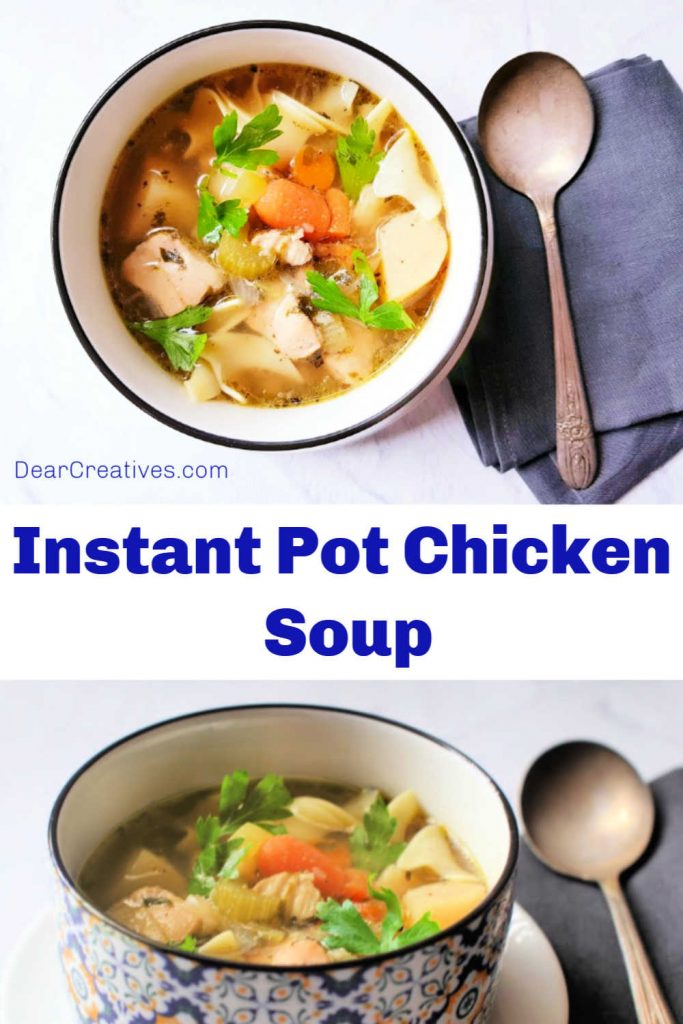 Related – Instant Pot Soup Recipes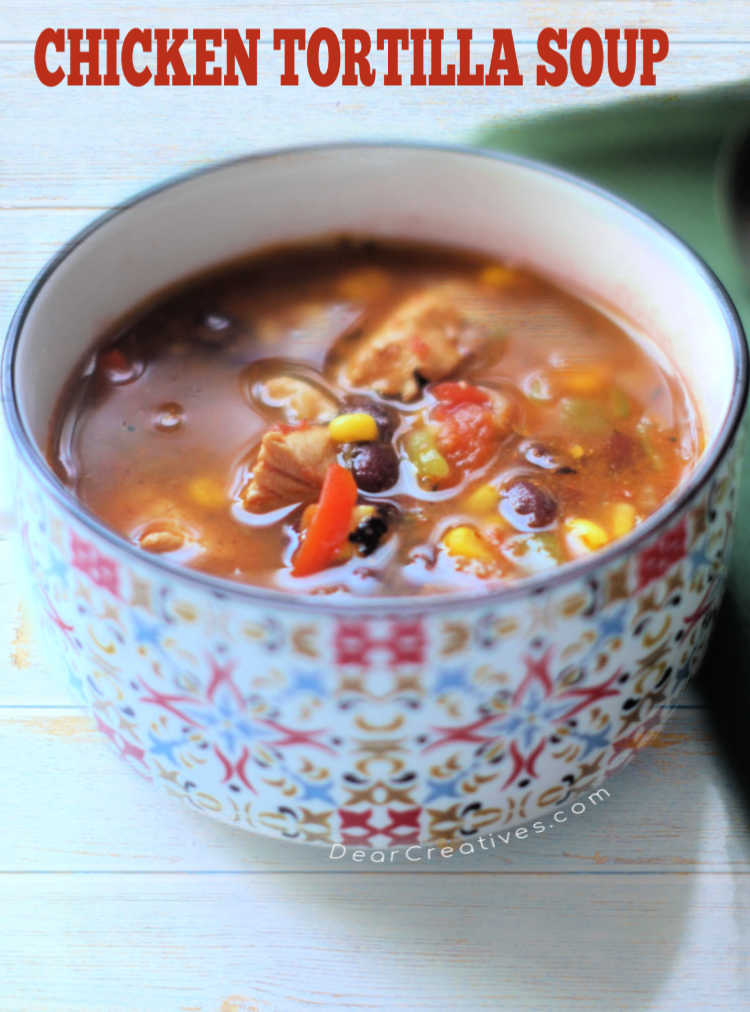 Are you looking for a flavorful, quick to prep soup recipe that you can get on the table quickly? This crowd-pleaser is a family favorite. We adapted our chicken tortilla soup for the instant pot. Add corn tortilla chips, cheese, diced avocado and squeeze of lime. Enjoy this soup any night of the week.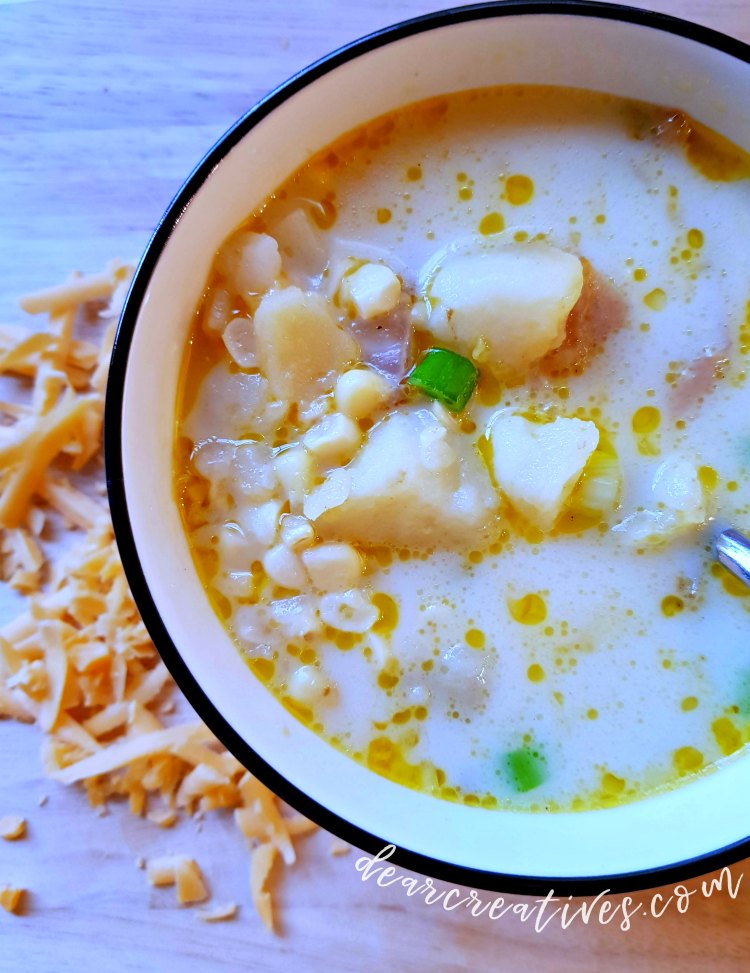 This is a vegetarian soup recipe and is so easy to make. You'll be scooping a bowlful of soup up super quick with this recipe.