I love decorating for spring and Easter. Do you? Pretty pastel speckled eggs, birds, bunnies, bunny ribbons, shiny jars… I hope you get to make our latest DIY Easter Decor.
It's super easy to decorate mason jars and make mason jar crafts. Grab or gather up your craft supplies and a large mason jar. Follow the instructions below for how to decorate a mason jar for Easter. This is a quick Easter decor project that anyone can do! I promise.
DIY Easter Decor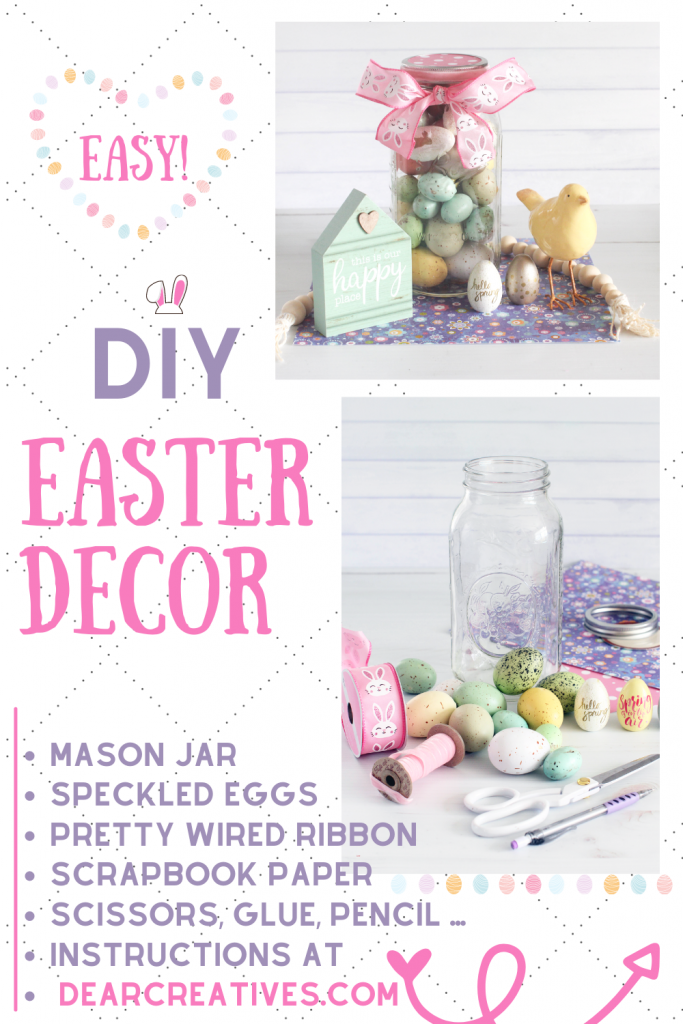 For this DIY Easter Decor – Use speckled eggs, decoupaged eggs (optional), wired ribbon, and a mason jar…This is an easy Spring Craft that anyone can do! Display it in your home for spring and Easter.
Supplies
Easter Mason Jar Craft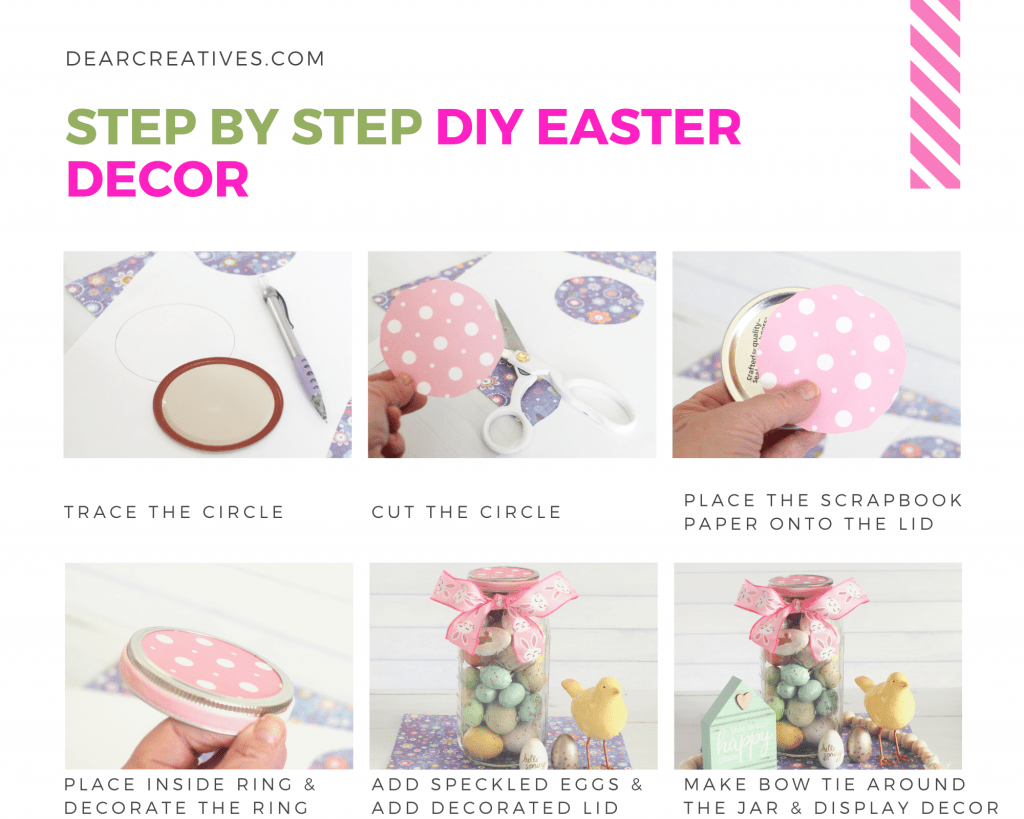 Instructions
Gather your craft supplies.
Make sure your mason jar is clean and dry and has the ring/lid.
Trace a circle using a pencil around the outside ring of the lid.
Cut out the circle you traced on the craft paper with scissors.
Insert the pretty spring craft paper onto of top of the lid, (under the ring) and place the ring over it.
Set to the side.
Add all your speckled eggs into the mason jar.
Glue velvet ribbon around the edge of the lid's rim.
Secure the jar lid onto the jar.
Make a bow ribbon around the mason jar to complete the decorations.
wood house decor / wooden bead tassel / ceramic Easter decor / wooden eggs to decoupage
Tada! You are done. Use the decorated mason jar to display on a shelf, bookcase, or use it as part of your table centerpiece decor! If you aren't making it right now, be sure to pin it for later! PS don't forget to subscribe I have a wooden bead tassel craft coming soon!
Other ideas for this mason jar craft – Optionally, you can spray paint the lid of the mason jar before beginning this project. Or use no lid and add faux flowers. And if you prefer, you can use fabric scissors and cut out fabric to use under the lid of the jar.
Happy Spring Crafting!
If you have left over wooden or plastic eggs you might like to make this Easter Egg Wreath!
New here? Be sure to Subscribe.
Pin it for Later
Spring Crafts, Easter Crafts, and DIY Easter Decor
Have you seen our Web Story