Kitchen Tools For Summer– Cooking in the summer means a lot of no-fuss stove-top cooking and grilling. Plus, prepping of fresh vegetables and fruits. Less cooking in the oven and more in the Instant Pot or crock-pot. See our summer must-haves, a list of helpful kitchen tools.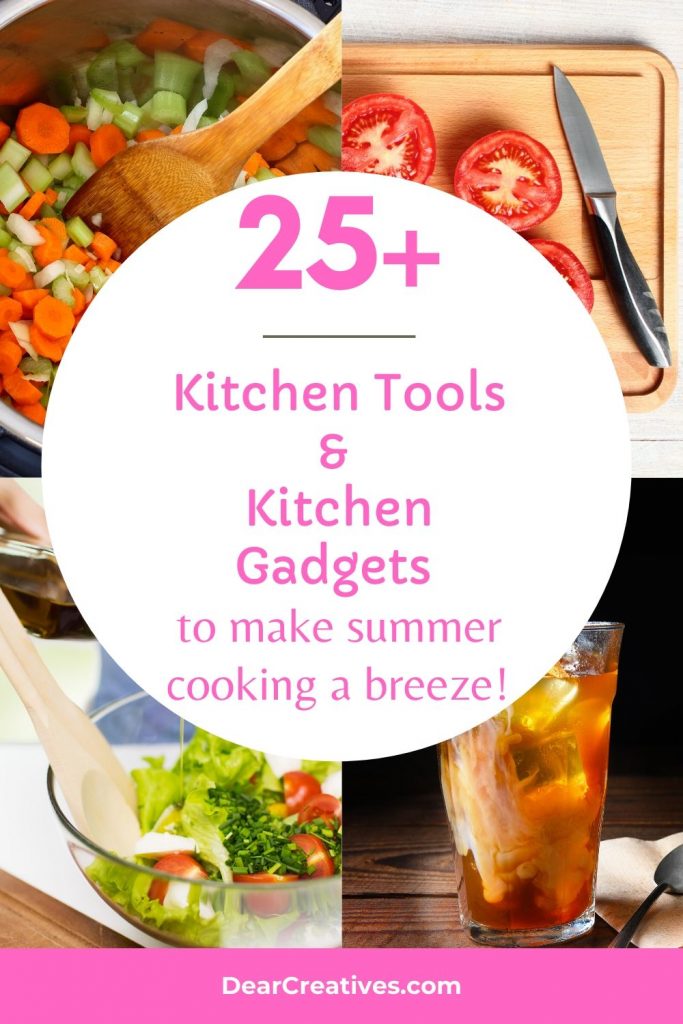 With the warmer weather here I thought I would share a few of my favorite kitchen tools. These kitchen tools and gadgets are must-haves for the summer! They will make prepping and cooking a breeze for you! I'll explain what they are used for and why you will love it.
Affiliate links are included in this list. We earn a small commission for qualifying purchases.
This is a list of handy kitchen tools to own for food prep, cooking and, grilling. They are helpful for spring, summer, and into the early fall when the weather is warmer.
KITCHEN TOOLS FOR SUMMER
Salad Bowl Set – This is a 4 piece salad bowl set with bamboo cover. Perfect for salads, pasta salads, potato salad, and serving your guests. Use the bamboo cover to protect food and as a spoon rest when serving.
Salad Spinner – For removing the water off of the salad leaves and vegetables.
Squeeze bottles – For salad dressings and for condiments…Great for serving them outdoors.
Olive Oil and Vinegar bottles or dressing bottle for making salad dressings.
4 Piece Pot Set – The Pot comes with 2 strainers of different sizes and perfect for boiling your pasta, potatoes, or tomatoes. The lid is see-through and made with tempered glass. Cook, blanch, boil…
Potato Peeler – For peeling all those fruits and vegetables.
A meat thermometer to ensure you are grilling the meat to food-safe temperatures.
Strawberry huller for removing the stem tops from strawberries. This can also be used for removing pineapple eyes and tomato tops.
Pineapple corer, slicer, cutter for removing the core out of pineapples.
Watermelon baller/cube slicer – is a must for watermelon lovers. Add the watermelon balls or cubes to your fruit salads or serve to kids…QUICK & EASY TO USE: Stainless steel 18/8 Watermelon Slicer is a serve easy tool to allow quick cutting and serving of watermelon cubes smoothly and easily.
Cherry Pitter – Great for removing pits from fresh cherries. You can also use this for removing olive pits!
Vegetable Chopper – These tools are super handy for chopping onions and other vegetables.
Cutting boards – I love ones that you can sanitize and wash in the dishwasher. These are perfect for cutting meat or vegetables.
Grill Cleaning Brush – Girls and guys if you are grilling be sure to clean the grates. This tool makes it easy!
Grilling set – long-handled utensils for cooking on the grill. To help keep your body away from the heat.
Tongs – Use them for grilling, pulling noodles out of the water, serving your salads…
Hamberger press – Make uniform hamburgers easily. It comes with 100 patty papers to start you off.
Reusable Sandwich Bags – Good for sandwiches, snacks, and packing up picnic lunches.
Cold Brew Coffee Maker/Cold Brew Storage Container – Make and store iced coffee in your fridge and Cold Brew Coffee – smooth, coarsely ground coffee for cold brewing coffee.
You could probably use this for loose leaf tea for making iced tea too! Perfect for iced cold summer drinks.


Ice Cream Scoop – This one has a premium handle and is dishwasher safe!
Frozen Yogurt Sorbet and Ice Cream Maker – Easy to use and make ice cream and sorbet! Double-insulated freezer bowl holds up to 2 quarts of frozen dessert. BPA free. Cooldown by making your own ice cream! If you are making ice cream you might like this waffle bowl maker! Nothing is better than homemade! Well, maybe Cold Stone ice cream. Wink, wink.
Pancake Batter/Cupcake Batter Dispenser – for all those summery batter recipes.
7 Blade Spiralizer for all the zucchini noodles and salad recipes you will be making. Open up a whole new world of healthy eating: use recipe ideas from your accompanied eBooks to start making healthy meals. Made of 100% BPA-free, reinforced ABS, strong enough to withstand even the hardest veggies E.G. Butternut squash, sweet potatoes, beets | designed to be Dead easy to use, clean and store.
Crockpot cooking is a great way to keep the house from heating up when cooking.
Instant Pot is our favorite way to keep the house cool and get meals on the table fast. We also cook chicken in big batches to prep it early for making multiple dinners.
Rolling Pin for baking pies.
Pie dish/pan and pie weights for making pies with summer fruits. Like this peach pie.
My Top Must-Haves For Summer Cooking
My most used kitchen tools in the summer are my Instant Pot
and/or Crockpot
for not heating up the kitchen! If you haven't invested in either you need to pick one and get one see this post Tips for selecting the best Crockpot or slow cooker. Or this post In The Kitchen: Hot Cooking Tools and Trends. (for Instant Pots…) And our outdoor gas grill
.
My other most used kitchen tool is the Vitamix Blender
for making smoothies and so much more, including prepping foods, and blending soups! I can't wait to make fresh salsas and soups this summer with our tomatoes we are growing! I have pretty much all these on the list with the exception of a few items. But, if I don't own it yet it's on my wish list.
You might remember my list of baking tools? So many people found this list helpful not only for having in their own kitchens but, for using as gifts too. You can use this list of baking tools if you are baking pies and other desserts this summer!
Are you canning this summer? On this post are our favorite canning recipes and canning tools.
What's your favorite tool or gadget for the kitchen?
New here? Subscribe Get a free printable recipe binder and kitchen resources.
SHOP THE POST

Related Content
Shop all our favorites on Amazon
Looking for recipes to cook this summer??