Happy Easter! I thought I'd share a quick an easy bunny bag I found and managed to make for the kids. You can book mark that one for next year while I do have a list of quick and easy projects below, free printables perfect for today along with some projects for the kids.
If you are like me you know  there are never enough hours in a day to ever get all the projects done you want to. Finding projects adding them to your to do list often has me working on several projects at once. My dining table gets over taken. The sewing machine has been moved to the living room and I warned the Mr. that we didn't need a coffee table. Yes, too often I use it for holding projects as I work on them while watching television. Sigh. But, with all that said the project collection doesn't stop. I did spend time making my home pretty for today. Rather than wait to next year while wishing you a happy Easter today,  I thought I'd share the  projects and printables you might enjoy for today as well as a few for next year too!
I hope you  all have the chance to have a wonderful day with family and friends.
I made these bunny treat bags and filled them with jelly beans and egg candies for the kids. I used different colored felts, multi colored cotton and ribbons. You can grab a free template and make your own version for next year. Or make them today with paper and a glue stick let the kids color the bunny. You'll see the link below.
I found this Easter Bunny Candy Pouch tutorial and template. Wouldn't you just love to whip one up and have some bunny love it! You can use the template to print the bunny and let the kids color it if you like.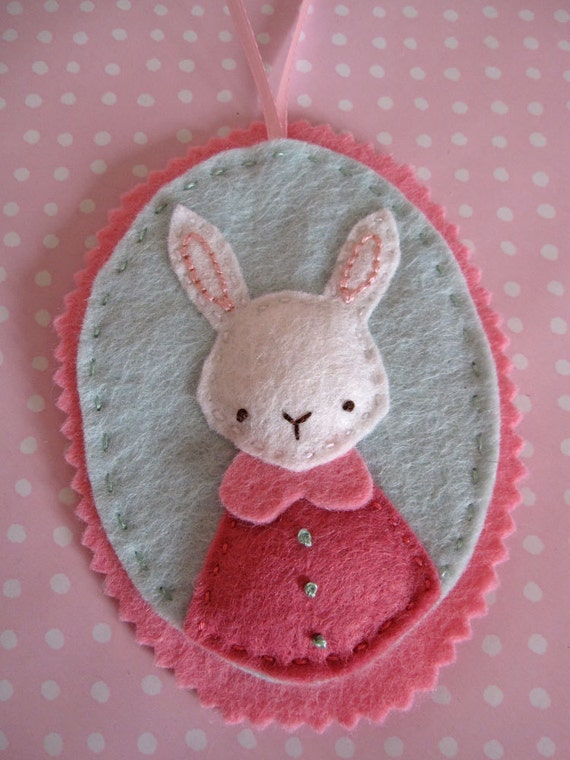 From Etsy is this darling felt bunny pdf pattern make it a broach or necklace . The pattern is available for instant download and under $7.00. I found this and am adding it to my list for making as little gifts for next year! Ok, this one might not be under 30 minutes but, I know this one is pretty quick. For more crafts under 30 minutes and a bunny template to print and color see list of posts below!
I love this cute free printable of a Easter Bunny  Illustration  one has no print and the other has Happy Easter printed on it. These illustrations are done by Kelli Murray if you have never viewed her illustrations you'll enjoy her portfolio and Etsy shop
Here are a few more posts packed with last minute and under 30 ideas, diys, crafts and a recipes!
How do you celebrate Easter?
Just in case your looking for something to add to a basket last minute these are some great deals from my affiliate!