I have a wish list of home decor that I have had my eye on. Right now, I'm finding styles of decor I am loving. I picked it out and put them onto a list for updating our living room decor… There is a big decor sale going on. Find decorating styles to suit your home. I did! All at one of our favorite online stores to get furniture and decor for the home.
Affiliate links may be included in the post. By clicking the links for qualifying purchases we earn a small commission. This is at no additional cost to you.
I'm looking at modern, chic, and boho styles. To create a look that blends all three decor styles. What style of decor do you like? What is your style?
Home Decor Style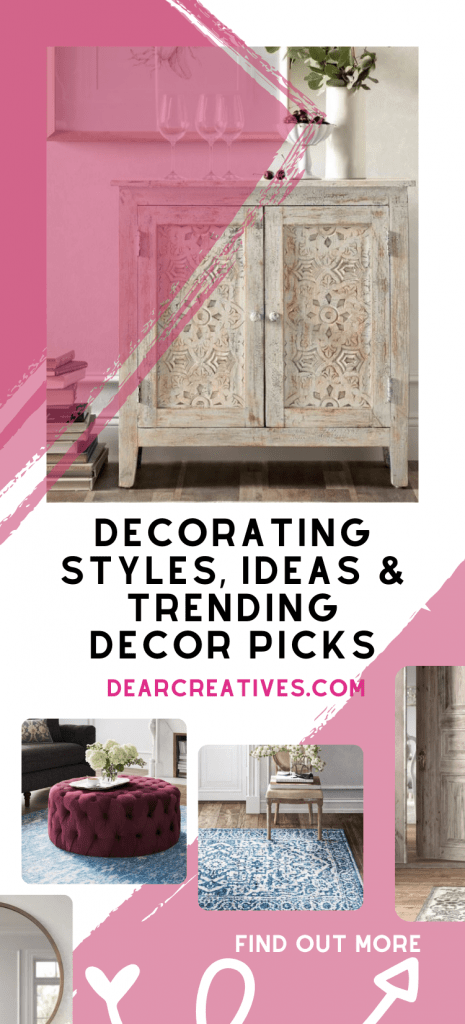 My decor wishlist is at Wayfair. I love how easy it is to create favorites to buy now or later. Below are just a few of the styles that caught my eye and are on my decorating wishlist!
Decorating Styles
Hover Image To Shop Decor
We love mixing decor styles. And colors when decorating. Start with neutral decor and layer color into your design. See these Hot decor styles right now! Wood beaded chandeliers and other beaded items, rounded mirrors, ottomans as coffee tables, area rugs with pretty designs, boho-styled wood furniture, and French farmhouse…
I have to say I'm kind of obsessed with Kelly Clarkson's Home Collection! You have to check it out if you haven't!
What's new in our house?
We need more seating options. I realized this after having guests over. I started to go down the rabbit hole. First with dreaming, planning, and decorating. With all the ways I'd love to redo my space. (I actually have 3 rooms I'm focusing on!)
The living room, Sammie's room aka going to add an office/workspace for her. She will be working from home. Plus, she is taking online college summer classes. And our master bathroom (I can't wait to show you what's going on!!).
What rooms are you working on in your home?
Go To The Sale! Pop over here to shop the sale or to find your favorite decor and take advantage of the flash sale too! Hot decor items priced perfectly.
What is your decorating style?
Shop The Post
New here? Be sure to Subscribe.
Pin it for Later
This two door display cabinet is available in blue! Happy decorating and dreaming.