Christmas Cookies With M&M'S – Do you enjoy baking Christmas cookies? This is such an easy recipe to make. With a few baking ingredients and a bag of your favorite M&M candies, you can make these easy holiday cookies.
Make and bake these with the kids. Or make them for your Christmas celebrations or holiday gatherings but, honestly, you can make them anytime you are looking for a good crunchy cookie with M & M's.
Affiliate links may be included in the post. By clicking the links for qualifying purchases we earn a small commission. This is at no additional cost to you.
Christmas Cookies With M&Ms
This is an easy cookie recipe to make. My grandkids love eating them and dunking them in milk. I enjoy having cookies to serve my guests and pairing them with coffee. You can make these cookies for Santa. Or bake them for your holiday celebrations.
Are you looking for a different cookie recipe to make? Cookies Recipes.
Christmas Cookies Recipe (EASY)
The cookies look festive when you use red/green M&M (with nuts) or red/green M&M (without nuts) but, any color will do. You might also like these brownie mix cookies with M & M's.
We used the milk chocolate candies with nuts but you can easily use the milk chocolate candies without nuts. You will probably need to increase the number of candies if you don't use the ones with nuts (The candies with nuts are bigger). An example with no nuts would be this small batch of M&M's cookies I made for spring/Easter.
Cookies With M&M Candies
Ingredients
Instructions
Preheat the oven to 350F. degrees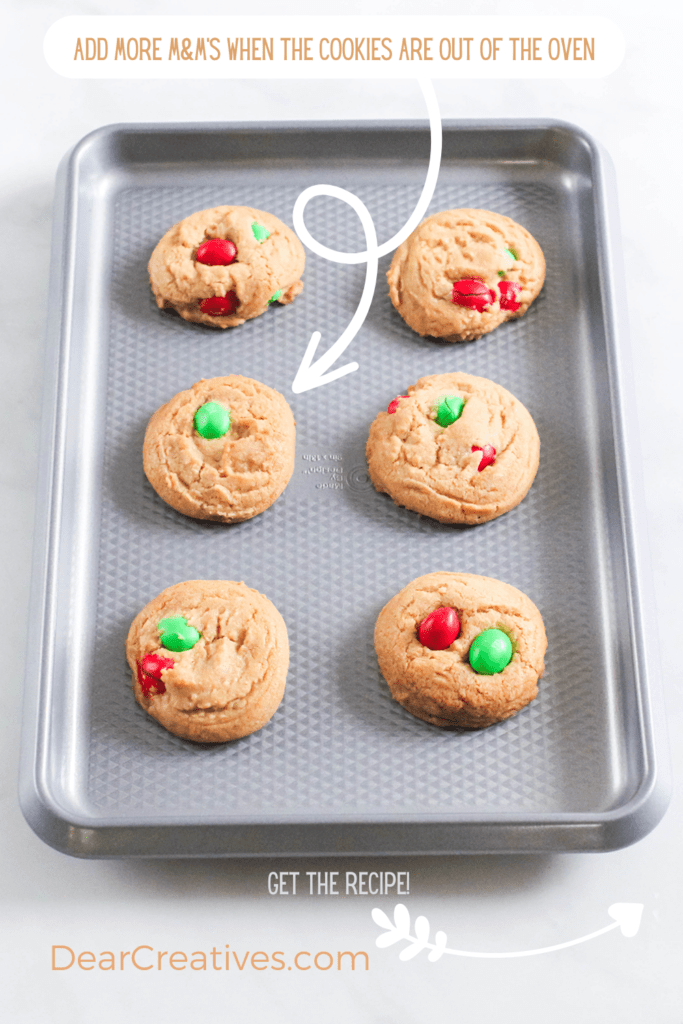 Cream the butter, sugars, and vanilla extract in a large mixing bowl. Next, add and incorporate the egg.
In a separate bowl measure the dry ingredients (all-purpose white flour, baking soda, salt) and whisk them slowly.
Combine the wet and dry ingredients by adding the flour mixture slowly to the butter mixture. Repeat until all is combined. Do not over-mix.
Stir in the M&M candies.
Scoop the cookie dough with M&M's onto a prepared cookie sheet.
I like to use a Silpat to line the sheet pan. Or you can line the pan with parchment paper.
Place the tray of cookies into the freezer for 20-30 minutes.
Next, take the cookie sheet out of the freezer and bake the cookies at 350F. for 15-18 minutes (until golden brown on the bottom).
Add additional M&M's to the top of the baked cookies, while they are warm. Cool on the pan (slightly) before moving them to cooling racks to finish cooling.
Repeat the freeze/bake, and top with additional M&M's process until all the cookie dough is used and the cookies are baked.
Notes: You will need at least one full bag of the M & M candies. These cookies aren't soft. They are crunchy and good for dunking in milk, hot chocolate, tea, or coffee.
Enjoy these cookies for the holidays or any time of year by swapping out the color of the M&M's you use! This recipe is easy enough for your cookie-baking parties and cookie swaps…
Serve them on cookie plates, set out the cookies and milk for Santa, or serve them at your celebrations! Enjoy and happy holidays!
Grab our favorite coffees for the holidays! Holiday Blend or grab these Holiday Variety Pack Coffee Blends in a bundle or by the bag and be ready for all your celebrations!
New here? Be sure to Subscribe. Grab our bonus printable recipe binder and cooking resources. Plus, never miss a post with our newsletter!
Don't forget to Pin it for Later
Print the recipe below and find more recipes to make.
Pin or Print The Cookies Recipe!
Related Ideas For The Holidays
Holiday Cookies, Christmas Cookies, and Sweet Treats