Pork Enchiladas is an easy recipe to make and you actually get two recipes with this recipe. I love easy recipes that you can stretch when needed. First I make the pork in the slow cooker one night and serve up for a dinner as tacos, a burrito or just with rice. Then the next day with the leftover pork I put together the Pork Enchiladas.
The recipe is easy to adapt. For us, we wanted to stretch the meal even further to give an extra pan to the family who just had a baby. We added black beans, corn, black olives, and shredded cheese. We combined these together after the meat was cooked, rolled the enchiladas with softened tortillas. Then topped the enchiladas with green sauce. Served with garnishes like cilantro, salsa, and sour cream. Don't forget a side of Mexican rice if you'd like. Let's make this!
Pork Enchiladas
This easy recipe is always good for making an extra pan to freeze and share. This can save you or someone else a night of cooking. Win/win.
Don't have time to cook up some pork? You could just grab some pre-cooked from the grocery/deli. Then follow the steps below.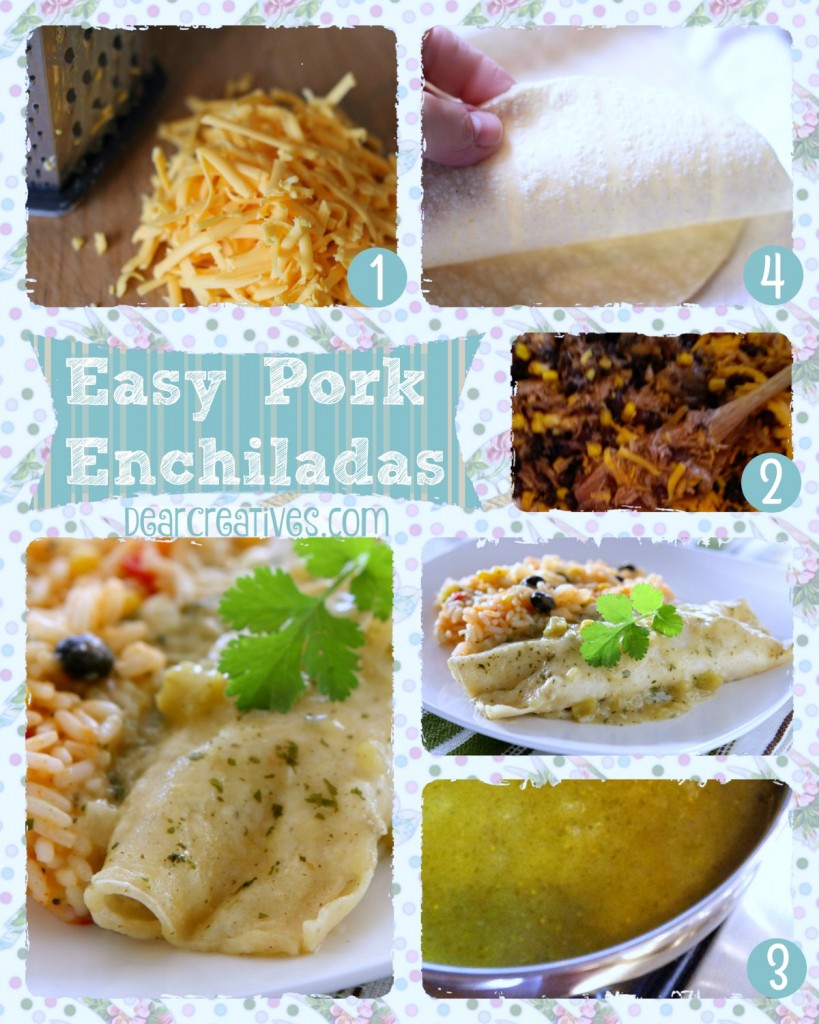 How to make pork enchiladas
Mix together in a bowl
Prior to rolling the tortillas we took the shredded pork and added it to a bowl.
Next, we added shredded cheese (Sharp Cheddar, Tillamook or a Mexican Three Cheese Blend will do)
We drained one can of black beans, adding them to the mixture
Then drained one can of corn, adding the corn to the mixture
Drain and chop one can of black olives, add to the mixture
Gently stir or mix with hands or spoon
Steps prior to rolling tortillas
Preheat oven to 350 degrees
Next, you need to warm your green enchilada sauce in a skillet on medium/low heat. We used two jars.
We microwave corn tortillas on a small plate about 5-6 at one time. Take a paper towel and cover them, sprinkle the paper towel with a little water. You will microwave them until soft and pliable about 1-1:30 on high. If not warm, or pliable heat them longer. (white corn tortillas or yellow corn tortillas will do)
Next, get your baking dish or purchased tin baking pan:
Spray your baking dish lightly with a non-stick spray such as Pam
Add warmed green sauce to the bottom of your baking pan
Take soft tortillas and one by one add the mixture and roll until the pan is full
Top with extra green sauce
Bake at 350 degrees until the enchiladas are hot, the sauce is bubbly and cheese is melted
Serve while warm, with garnishes. Add a side of Mexican rice and salad to complete your meal. Enjoy!!
Do you enjoy making easy recipes that are Mexican inspired?
New here be sure to Subscribe
Pin it for Later
Looking for easy Mexican dishes to make?