Are you looking for an Old Fashioned Apple Crisp recipe? This apple crisp that has oatmeal. And a twist to this recipe is the addition of half a cup of granola to give it a bit of crunch. But, you can omit the granola if you prefer. And keep it a traditional apple crisp.
This is so good when topped with ice cream. I love autumn and apples. Do you? Really what's not to love about them? I love is autumn baking with apples. I came up with this delicious, tasty apple crisp. All the fall flavors, crunchy goodness to the top. Granola with dried cherries. Oh yes, oh yum!
Affiliate links may be included in this post. This is at no additional cost to you.
If this isn't the apple recipe you are looking for you might like to try our Apple Crisp in Mason Jars. The recipe can be made in an 8 x 8 baking dish
too.
Old Fashioned Apple Crisp
This is easy to make and takes no time at all. Most of the time you need is for peeling all the apples, plus the bake time. I hope you enjoy the apple crisp recipe. Will you try this apple recipe? Of course if you are more traditional you can easily omit the granola just make this a yummy, cinnamon apple crisp.
Grab your favorite autumn apples! Wash, peel, and slice the apples. (you can click on the image below to enlarge it to see the steps)
Ingredients
Instructions for Apple Crisp with Oatmeal
Preheat the oven to 375F degrees
Wash, peel, and slice the apples.
Add apples and dry ingredients to a big bowl.
Mix well and pour into a pre-coated baking dish with

non-stick Spray

.
Top with any leftover in-bowl dry ingredients, plus 1/2 cup of granola.
Add bits of chilled butter slices to the top of the prepared apple crisp. Do this by adding the butter here and there all around the top of the mixture.
Bake at 375F degrees for 30 minutes.
Top with ice cream, whipping cream or whipped topping.
Scroll down to print the recipe.
I love mine served warm just out of the oven. You can top it with ice cream if you are eating it for dessert. We ate it for breakfast with coffee. What a nice weekend treat. Perfect for a fall brunch, an afternoon tea, or any autumn day you want an apple crisp treat!
Oh, yes! It's like a little bit of autumn in each bite! I added a little more butter than mentioned in the original recipe which I adapted. If you see that it is a bit dry looking during the baking process, add a touch more butter over the top. This will help give it that gooey goodness. This tasty apple crisp is sure to please.
Apple Crisp With Granola
Autumn-loving apple crisp! Perfect for any fall day. Enjoy!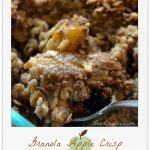 Autumn Delight Apple Crisp
This is an Old Fashioned Apple Crisp Recipe - with a slight twist. It is easy to make. Serve warm with vanilla ice cream or without for breakfast or brunch.

Ingredients
4-6

medium cooking apples

sliced (4 cups)

3/4

cup

packed brown sugar

1/2

cup

all-purpose flour

1/2

cup

quick-cooking or old-fashioned oats

1/3

cup

or +more butter slightly softened

3/4

teaspoon

ground cinnamon

1/2

cup

granola with dried cherries or your favorite

1

8 x 8 baking dish

non-stick baking spray
Instructions
Heat oven to 375*

Wash, peel and slice the apples.

Add apples plus, the dry ingredients in a big bowl.

Mix well and pour into pre-coated non-stick baking dish.

Top with any leftover in bowl dry ingredients and top with 1/2 cup of granola.

Add bits of butter slices to the top here and there over the entire mixture in the baking dish.

Bake 30 minutes at 375*
Recipe Notes
Check on the apple crisp when baking after 15 minutes. Add more butter to the top if it looks too dry halfway through.
Let cool slightly.
Serve with ice cream for dessert or no ice cream if this is for a breakfast or brunch.
Adapted from this recipe: http://zipth.is/@zttb5b
Looking for dessert recipes to try?
Related Fall Baking Recipes to enjoy