There is nothing like a loaf of good, homemade banana bread. What ticks my boxes for this banana bread recipe it is easy to make, moist, and filled with chopped walnuts! But, hey if you don't like nuts just omit them. I have a son who doesn't like nuts and he grew up on a walnut farm. Go figure!
Banana Bread Recipe
I found a recipe for banana bread online and adapted it slightly. This is a copycat of the Starbucks recipe. If you love their banana bread you are sure to love this Banana Walnut Bread!
Looking for something else to bake? Go here to see all our Quick Bread Recipes
Our tweaks to the recipe
I added cinnamon because I think it gives it a classic banana bread flavor profile.
Made my own buttermilk. Because honestly who buys it?
And slightly reduced the sugar.
If you don't like walnuts or have them on hand, pecans are a bit sweeter and will work just as well in this recipe.
Ingredients
Baking Tools – 1 bread loaf pan, mixing bowls, baking spoon, measuring cups, measuring spoons.
Instructions for how to make banana bread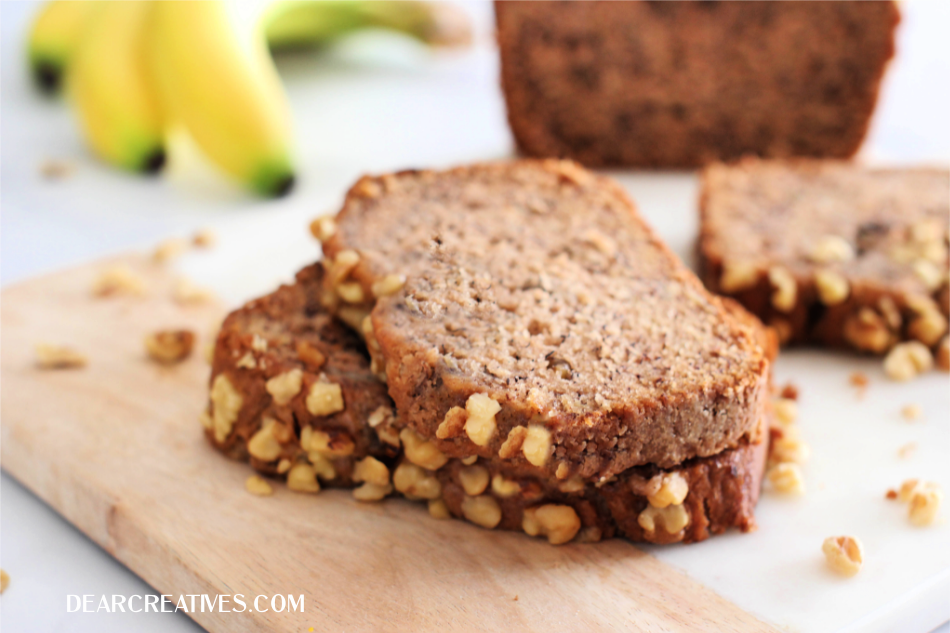 Step by step instructions
Preheat the oven to 325 F. degrees
Gather all your ingredients.
Make/prep the buttermilk -2 tbsp. buttermilk – 2 tbsp. half and half (or milk) + 1 tsp. fresh-squeezed lemon juice into a measuring cup or bowl. Mix and let stand for 15 minutes to allow it to turn to buttermilk.
Take the egg out of the refrigerator. Set the egg to the side until needed.
Prep your loaf pan by spraying it with non-stick spray with flour. And, set to the side until needed.
In a medium-sized bowl or a large measuring cup measure and mix flour, salt, baking soda, and cinnamon. Then set it to the side.
Mash your bananas.
In a large bowl combine vegetable oil, egg, vanilla extract.
Next, add buttermilk and bananas to the mixture.
Slowly begin adding flour mixture until all is combined.
Fold in the chopped walnuts. (reserving 1/3 of a cup for the top of the banana bread)
Pour the combined mixture into the bread loaf pan.
Top with reserved chopped walnuts.
Bake fully until a knife comes out clean.
Take the baked banana bread out of the oven.
Let the bread cool slightly before inverting the pan to release the bread.
Let the banana bread cool before cutting the bread and serving!
See notes for more tips! Enjoy!!
Recipe Notes
Notes: I used a glass bread loaf pan. Depending on your pan and oven the bake time may vary. Be sure to fully bake the banana bread.
If you don't have a non-stick spray with flour you can use a non-stick spray and add some all-purpose flour to baking pan. Ensure the flour coats the pan fully and shake out excess flour.
Honestly, I love recipes like this for when you have overripe bananas. Or are going to have family or friends over. Do you enjoy baking loaf bread?
Print and make this homemade bread with bananas
New here? Be sure to Subscribe. Grab our bonus printable recipe binder and cooking resources. Plus, never miss a post with our newsletter!
Don't forget to Pin it for Later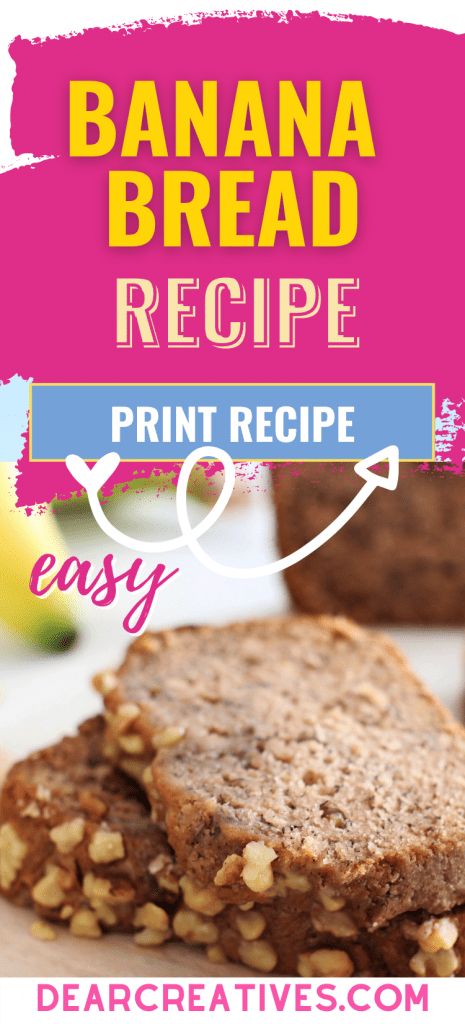 Pin it for Later
Other banana bread recipes to enjoy are our