This Blueberry Bread is packed full of fresh-picked blueberries. I used fresh blueberries but, you can use this recipe with frozen berries if you can't get your hands on fresh blueberries! Are you ready to bake a delicious quick bread recipe? Let's get baking!
Blueberry Bread
This blueberry bread recipe is so easy to make! The hardest thing about it is letting the bread cool down to slice it and get your hands on this moist tasting, berry-filled bread. The smell is heavenly.
Tasty, moist blueberry bread recipe… Pairs well with coffee or tea. Perfect for a morning breakfast, brunch, snack or use it as a blueberry dessert.
How To Make Blueberry Bread
Ingredients
Instructions
Preheat oven to 350F degrees.
Gather all your ingredients.
Have your egg at room temperature.
Prepare your bread pan with nonstick spray and a little flour. Coat bottom and all the sides, shake out excess flour. Set the bread pan to the side until needed.
Measure and add all your dry ingredients into a medium-size mixing bowl. (including the sugar)

In a large mixing bowl add vegetable oil, vanilla, egg, and milk. Use a whisk or fork to combine ingredients.

Add your flour mixture slowly into the wet ingredients while stirring. Mix until all the flour is combined.

Take the 2 cups of blueberries and combine them with the mixed batter. Fold them in gently.
NOTE-(If you like you can add a little flour 1 tsp. to the blueberries mixed together prior to adding them to the batter. This helps to keep them from sinking). I didn't this time and they didn't sink. It's up to you. I just forgot to. Typically the berries will sink in a lighter batter.

Add the batter, to the prepared baking pan. (Optional- sprinkle top with a little bit of sugar).

Place it into the preheated oven and cook until a knife or toothpick comes clean. Checking the last 15 -20 minutes of bake time to see if the bread is done baking. It will take 45-60 minutes or thereabout, depending on your oven and altitude.
Let the bread cool awhile prior to getting it out of the pan. If needed gently run a knife around the edges of the bread pan to loosen bread.

Invert the pan over a plate or cutting board. Finish cooling to slice, then serve!
Enjoy! Bite, after bite this is one delicious blueberry bread!
Recipe Notes-
I might not sprinkle the sugar on the top next time. Although it tasted great it made the crust have a thin sugary layer when baked.
This blueberry bread was really moist and delicious. We enjoyed it with our freshly brewed morning coffee and evening dessert.
If you don't use the loaf up, store it in the refrigerator!
For more than a few days, after the bread is completely cooled; Saran-wrap the slices individually. Then put into a freezer ziplock to freeze.
This recipe was inspired by Julia Foerster's Blueberry Recipe.
Blueberry bread will pair well with Latin American coffees. You can also pick up a blueberry coffee or blueberry tea if you prefer. It just makes the bread's blueberry flavors pop!
New here? Be sure to subscribe. Bonus, you get a free printable recipe binder and cooking resources.
Blueberry Bread Recipe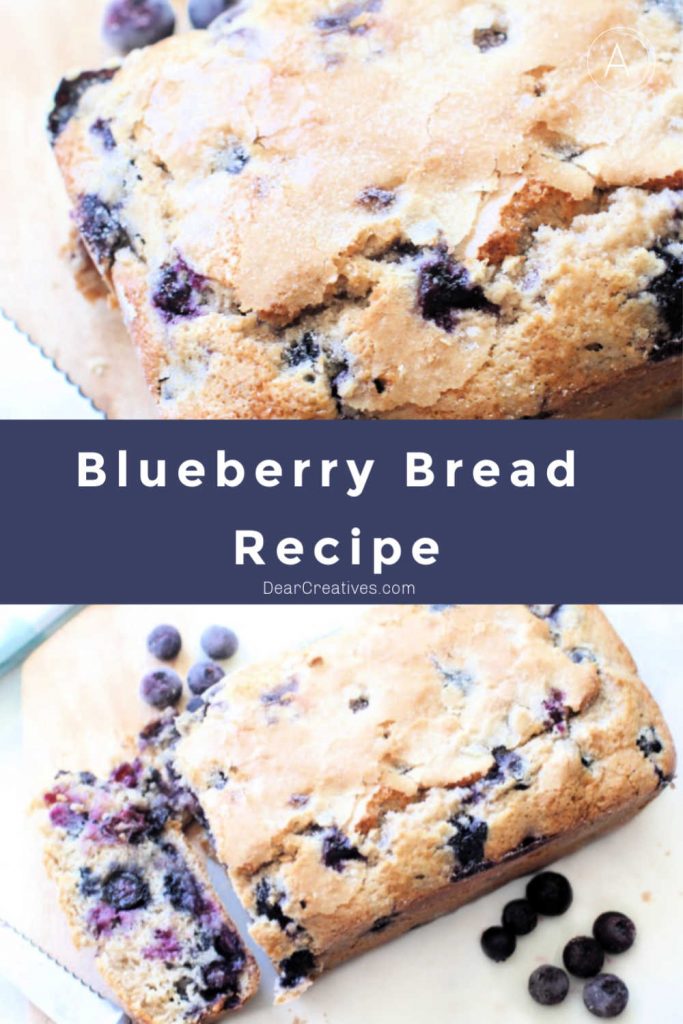 Looking for more quick bread recipes to make?
Search here for all our Quick Bread Recipes.