These days blog design is everything. You need your design responsive and mobile ready. If you create things to sell you need a shop that is e commerce ready. I used to have a theme from Restored 316 and loved it. I had only customized a few things myself. This was way back when I started blogging a few years ago. Then I was getting a little more serious and wanted to update my site. I purchased a template from another person and had it worked on by someone.
You'll think it'd be smooth sailing from there. But, here's the thing blog designs and technology demands are always changing! There's always going to be an evolution of blog designs. Let me share a few things I learned along the way, plus a few blogging tips.
Picking a good design that is up to date is important! With my experience, things were coded wrong in a few places. I had to hire someone else to fix those items. Then I had to finish my own design, tweaking things until I loved it.
I had even made my own header which I typically do anyway. I'm not over the top knowledgeable but, I have learned a few things along the way! And I will read, read and read, then by learning I'll implement things. Always backup your blog before taking risks!
Why You Need A Good Blog Design And Template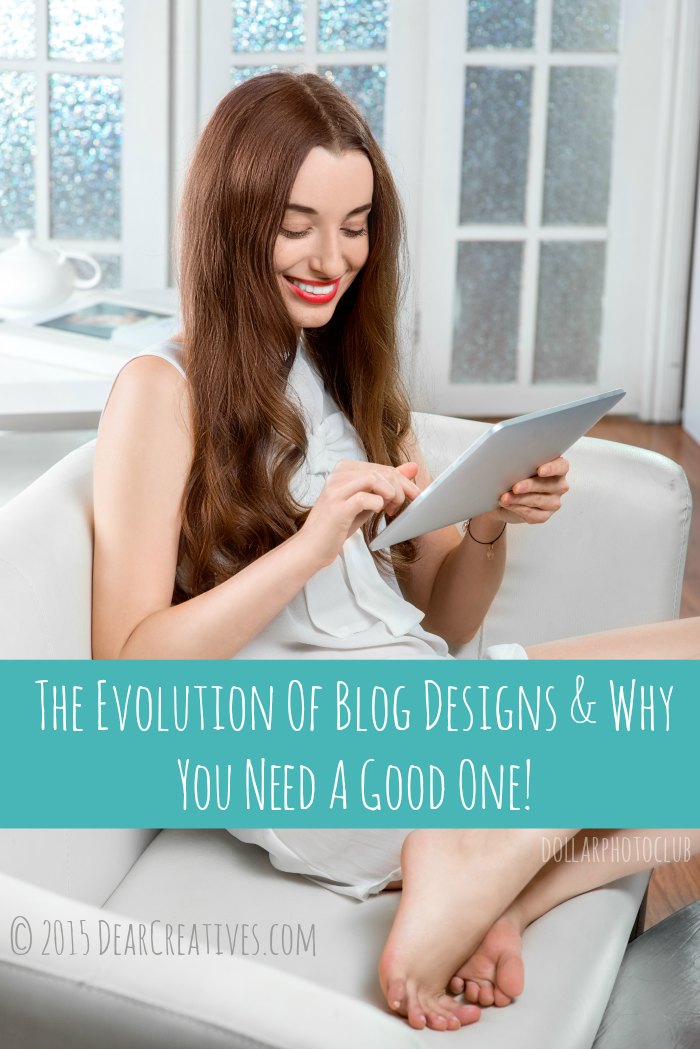 Then Google changed what they considered mobile friendly earlier this year! Yes, you are being punished and might not even know it just with your blog/website design! You might want to read this blog article Is Your Site Mobile Friendly that explains it all! You will find the right way to test your site in the article.
Of course I tested mine. Guess what? Since I wasn't getting updates due to customization of my site, my site was no longer mobile friendly! Sticks head in sand. This isn't the dark ages of blogging where it was easy, just get on and create content and there isn't a saturated market or competition! Smell the coffee my blogging friends. It's a doggy dog world out there and we are competing with some great sites just to get read.
If you are a reader, or loyal reader of mine I thank you from the bottom of my heart. (more posts are coming for you non bloggers, soon) I'd hate to write my heart out, craft and create and no one find it interesting. As a blogger, creator and writers we put endless hours into making our sites what they are for our readers. And these days many are on iPads, cell phones…. Raise your hand if you hold one while watching television and at the commercials read your favorite blogs, surf Pinterest and catch up with friends on Facebook. Why wouldn't you want your blog mobile responsive?!
Blog Design
Bloom from Restored316
Back to my blogs evolution woes; And then it wasn't updating properly! What?! I hired another person to fix a few things. Let's just say this camper wasn't a happy camper. Sigh! Why didn't I just go back to Restored316 at that time? Now, I've been teetering on whether to make some changes to my site design again. Things are constantly changing for running a blog/ shop/website. Yep, I started looking again. Since then, I did I've found some really slick, pretty new themes created with shops from my former designer.
My mistake: I did have a shop on another website (which I got for free for a year) but, it wasn't getting the traffic for sales. Plus having things in two places well, isn't convenient for time management. I just want it all in one place. A place where I can blog, share and have my shop. Can you relate?
This time, I just want no problems when I make my changes. We like avoiding problems what about you? If your new to blogging I highly recommend going with a good, reputable designer. And sometimes you'll find a good designer that has good templates but, if you change things you can run into problems, if their designers are too busy you wait and end up hiring someone which might not work out either. Worse thing is when your not getting their coded updates.
Just use that reputable designer to either create the changes for you or create an exclusive design for you. Or just grab specific template to suit your needs but, has a support page (see below). You think designer templates might be expensive, well getting your template fixed over and over is more expensive! Trust me on that one.
Now, if you are some what knowledgeable you may be able to create a header like I have, or add specific plugins to create image links for your sidebar, and even figure out how to create your email boxes…. If that is you, picking up a pre-made template and customizing it will be a breeze (well, it will take a little tweaking but, it's doable)
Now don't fret if you can't do your customization s yourself. Many times designers offer a specific hourly rate just to do tasks. What's great is Restored 316 is they offer pre-coded template with so many options. They also have a support page Just put in a ticket for your problem and you'll get a response. And there are tabs for all the general questions and specific themes if you have purchased one. This is majorly helpful if you will be doing a bit of your own work. Or even if you just run into anything. The last thing a good designer wants is an unhappy customer.
If you are looking for a blog template that is mobile friendly, needs various check-boxes clicked (shop, a specific style, capture emails…) or just want a pretty mobile friendly design you might like to check out the offerings over at Restored 316 Designs best part is you can even take a test drive with the demos.
Are you new to blogging? Or are you a blogger or website owner looking for a new design?
I hope you subscribe to see more helpful blogging tips for creative bloggers. I'll be setting up a new page to help you out and dropping new articles and resources there just for you! PS if you do end up grabbing a template let me know which one you picked!
Related Blogging Tips & Blog Design Posts: