Are you looking for breakfast ideas? Southwestern Quinoa Egg Breakfast Bowl is quick, easy to make, and a healthy breakfast we tried recently. With back to school in sight we have a few breakfast ideas to share with you, including this breakfast bowl. Honestly, I think you are going to love this new recipe we tried. You can have it with hot sauce like we did or omit it. Do you like to spice up your recipes?
It's recipes like this that will make it easy so you don't skip breakfast. Sit down, and connect at the table before heading off to work and back to school.
Eggland's Best sponsored this post. All thoughts and reviews are my own."
Southwestern Quinoa and Egg Breakfast Bowl

Are you in a hurry in the mornings? Do you like easy breakfasts? How about healthy recipes? This recipe ticks all the boxes to add to your healthy meal plans.
If you are in a hurry on a weekday morning, substitute hard-boiled eggs that have been made in advance. *a tip taken straight from the recipe
Did you know that cooked quinoa stores well in the freezer? I didn't know that until I grabbed the tips from the recipe. You can make a big batch and freeze in Ziploc® bags
. Add a few teaspoons of water and warm in the microwave. Or, let the frozen quinoa defrost in the refrigerator for a day.
I made the quinoa fresh for my recipe, it takes about 15 minutes. Then I portioned it in my bowl. While the quinoa was cooking I chopped my veggies. Since the recipe only calls for half the avocado A handy, eco friendly avocado food saver to keep the other half fresh
. Have you ever used them?
Then I cooked the eggs
. For this recipe you can make them sunny-side-up, or how ever you like your eggs. We picked over medium, done in about 4 minutes. What's your favorite way to cook eggs?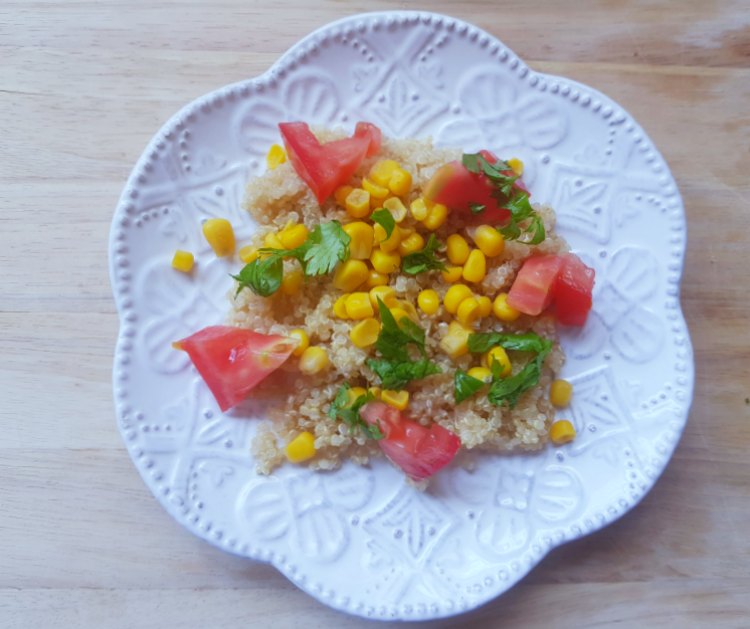 Next we started adding the vegetables, tomatoes, corn, green onions, cilantro right on top of the quinoa that we portioned onto the plate.
And avocados, then topped it with the egg.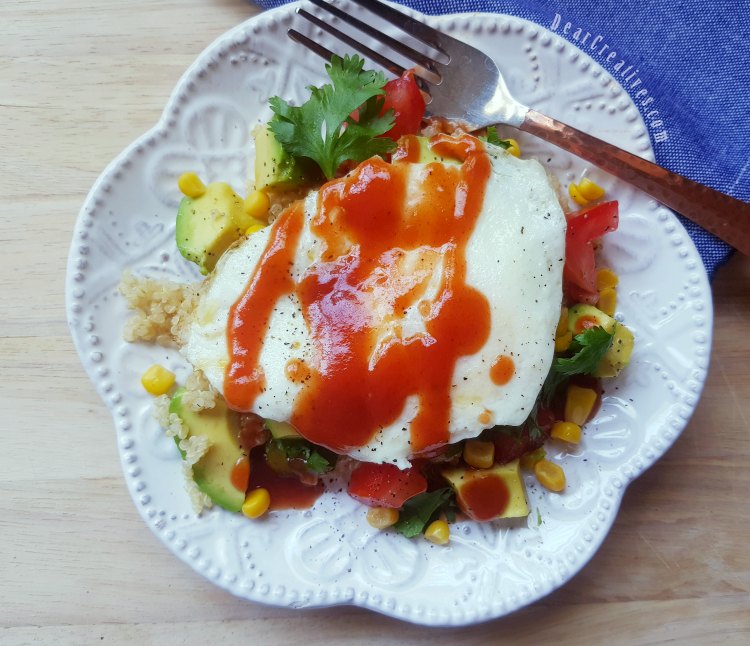 Finished with the optional hot sauce
. The thing I love about Southwest cooking is the meals are so flavorful.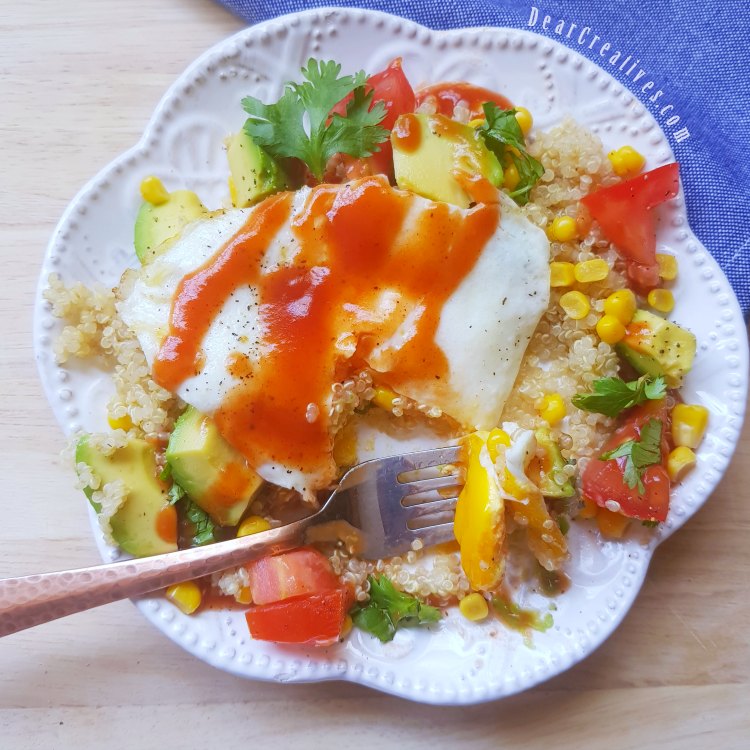 Every bite was so so good! We added mild hot sauce to our breakfast bowl. Would you? Do you like it hot, medium or mild? I'll be the first to admit that breakfast time is the hardest time to connect at the table for us during the school year. We have night owls in the family. Sammie is always studying late, and that is when I write or edit photos. Can you relate?
We are pledging to connect more at the table, especially in the mornings. What is the meal that you struggle most to sit down with as a family?
National Family Meals Month
Did you know that research shows that family meals can greatly benefit the health and well-being of our children?
National Family Meals Month™ is in September, Eggland's Best (EB) and the American Heart Association have teamed up to help educate families on the importance of spending time together and eating healthy and nutritious meals.
Eggland's Best and the American Heart Association's Healthy For Good™ movement are calling on families to

take the Family Meals Pledge

and commit to spending an additional

"dozen" minutes

together around the table.
Family Meals Pledge
Want to take the pledge too? Family Meals Pledge Head over, it's easy and there is a contest for $5000 family vacation. No Purchase Necessary.
Before you head over to make the pledge – New here? Be sure to subscribe you'll get free printable recipe binder set, meal plan template, grocery list…..
Why are Eggland's Best my go to eggs? Learn more about Eggland's Best (EB) the #1 branded egg in the U.S and see all the nutrition information here: http://bit.ly/2nchmvY
I think you'll love this Southwest Quinoa and Egg Breakfast Bowl I love that today's

recipe is heart healthy

. It's packed with nutrition, easy to make, and so yummy!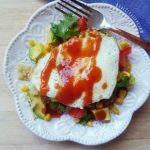 Southwestern Quinoa and Egg Breakfast Bowl
Breakfast bowl that is packed with protein, healthy, flavorful, and an easy to make breakfast idea.
Ingredients
1/4

cup

raw quinoa

1/2

avocado pitted

and diced

2

medium tomatoes chopped

1

cup

no-salt added frozen corn

thawed

1/4

cup

chopped green onions

1/2

cup

chopped cilantro

optional

4

eggs

1/8

teaspoon

salt

1/4

teaspoon

ground black pepper

hot sauce

optional
Instructions
Cook quinoa according to the package directions. Remove from heat and let sit.

Prepare the remaining ingredients: pit and dice the avocado half; chop the tomatoes; rinse the canned corn; chop the scallions, and chop the cilantro.

Divide quinoa between 4 bowls. Arrange the avocado, tomatoes, corn, scallions, and (optional) cilantro between each bowl.

Meanwhile, coat a large nonstick skillet with cooking spray and warm over medium-high heat.

Crack each egg into the skillet and season with salt and pepper.

Cover with a lid and cook until egg whites are set but yolk is still runny, about 3 to 4 minutes.

Use a spatula to carefully transfer each sunny-side-up egg into each bowl.

Garnish with hot sauce and serve.
Recipe Notes
Original Recipe used with permission is Copyright © 2018 American Heart Association, Healthy For GoodTM, heart.org/healthyforgood
Go here for all the tips that come with the recipe, and more more great recipes for your family meals. https://recipes.heart.org/recipes/2008/southwestern-quinoa-and-egg-breakfast-bowl
My Recipe Notes: I made my quinoa the same day, it only takes 15 minutes. I set it the quinoa to the side while prepping the vegetables. It only took 5 minutes to prep veggies. I decided to make our eggs over medium, 4-5 min.
Adapted from Southwestern Quinoa and Egg Breakfast Bowl
Where to find Eggland's Best
Looking for more easy breakfast ideas with eggs?