Grab this Printable Nature Scavenger Hunt. Are you looking for a printable kids activity? Use this eye-spy kid's activity printable when you go on a nature walk.
One of my favorite things to do with my kids was to take nature walks. And now, I love going on nature walks with my grandkids. Are looking for something else? See all our free printables. Or scroll down to see all the other Printable Kids Activities.
Printable Nature Scavenger Hunt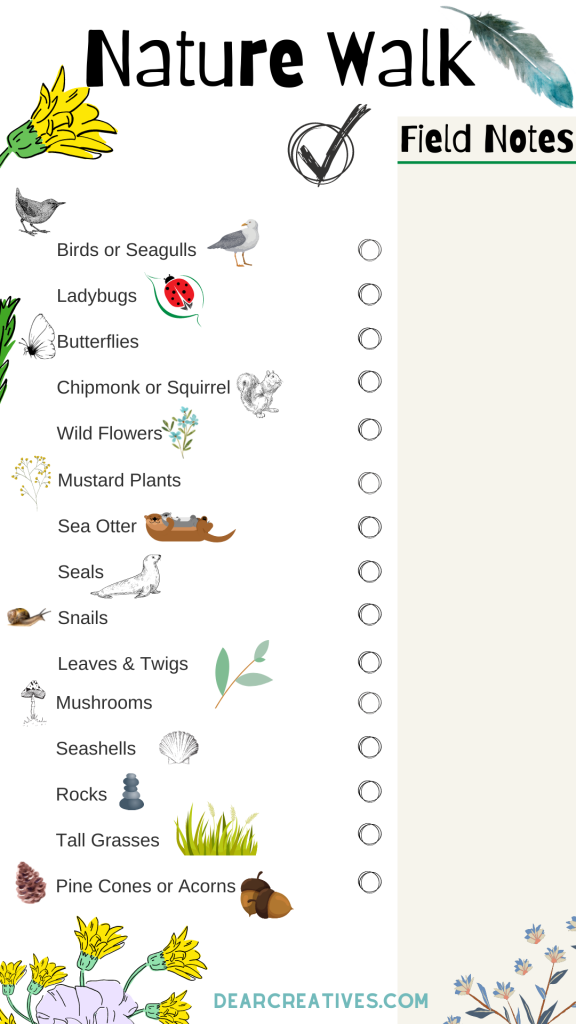 The printable and downloadable files are at the end of the post!
This nature walk scavenger hunt printable can be used any time of the year. All they need is you to print the checklist, a small clipboard, and a

pencil

. There are images to help the smaller kids find the items. Bigger kids can enjoy adding field notes.
Use this printable for teaching kids about nature. And even use this as an Earth Day Activity. You might like these activities too (Earth Day Crafts To Make and Activities).
What to pack on a hike with kids?
A small retractable magnifying glass like this. It's easy to print and bring the scavenger hunt! (a small clipboard is optional) Don't forget your cell phone and charger.
Easy Hikes With Kids In Central, California
For more trails and other hikes, we like to use the All Trails app. It has hiker reviews. And helpful hiking information about the trials. Do you enjoy taking nature walks?
Printable Kids Activities
Are you new here? Every month I try to make a new free printable for my readers. Be sure to subscribe and never miss out! Get even more printables – Exclusive Readers Library. You will get the access code after you sign up and confirm your email!
Some of these aren't exclusives.
Spring Activities Printable – Print this list of spring activities and crafts to do with the kids. 35 activities you can do in the spring!
Beach Scavenger Hunt – Use this printable for beach days! Let the kids find the eye spy items. As they find them at the beach they can mark the item off the list. This beach activity is for the kids. Use this printable when you want the kids to take a time out from being in the water. Or just to unwind as you pack up to go home…
Fall Activity Calendar – 35 Days of Crafts and Activities For Fall – Print this list of fall activities filled with kids' activities, crafts, and ideas for the fall.
With all the new Harry Potter movies coming out your kids might enjoy these Harry Potter Printables – Word Search Activities. These Harry Potter activities include a Harry Potter word search printable and character scramble, plus a Harry Potter Challenge to see how much you know about each house at Hogwarts. These free printables include the answer keys too.
Christmas Crafts And Activities Calendar – A month of activities and crafts for the holiday season!
Nature Walk Printable for second graders and above to write their memories.
Pin it for Later!
Printable Nature Scavenger Hunt For Kids
Download and Print The Files
Print the files and take the kids on a nature walk! Enjoy the printables! Do you have Canva Pro yet? I love it for making some of my printables. If you have it and want to edit the file for personal use let me know via email.
New here? Be sure to Subscribe.
Pin it for Later