Are you getting a new kitten or rescue kitten? We recently adopted a Siamese kitty. I had to get a few kitten essentials to care for him. I thought I would share the new kitten shopping list.
We shared on Instagram when we adopted our twin black cats from the shelter. And how one didn't make it. So we've had it in our hearts to allow this kitten who needed a home his a forever home. We named our new kitten Chai. Maybe you saw him in our stories? Our house is full now, with 4 cats and two dogs. Do you have pets?
Tips For Kittens
Whether this is your first time kitty or not here are tips for making introductions with your other pets; (Introducing your kitten to your other cats ), (

How to introduce your kitten to your dog

). I think that these tips and essentials for kittens will help you!
Kittens need to be safe, loved, cared for, played with… And make sure to make your kitty stays healthy by visiting a Vet.
Affiliate links may be included in the post. By clicking the links for qualifying purchases we earn a small commission. This is at no additional cost to you.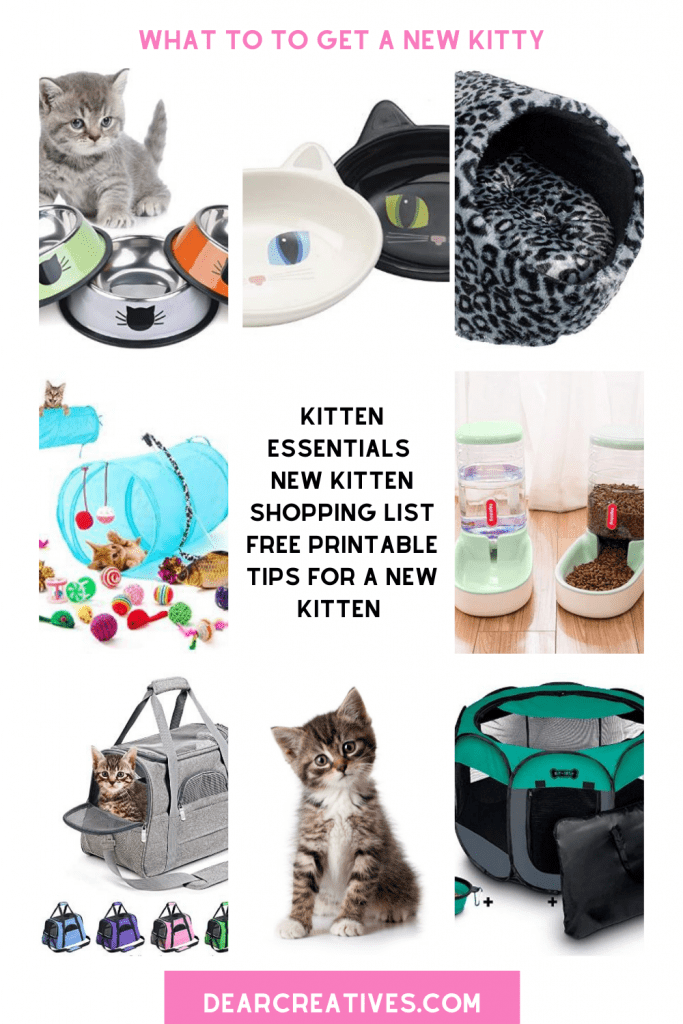 What To Get For A New Kitten
New Kitten Shopping List
Free Printable
Are you preparing to get a new kitten? Grab and print this Kitten Essentials – New Kitten Shopping List (Printable)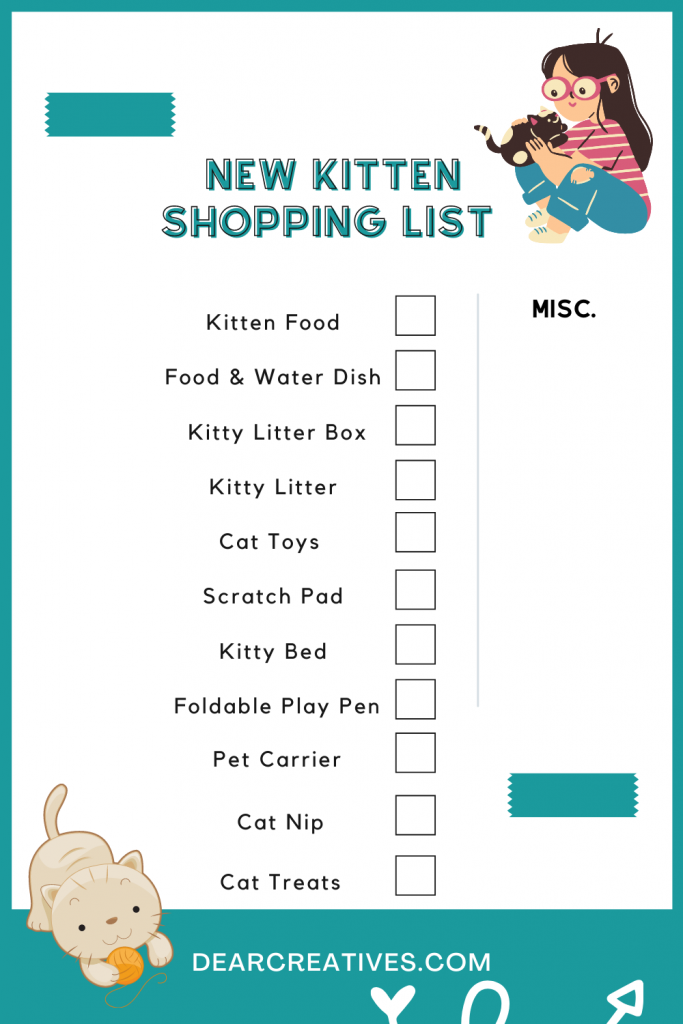 Your kitties will love these!
Optional toys for when kitty is growing is a cat tracks toy (enables cats to play with balls inside a track).
All our cats favorite cat treats! Yes, they are spoiled. But, treats can also be used for training kittens.
Tips For Over Playful Kittens
What to do if your kitten bites and scratches?
Give your kitten all the essentials and love! Be sure to train them not to bite, and scratch you. To correct your kitten's bad behavior, hold your hand still (they love a moving target). Plus, a simple ouch verbally from you. If necessary give your kitten a time-out. This should cure the kitten's biting and scratching habits. (bad behavior). Never spank or hurt your kitty. YouTube has great videos for dealing with any problems that may arise. Talk to your Vet for suggestions if needed. 3 cats' behavior problems solved.
Kitten Essentials
You might need all the things on the list (all at once). You will need these kitten essentials all listed above!
Food and Water containers.
Cat Litter box and Kitty Litter.
A few toys and scratching pad.
You can get a bed or make a kitty bed with a flatter pillow and a small blanket.
A Pet carrier is a must-have too. You will be taking it to the Vets for check-ups and shots.
Do you have a family pet or pets? Do you prefer cats or dogs or love them equally?
New here? Be sure to Subscribe.
Pin it for Later