This Pineapple Mango Salsa Recipe is really easy to make! I used it to top my grilled chicken and eat it with tortilla chips. It can be used as an appetizer or topping for chicken, grilled chicken, fish, or fish tacos…
Pineapple Mango Salsa
With a few fresh ingredients, spices, and lime you can make this homemade salsa with pineapple. It's quick and easy to make. This salsa can be used as a topping on chicken (or fish) or when making Hawaiian chicken. Or use it to eat as an appetizer with tortilla chips.
Affiliate links may be included in the post. By clicking the links for qualifying purchases we earn a small commission. This is at no additional cost to you.
Pineapple Mango Salsa Recipe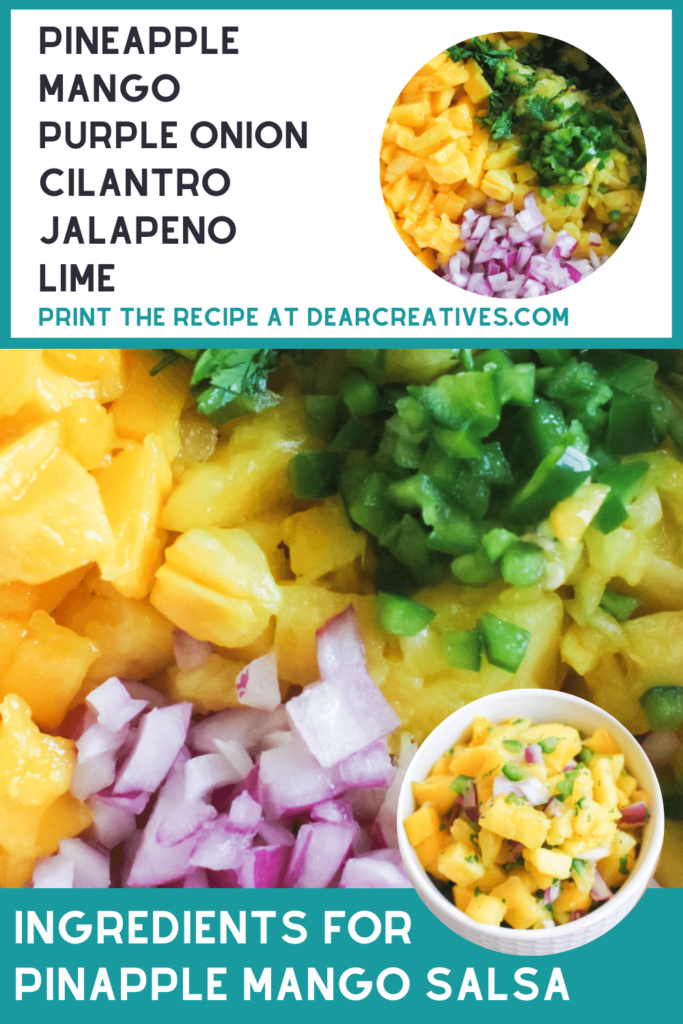 Ingredients
1 Pineapple cut up (You will only use 2 cups, reserve the rest for something else)
1 Mango cut up
1 tsp. Garlic, Pepper, Sea Salt (start with 1/2 tsp. and add more to your taste preference)
1/4 + 1/3 cup purple onion (I added more, pick your preference. The Total was equal to .58 cup)
1 Lime (use a fresh lime to squeeze into the salsa or bottled RealLime juice)
1/2 cup of cilantro
1 jalapeno seeded and minced
Recipe Notes: If you omit the mango (because you don't like it or have it) it still makes a delicious Pineapple Salsa! If you don't like jalapeno you can omit it. But, by seeding it typically jalapenos are less spicy. Gives you that perfect combo of sweet and spicy. In a hurry? Scroll down to print the recipe.
Instructions
How To Make Pineapple Mango Salsa
Cut up the pineapple and dice it into bite-size pieces.
Next, cut up the mango and cube it.
Mince .58 cup of purple onion (red onion).*
Finely chop half a cup of cilantro.
Cut and seed, then mince 1 jalapeno.
Add the ingredients into a mixing or prep bowl.
Then cut and squeeze one lime onto the fruits and vegetables.
Add the seasonings, mix, and stir them together.
Serve the recipe in a bowl or top your favorite recipes with this salsa. Enjoy!
* For the purple onion at first I used 1/4 cup but, ended up adding 1/3 cup more. Use it to your preference!
Helpful Resources for this recipe
Pin it for Later
Keep refrigerated until ready to use. Or serve it, It's ready to serve or use. Be sure to subscribe for the grilled chicken I made to go with this salsa!
New here? Be sure to Subscribe. Grab our bonus printable recipe binder and cooking resources. Plus, never miss a post with our newsletter!
Don't forget to Pin it for Later
Print The Recipe
Related Homemade Salsa Recipes
Salsa Recipes