Are you looking for homecoming dresses or prom dresses? I can't believe it's homecoming time for Sammie already. It almost feels like we just got back to school. What I love about her outfit she pulled together for homecoming is that it was affordable, can be worn for other occasions, and is sooo cute! I can't wait to see her in it with her hair and makeup done.
We have dress ideas below and a discount that you can use when shopping for homecoming dresses or prom dresses. We are also spilling one of our favorite places to shop online for clothes and dresses. You really don't have to spend a fortune to get a pretty prom dress.
You might remember her prom dress from last year similar to this prom dress in this post for how to DIY a boutonniere.
In this post you can see her freshman prom dress.
Prom Dresses
Lace Midi Prom Dress | Long Sleeved Mini Skater Dress
Embellished Mini Dress | Floral Long Sleeve Open Back Dress
Homecoming Dresses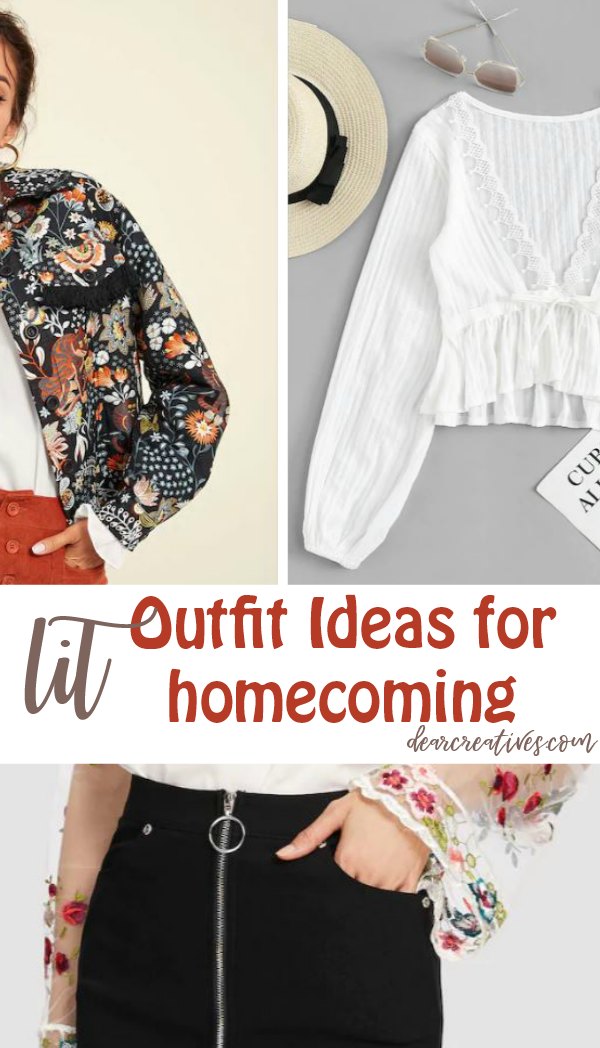 Long Sleeve Ruffle Shirt | O Ring Zipper Skirt | Jacket
Not every homecoming outfit has to be a dress. Try pairing a skirt with a cute top and jacket. Put on your heels
and get ready to dance the night away. Another thing you can do is get a two piece homecoming dress.
Homecoming Outfit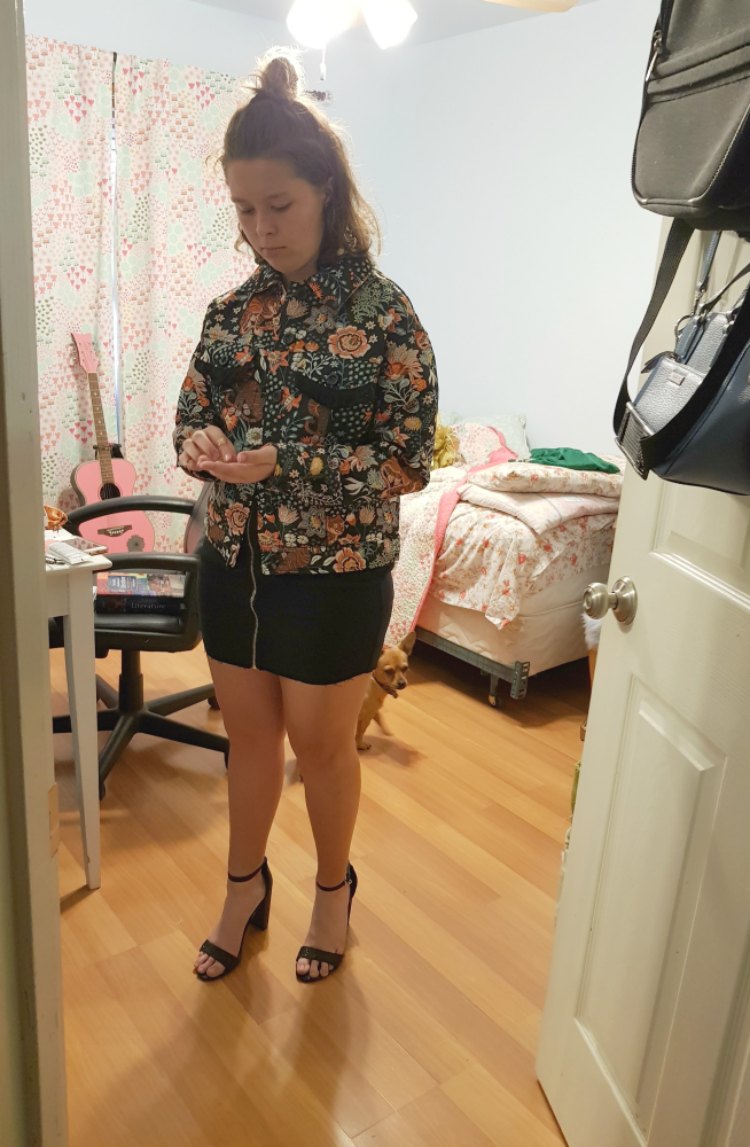 shoes
Sammie decided on a non traditional style for homecoming. She is probably going to hate I shared her photo I grabbed when she tried the outfit on but, she will get over it.
She purchased the entire outfit on Shein that has so many cheap homecoming dresses. (not in quality but, price but read the reviews to help with selections) She was looking at one of the ring sets she got to go with her outfit.
What type of style do you have? You can see the latest styles and what's new in dresses here.
I know she will make me replace this photo with a new one.We need to find time to officially take the homecoming photo shoot. I will update the post after we do the photo shoot. You can see behind the scenes and updates on our Instagram too, and stay tuned for her room makeover.
The zipper does lay flat she just hadn't straightened out her skirt yet. The long sleeve ruffle shirt is a bit low cut but, she is wearing a lace bralet like this under it. The jacket was even cuter in person!
Prom Dresses
When we start shopping for prom dresses I'll be sure to share more prom dress ideas but, if you are looking for prom dresses right now these dresses are a great starting point. Like the heart to get notified when your favorites go on sale or click to shop.
Shop for party dresses for homecoming or prom to fit your style.
Homecoming Dresses
See the latest fashions from Shein one of our new favorite places to shop. They carry all kinds of dresses, including plus size prom dresses.
Grab the discount, and click over to use code: WEB20 to save an extra 20% off when shopping.
Be sure to allow yourself enough time for shipping or pick expedited shipping.
To really get the proper fit or size see the size of the model or what people are saying about the dresses and see photos of the customers wearing the outfit. What's fun is seeing how they styled it.
Don't forget
Looking for other outfit ideas?