Spring just arrived this past weekend with a burst of warm air and birds chirping. Although you might not be quite ready for spring projects in your garden you can make terrarium crafts. Terrarium crafts can be done with minimal mess and indoors.
Looking for other crafts to make? See all our Spring Craft Ideas.
Out into the yard, we went to dig those weeds and see what outdoor projects we needed to tend to. I started trimming back my rose bushes and formed an arch between two bushes. We filled up our green can and made a small dent in our yard. Now the rain is coming back. Today I'm going to share a few options to help you start on a terrarium project to make for yourself or for a gift.
Terrarium Crafts are perfect for housewarming season, hostess gifts, bridal, baby showers and wedding season that are all coming up. There's no better time to consider a unique gift item and even make one for yourself. My daughter got a new house and this would make the perfect house warming gift. I have terrarium crafts on my craft projects list and promise to share my terrarium when I am done. I know I'll be making more than one for me. I plan on making a few.
I used to have quite a few indoor plants but, in our climate, the summers get very hot and dry. Plants indoors and outside don't tolerate the heat and temperatures we get in our area. Indoors heat can be harsh drying out plants quickly. That's another reason why I am on the hunt for the perfect terrarium project! I think it will be something that can help our plants survive indoors.
Terrarium Crafts
Terrarium Crafts Containers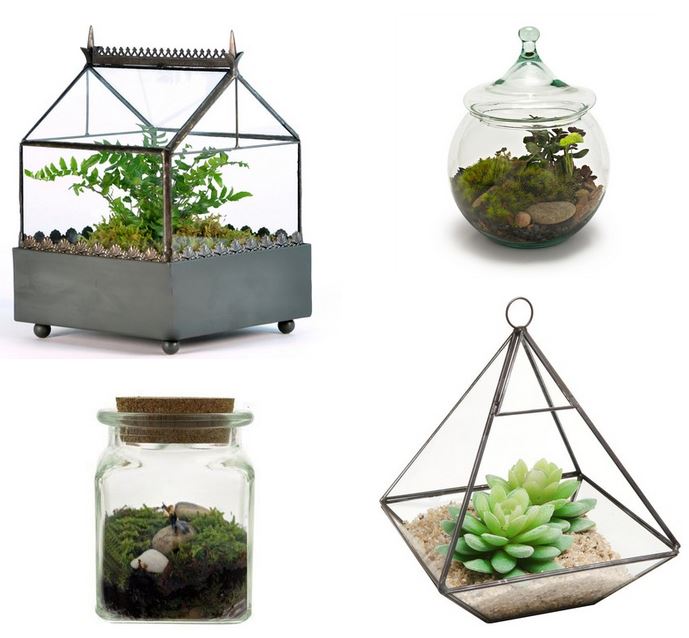 I love the planter box style and the whole glass top is removable which would make it easy to build and care for your plants. I also love the style of using covered jars or fish bowls. The cork one is a miniature. You would have to use tweezers which could be tedious. I love the prism styled that even has a way to hang the terrarium.
Terrarium Craft Kits
With a few minor supplies, you can build any terrarium crafts project. I came across a few kits that have all the supplies you'd need in one kit to add to your terrarium. This is great if your only going to make one or two terrariums. Or if you wanted to make more than one they do have larger kits. Of course, if you plan on making quite a few price checking to compare costs with your local nursery for bulk supplies are great options. Since I only want to make two kits are a great option for me. Some even come with plants.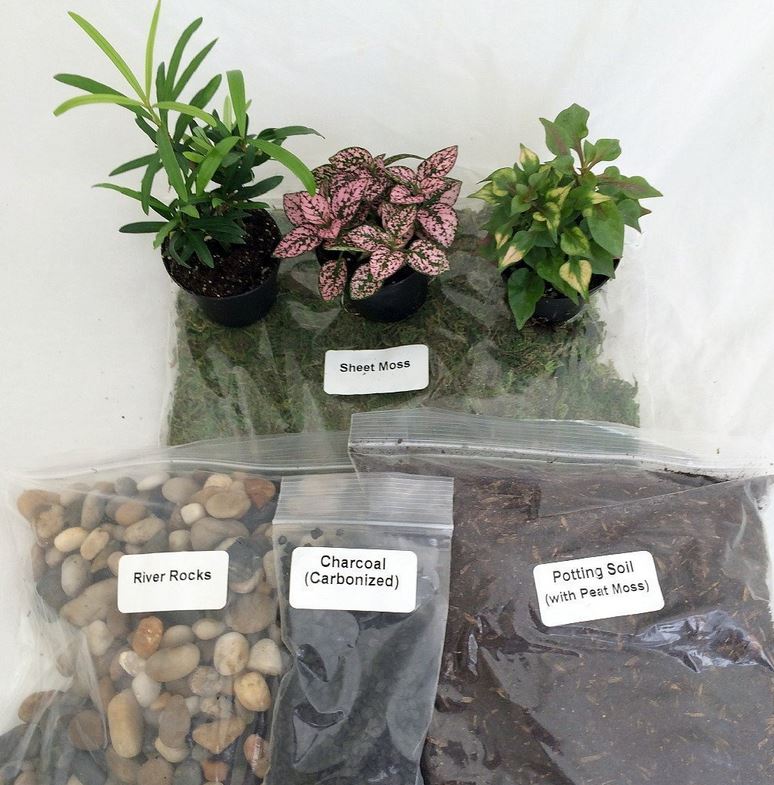 Terrarium Crafts Fairy Garden Kit
H Potter has assembled a complete kit for planting your new terrarium. Attractive enough to send as a gift. (not shown)

No need to search out all the things you need to create your very own terrarium garden.

H Potter Small Terrarium Kit is the right amount of material for those small terrariums. Have a larger terrarium? We also offer an H Potter Terrarium Planting Kit in a Medium and Large size.

This sphagnum moss is to be used between the charcoal and soil layers as a filtration layer. The sphagnum moss in the planting kit is not for aesthetics–not to be used above the soil–it is part of the 'planting kit' and actually gets placed between the layers as explained in the terrarium brochure included with each kit.
The Basics For Building Your Own Terrarium Crafts
No matter what style terrarium, kit or supplies you get the basics for building one are
a clean container
activated charcoal
pea gravel or small rocks
potting soil for terrariums
sphagnum moss *read what it's used for above other mosses are optional and decorative
plants and succulent plants
Terrarium Crafts Resources Books And Ebooks
Here are a few good resources to get you started on building your own terrariums. These are available in book or Ebook, some are free to Kindle subscribers or on sale at the time of this post. Just looking through the sneak peek look inside views you'll see ideas to get your wheels turning on what type of terrarium you'd like to build.
Have you ever created your own terrarium? Is something you'd like to try?
Related posts and ideas you might like