Today I'm sharing our Mother's Day gift guide. We love celebrating all moms and as a mom myself we all have individual style. But, one thing I know for sure is as much as I love coffee I don't need another cute coffee mug. We are sharing our top 10 gifts to give mom that are easy to grab, and our top picks for giving mom. When your done with today's post be sure to see all our Mother's Day Ideas.
Now, you may be thinking why not give these gifts to moms, grandma or auntie? I'm hear to tell you, you can but, they are not unique to her. Yes, we may like some of the things on the list but, is this really what your mom wants?
Gift Guide
Mother's Day
Gift Ideas for Mom
coffee or tea mug
tea towel
pot holders
perfume
flowers
candy
accessories like jewelry, watches, handbags, and more
robe
something trendy that has a pineapple, banana leaf, unicorn…..
cards
The Best Gift Ideas For Mother's Day
Gift Guide for the creative mom
Really think about what your mom likes to do. Then grab the best gift for your mom or grandma. This list is a mix of higher and lower priced gifts. At the end will be more really affordable ideas for gifts for Mother's Day.
Is she creative? Maybe giving her a Cricut? We love using them for paper crafts, creating party decor and seasonal banners and cards. This is an electronic cutting machine that cuts not only paper but, fabric, leather and more. The latest model is the New Cricut Explore Air Machine in Gold They are available in other colors too.
Update!!! Their Wild Orchid Cricut is on sale for Mother's Day!!! And so are a few others are too! This is the one I picked and am getting! Upgrading my older Cricut. But, this is at such a great price. I paid way more for mine. (insert kind of sad face, I admit I like deals but, got it for my birthday a few months back, I can't wait to share this pretty lilac with gold trim beauty and all the projects we plan on making!) Cricut Explore Air™ Machine Wild Orchid + Machine Tote Bundle
Visit Cricut's featured projects page to see all the things they can do for your crafty mom or grandma. How do I know they'll love one? I actually have had one for years and just upgraded. You can look at some of the crafts I've done with them by searching paper crafts and Cricut crafts on the site.
If she already owns a Cricut you can upgrade her machine. There is a special going on. You'll get $50 Off! *terms and conditions apply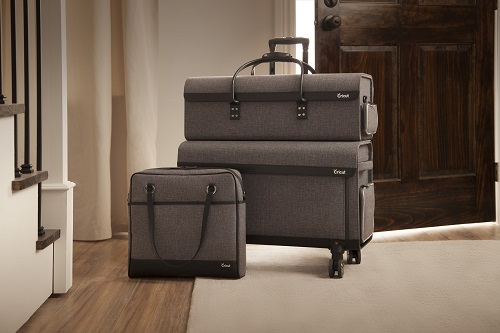 She might also like their carry tote, carry case or storage case for her Cricut machine. You can pick with cases with wheels or without wheels. Wheels are great if she is a scrapbooker and goes to meet ups and also the option of the tote for her paper cutter, papers and laptop.
Gift Guide
More gift ideas for mom
Does she like to garden? Succulents plants
are trendy right now and are easy to grow. Add one or more to pretty little pots
, add a few to a small planter box
or get her supplies to plant her own. Or how about a terrarium kit
?
Is she a sewer? How about a new sewing machine? How about a gift card for an online sewing class? You can visit our sewing page for more helpful information.
Does she run? How about a Fitbit
, new running shoes, leggings…
Does your mom like to meditate? Maybe a home decor item like a Mercury Glass Buddha.
You can't go wrong with pretty candles such as these Ocean Pillar Candles, Pineapple Layered Basil Candles, Sunset Citrus Candle Collection
Think about what your mom needs. Did she recently break her favorite sunglasses?
Could she use a shopping spree? What are her favorite stores? Give her a gift cards! I'm sure she'd love to get out without the kids. Offer to watch them while she shops with a friend. Below are a few of our favorite gift card options:
If your mom likes coffee, like me or tea and has a gazillion mugs why not get her a new pretty serving tray. On Mother's Day serve her up her favorite beverage, pastry or breakfast on her new Farmhouse Tray. Then she can use the tray for taking her beverages to the patios, holding her favorite books she's reading or adding a collection of candles to it. Speaking of candles we love this blue ombre glass hurricane candle holder.
Blue Flowers Mosaic Tray | Carved Round Tray | Quaterfoil Tray | GB Mosaic Tray
I don't know anyone who wouldn't love these trays. There are styles for everyone's taste and decor.
Don't forget to enter our giveaway for a $75 gift basket!
You might also like these gift guides for Mother's Day: