One of my favorite shows is The Good Wife on Sunday nights. Sammie and I used to watch Once Upon A Time together before The Good Wife but, lately she is more into chatting on the phone all the time! Sammie was looking at costumes for Halloween way before fall but, ended up with the inspiration for the costume from spotting a McCalls sewing pattern that looked like the Evil Queen from the show Once Upon A Time. The search ended and the planning and sewing of the Evil Queen costume began.
Previously I have shared many of her Halloween costumes, my sewing or makeup tutorials for them and costume round-ups . Today I'm sharing how the pattern we used went for sewing the Evil Queen costume for Halloween. I'll give you some insights to sewing this pattern in case it's something you'd like to whip up for Halloween for yourself or a teen. There is still plenty of time.
Sewing Pattern
Evil Queen Sewing Pattern
I think her choice was good as the make up won't be too complicated and take too long. She loves drama and the character of the Evil Queen played by Lana Parrilla has all the qualities of a great Halloween costume. Not too scary, a dramatic costume, hair and makeup needing to be done (not scary) equals the perfect Halloween costume for this year.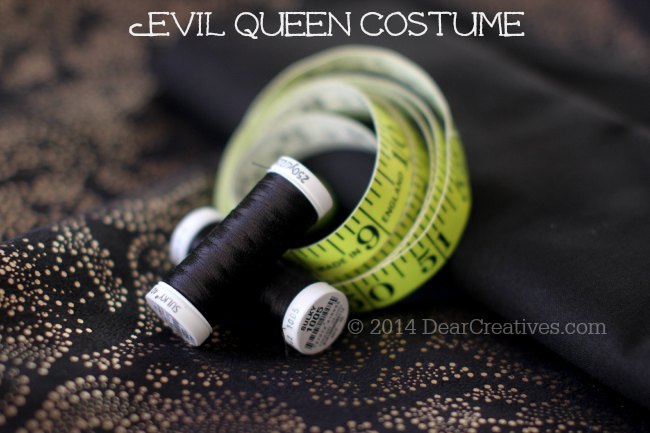 For this costume it takes quite a bit of materials. We really looked well through the fabrics, including fabrics near the decor areas. Checking what was on sale, looking through clearance. For Sammie's size it took 5 yards just for the coat, then there was the cape 7 3/4 yard and it called for the fabric to be lined! No thanks! We looked for fabric that seemed to be a good fit for the project and thick enough that might not need lining. I'd just hem and tuck edging for a finished look.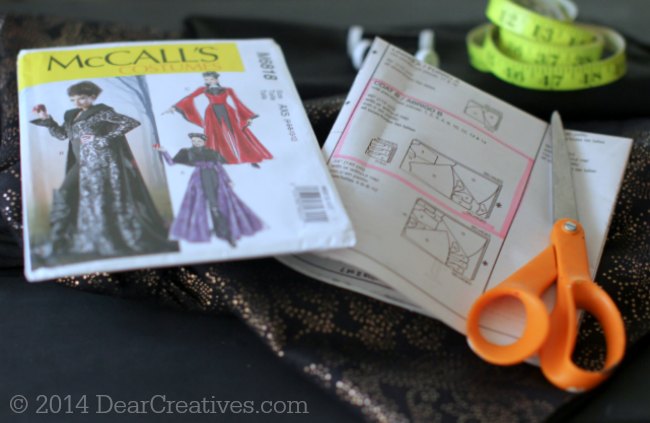 We just happened across this fabric and it was on sale. One one side was similar damask fabric like on the sewing pattern showed and on the other side a black color. It was think enough to have weight and not need lining. I decided to get a black cotton for contrasting area on collar and cuffs.
I don't have step by step in images but, I'll give you an idea of how I tackled the costume sewing pattern.
Make sure to have enough materials, notions
If your fabric isn't the same width as on the pattern you'll need to purchase extra
Read through the entire Evil Queen Sewing Pattern
Highlighted areas you work on so there is no confusion when looking back and forth from pattern to project
Pull out all the pieces you need and give them a rough cut ( as you can detail cut the pattern when it's pinned to material )
Pin the pattern pieces to the materials
Cut them out after making sure of layout
Pin together and fit top and sleeves prior to sewing
Sew and then pin skirt for placement prior to sewing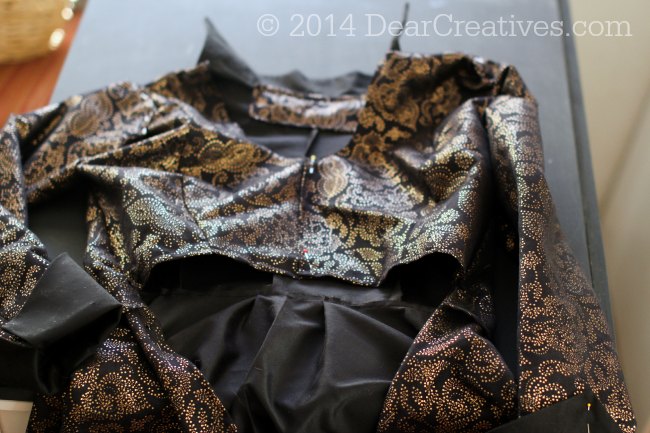 When I sewed the top I made sure to pin the sleeves and bodice prior to full sewing. This way I could adjust the sizing as needed. I knew I'd be doing this as I took Sammie's measurements and she is two different sizes! We had gotten the size 4-12 but, I almost could of put her in a 14 top. I had to add back panels to each side of the back bodice. I used the pieces of the pattern for that but, cut off the connection to the underarm making two straight rectangle shapes to add to the back.
Once pinned I had carefully had her try it on and adjusted as needed. Then sewed the top and adjusted the shoulders area with pins and will detail sew the adjustments by hand.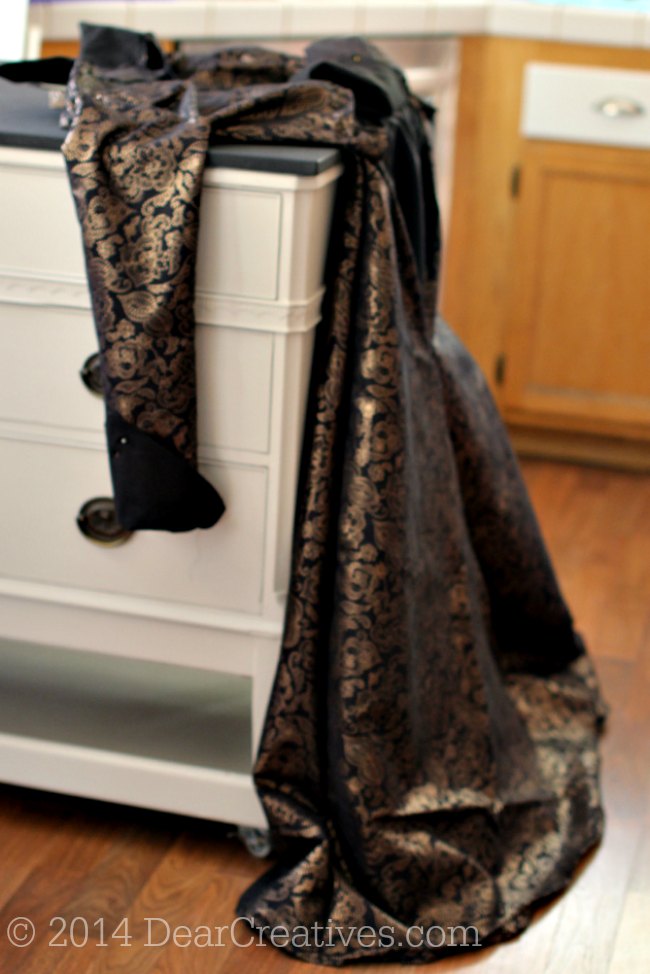 The post was so long I had to break it into two! See the full back side of costume! With more detailed photos. I don't want you to miss out. This costume sewing pattern is quite stunning in person! I can't wait to take photos of Sammie in it too!!
Are you sewing a costume for Halloween this year?
See more costume posts;
Need more ideas? I have a Pinterest board just for Halloween costumes!