You know I love fall. If not, now you know. I enjoy DIY crafts projects and crafting. But, somehow I don't always have time to create projects. I've been looking for a few more fall craft ideas to put together. If you are like me, right now I'm into making quick, and easy fall projects that I can hang up right away. I hope that you enjoy making this seasonal fall project; Fall banner With Wood Letters. Today I'm sharing a fall banner DIY craft project that I designed, and that anyone can do!
You don't need a lot of supplies. Some you may have around your craft room. Which makes this a budget-friendly fall craft. You can make this or put your own spin on today's project. Below, I have had a full tutorial to show you how. I have included a supply list that can be helpful if your new to crafting or just want to grab everything you need quickly to get to crafting.
Affiliate links may be included in this post. We earn a small commission from qualifying purchases. This is at no additional cost to you.
DIY Fall Banner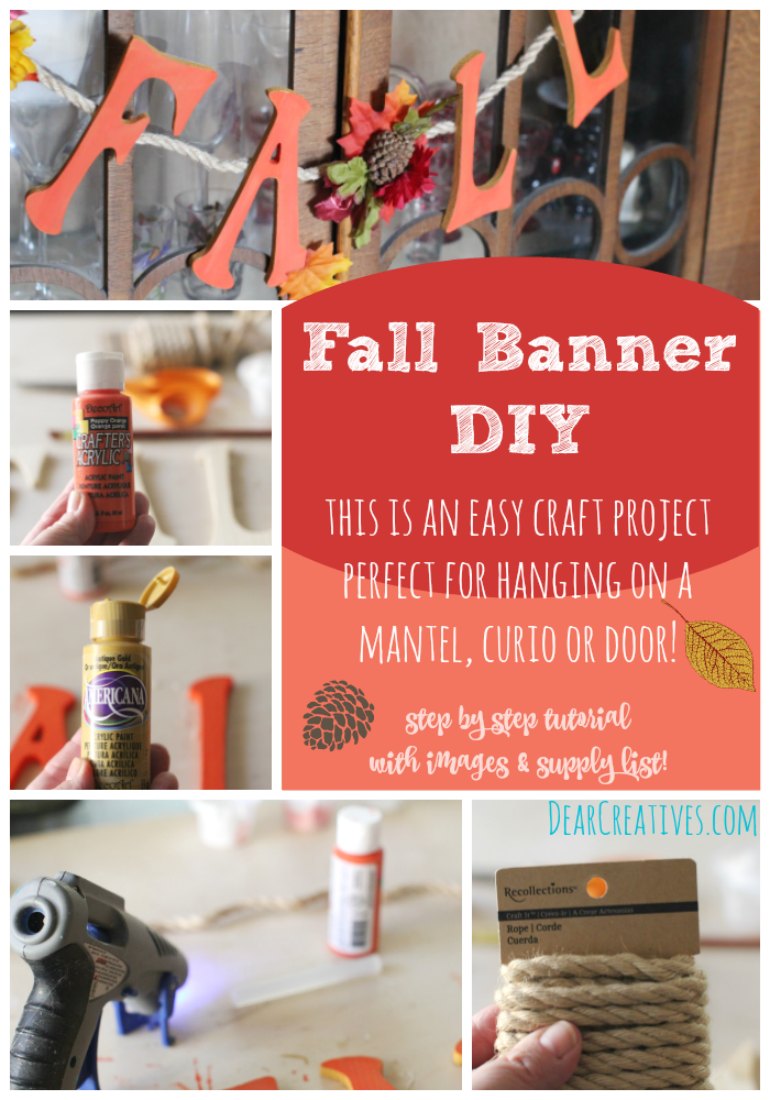 To make this fall banner you just need two colors of paint, large twine/rope, wood letters, flower pack, pine cones, and a glue gun along with glue sticks… See the full supply list and instructions below.
Crafts Supplies
I purchased some of my supplies on Amazon
and some at Michael'sCrafts. With Prime, you can't beat free shipping.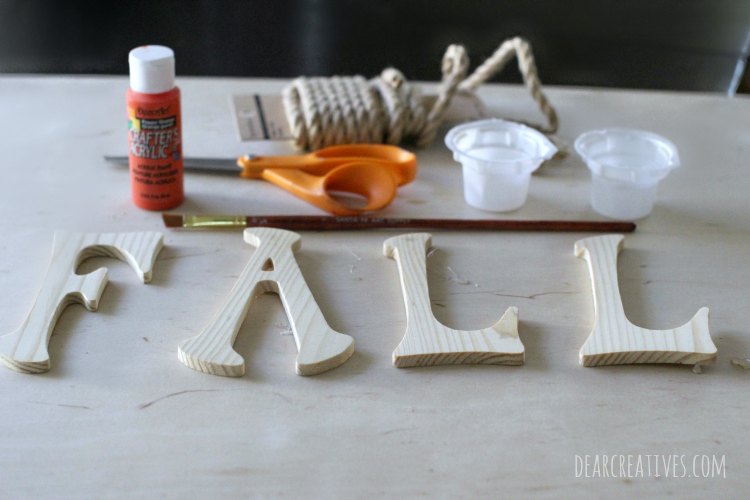 Craft Supply List
orange spice crafter's acrylic paint
gold acrylic paint (antique gold is a yellow gold is the one I used) or several coats of shiny gold which is more iridescent
water and paint containers (I use something from the recycle for this)
An optional piece of scrap wood or tarp to protect your work surface or use a work surface or outdoor table…
Other helpful tools; tweezers and straight pins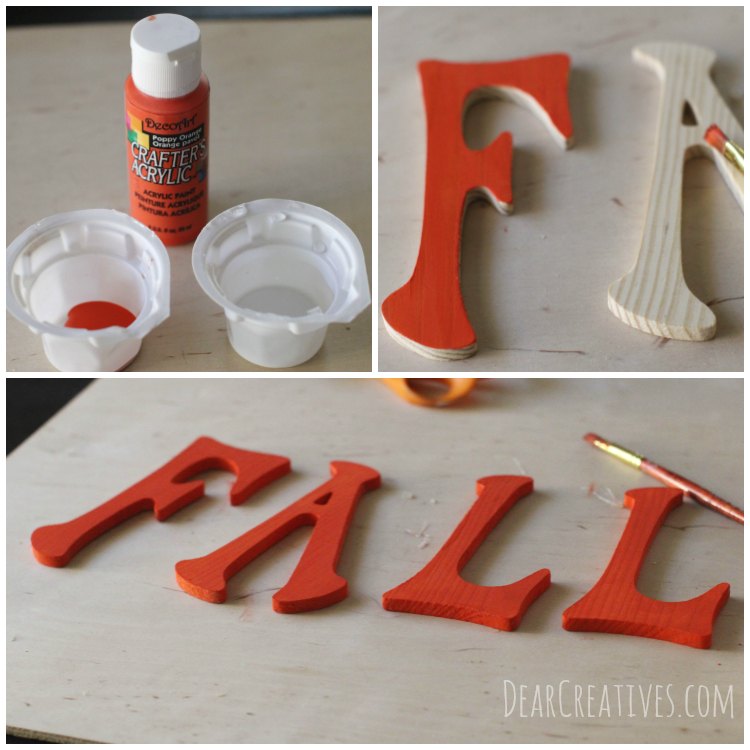 Most wood letters come almost ready to paint. If needed sand and wipe clean prior to painting. Dampen your brush, squeezing out excess water. Dip in paint and paint all your letters the color you picked. I picked a deep orange color.
Next, while your paint is semi-wet. Take your gold and paint sides and over parts of the top. This will give you two tones and hints occasional streaks of gold.
You will cover this up with the orange again so it's just peeking through. If you look closely at the front of the letter you can see the gold that has been covered. Then wait for it to dry before touching up any on the inside edges.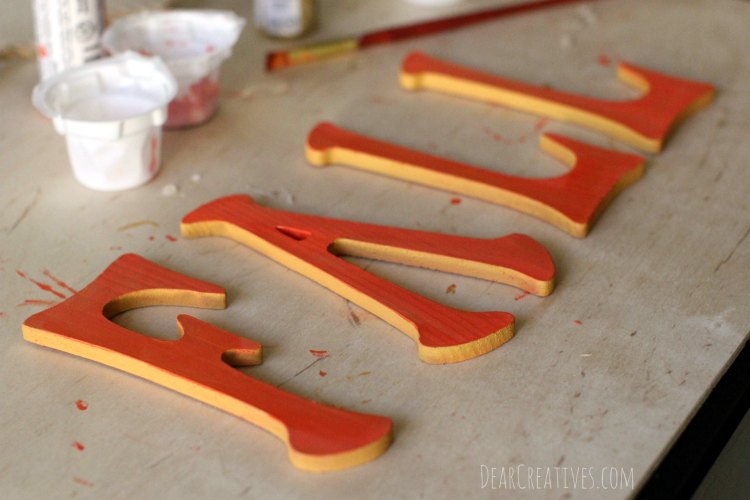 Do this to each letter one by one. Remember let dry and touch up as needed. Using an angled brush for this part is helpful. It allows you to get close to edges while not getting onto other surface areas.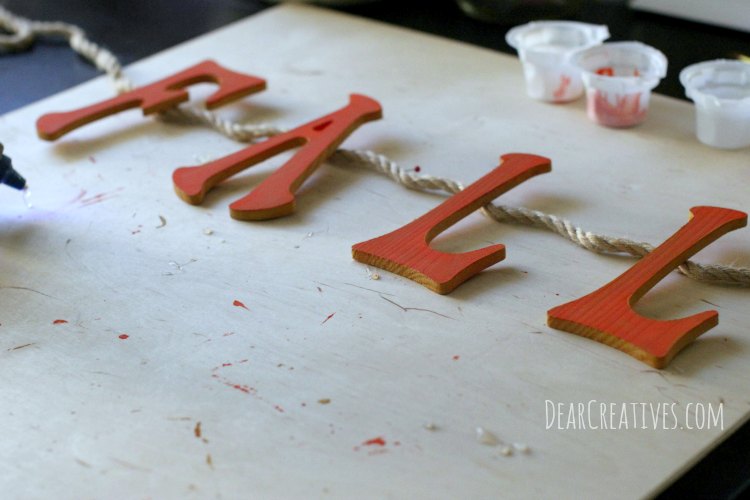 When completely dried; measure your rope to where you want to hang it. Give yourself at least a few inches extra on each side +3 to 4. Measure from the middle and place letters down equally spaced. Set into place then hot glue them down one by one. Use a good amount of hot glue, be careful when gluing. You can see the pin that I marked the middle with.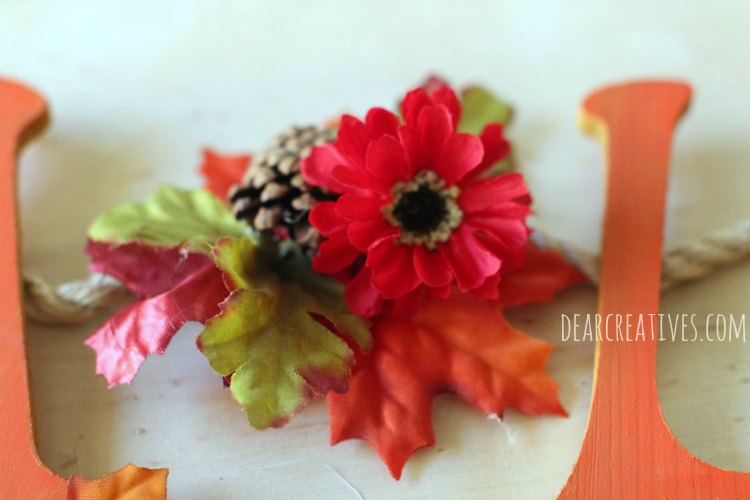 Now, take leaves and pine cones making mini arrangements in between your letters. Then glue them into place. I use tweezers as not to burn my fingers! You can easily pull the glue off your tweezers
when dry but, dedicate that pair to crafting.
Tips for adding the floral arrangements to your fall banner
Arrange flowers, leaves, and pine cones off the rope.
Groupings of odd numbers help balance and create interest.
Make adjustments prior to glue drying onto the rope.
Then add pieces one by one to the rope creating your pre-arranged idea.
Use tweezers when gluing down to protect your fingers.
Adjust as needed as you work along.
Let the glue harden all the way prior to lifting up.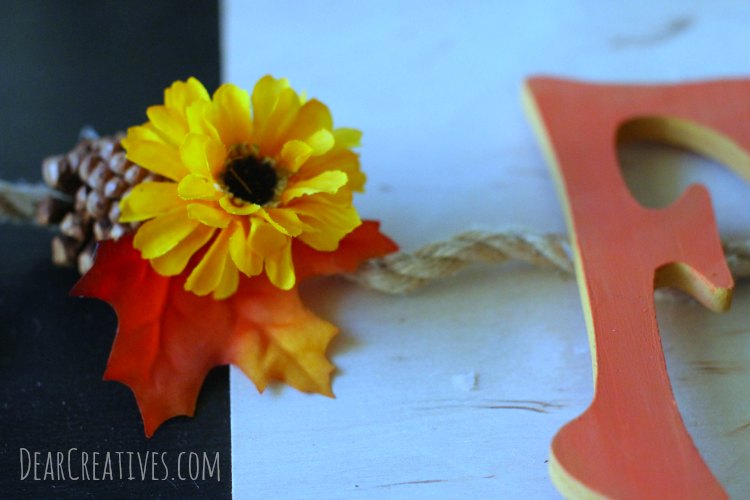 On each end, I create one leaf, flower, and pine cone. I didn't keep the flowers in the same colors. You can create yours any way you like!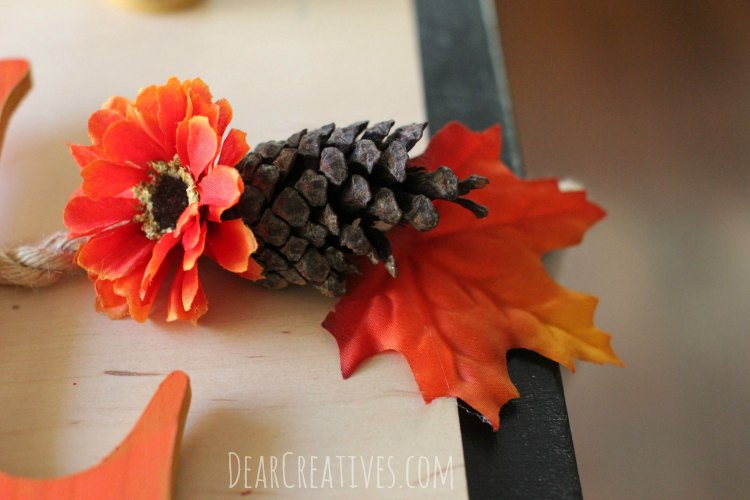 It's all about creating interest and balance. You can't go wrong with fall colors!
Fall Banner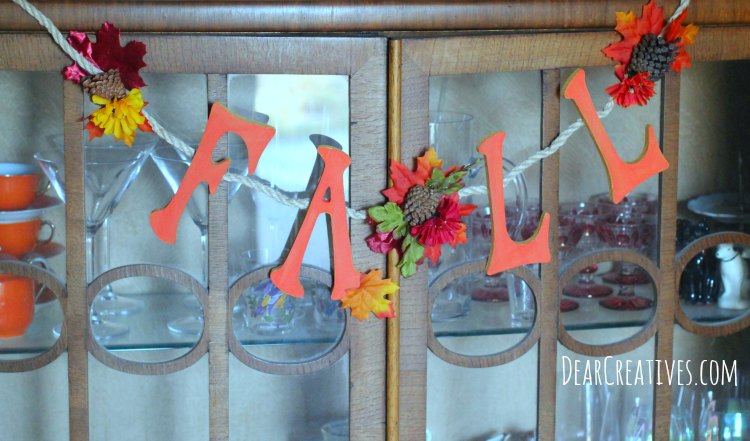 Then hang yours anywhere you like! I hung it on my curio at my entry area for the photo. But, I just might hang it on my mantel with my fall home decor.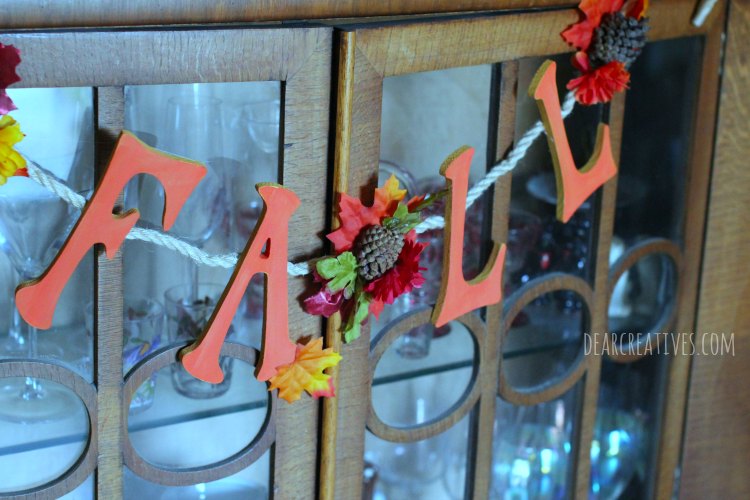 Here are a few other craft supplies that would be great in a fall craft banner or other crafts projects. Just click on images and head over to Amazon to see these or other craft supplies.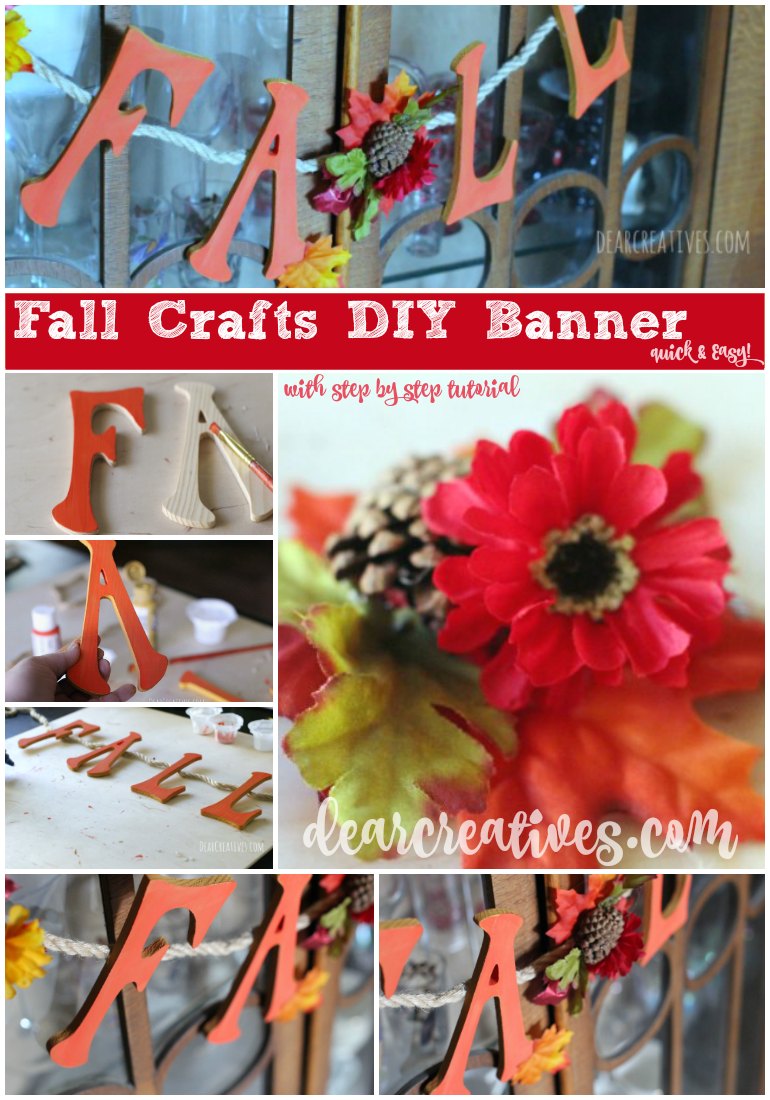 Want more craft projects to make? Be sure to subscribe and never miss out!
Don't forget if you can't make it now you can pin it for later.
Fall banners and fall crafts to make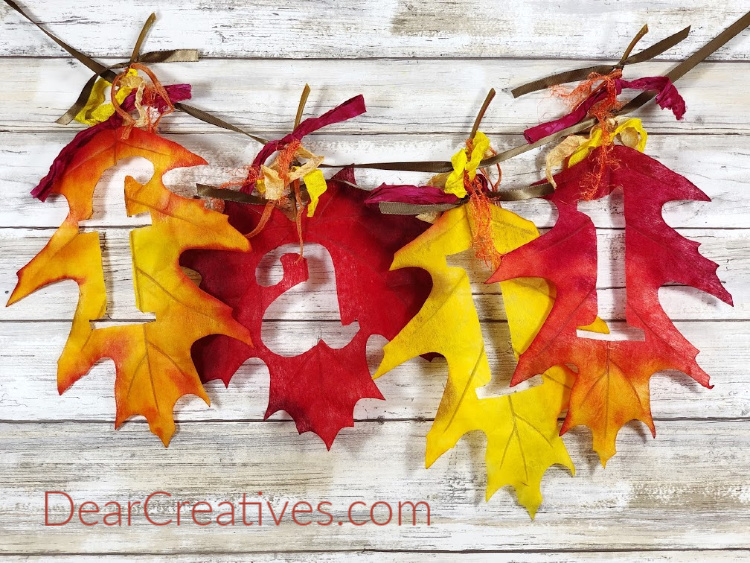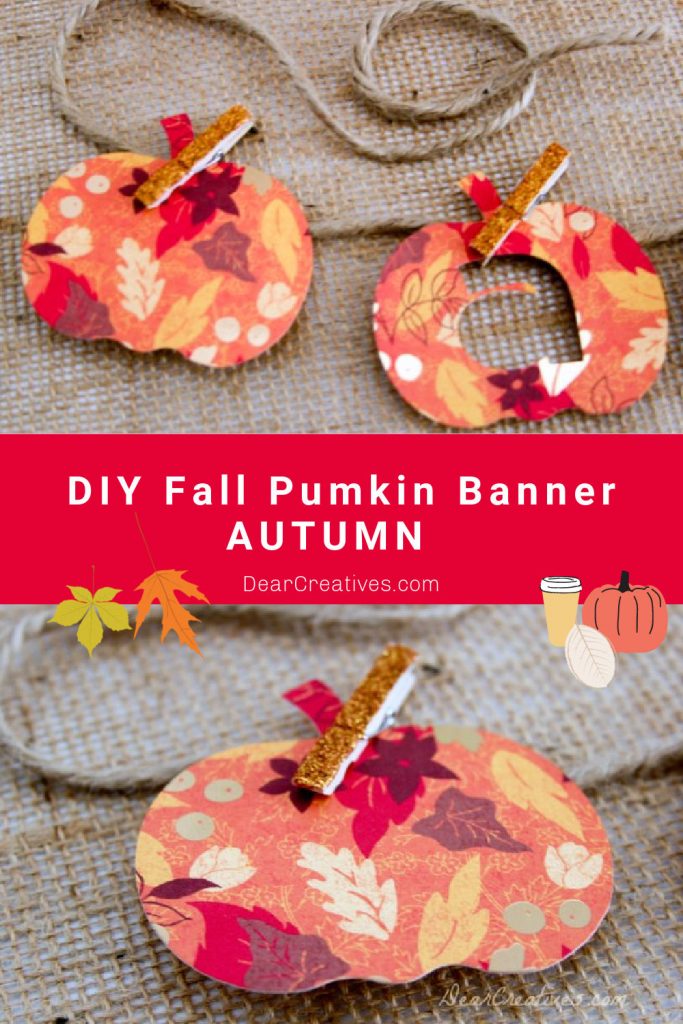 DIY Boo Pumpkins See how to stencil pumpkins (use real pumpkins or faux pumpkins) Add words like boo, fall, autumn…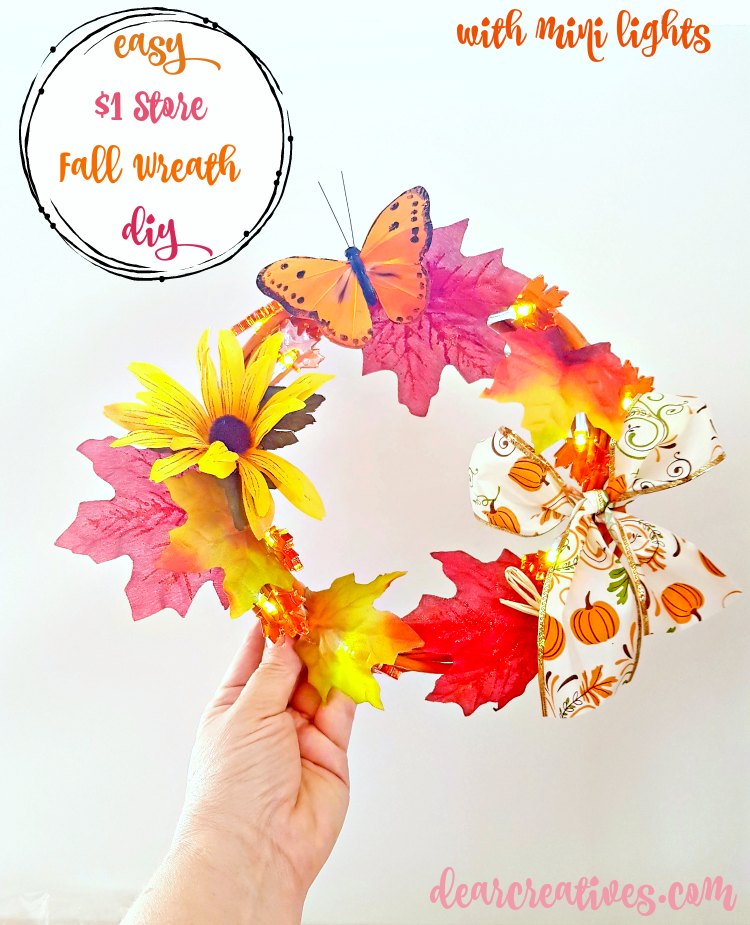 Happy Fall Crafting!