Today I'm sharing my recipe for apple hand pies. This is one good recipe you'll want to try making, baking and enjoy eating. We'll take you through all the steps on how to make hand pies.
Do you love making treat recipes for the family?
Well, with the weather cooling down a bit I'm finally getting in the kitchen to bake a bit more, which is always exciting to me. Do you enjoy baking too? Sammie loves her apple hand pies topped with vanilla ice cream. I love them warm, just cooled enough to bite into. Either way your sure to enjoy this hand held apple dessert treat. PS They don't have to be perfect to enjoy eating them. Wink, wink.
Apple Hand Pies
First you'll want to make your pie crust, in this case pie dough for your hand pies. (Or use a pre-made pie dough) It's really easy to make crusts. Although, there are some rules, for making them super yummy.
If you've never made pies before you might enjoy taking this online e course pies and tarts for every season with video tutorials covering everything you need to know about baking pies, tarts, and more for every season.
But, I'll walk you through making today's dough.
How to make pie dough
One rule, I'll share with you is don't over work your dough. I used my favorite pie crust recipe from the New York Times. If you are making more than 3-4 hand pies, you will need to double this recipe. It's an all butter pie crust. (full printable recipe below)
Ingredients for pie dough
butter

white all purpose flour

pinch of salt

ice water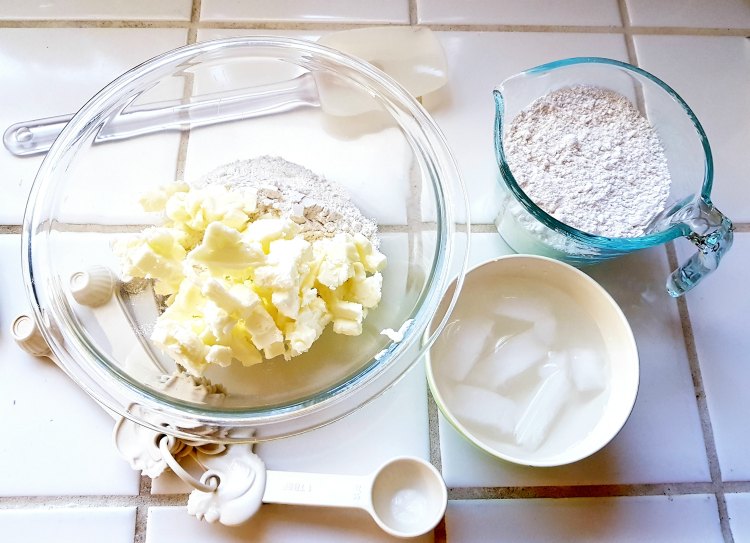 You want your butter to be chilled, and the water to be ice cold.
The best tool for making pie crust is a pastry cutter. If you make pies, it's worth owning one, and they can be used for other things too, such as cutting up bananas for banana bread….The pastry cutter is for mixing the flour, and butter, your cutting in butter with the dough. For other recipes it's great for cutting butter, sugar together.
Once you have it mostly mixed, looking crumbly you will need to add one tablespoon or two of the ice water to get it the right consistency for the pie dough. Flour your hands, and finish mixing the dough with your hands in bowl, until round shape is formed. (that is why I have no photo for this step)
Then put dough onto a floured counter, and cover with saran wrap, and place into the fridge until you need it, up to an hour later. Yes, it can be stored longer, but you may need to soften the dough slightly, to roll it out. You want the dough chilled not hard.
Wrap and chill your dough

Time to make your filling for the hand pies.
How to make apple pie filling
We had picked up these wonderful big, McIntosh apples. You'll need 3-7 depending on how many hand pies you want to make.
We used 3 large apples, it will make 4-6 hand pies depending on the apple slice sizes and dough wrap size.
How to peel and slice your apples
First you'll wash, and rinse them. We received these T-fal products for free, to use while making our recipe.
Then peel your apples.
Then you will slice them, I used my new apple slicer, and corer which really saves you time. (handy for prepping apple snacks too, comes with a cover to protect blades)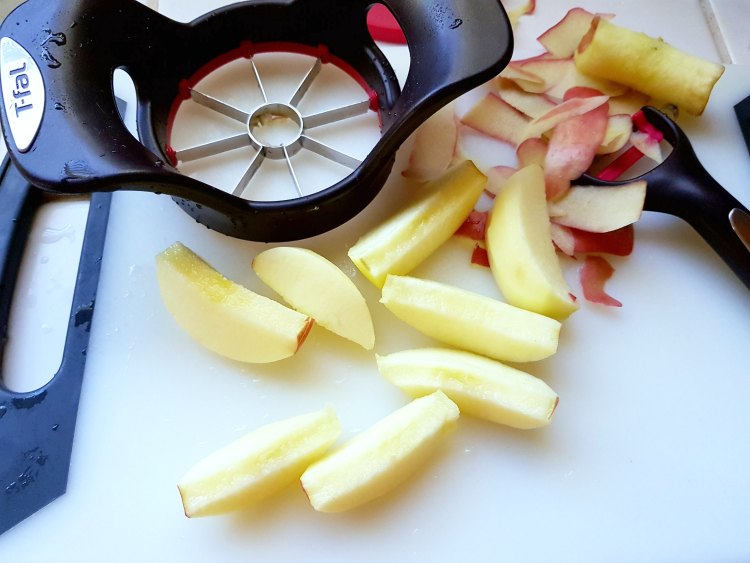 You can slice your apples thinner with your paring knife if you like. Any size peeled, sliced apples are going to work just fine. I see some people pre cook their filling. I never do. I like a natural bite to them. But, you can do it the way you like. (if you would like to pre cook the filling see the same video tutorial for crimping dough, listed later in post)
Apple hand pie filling recipe
1/2 cup brown sugar

1/4 cup granulated sugar

1 tsp. cinnamon

1 tsp. flour

2 tablespoons butter
Next mix up your pie filling ingredients with your sliced apples. Completely cover your apples with the cinnamon sugar mixture. Insert into rolled out dough one by one.
Preheat oven to 400 degrees, while filling your hand pies.
How to fill your hand pies
Roll out your dough using a rolling pin
cut into circles 4-6 inch (or any size you like)
add filling to dough center
fold over dough just shy of bottom edge
close
fold back over edges slightly, go around edge
go back and crimp edges (to get a crimp: press with one finger, holding dough with two fingers.) Or you can use this kitchen tool as a hand pie crimper.
Prepare your hand pies for baking:
brush with an egg wash or brush with butter
sprinkle with sugar
make air holes
Place your prepared hand pies on a silicone baking mat, or parchment paper.
How to bake apple hand pies
Bake at 400 degrees about 20-30 minutes.
Pull out when browned.
Let cool prior to eating.
NOTE: Need a tutorial for how to crimp your apple hand pies? Check out this hand pie recipe video tutorial.
Looking for more apple recipes?
Have you tried making apple hand pies?