We think you will enjoy making these wreath cupcakes. Included are the chocolate cupcakes recipe, the frosting recipe, plus the icing recipe, along with how to make wreath cupcakes. Holidays for us are a special time. We often gather several times over the season seeing family and friends that we don't always get to see. Making Christmas cupcake recipes for guests can be so much fun!
This is an easy holiday dessert for any seasonal gathering. Pick an evening to get together, bring desserts to visit and watch a holiday movie. Do you enjoy baking? If yes, you will enjoy this holiday cupcakes recipe.
Wreath Cupcakes
Baking cupcakes isn't difficult. You just need to remember to use a few of these tips I've learned over the years of cupcake making. Happy Christmas Cupcakes making! The original recipe was created for DearCreatives.com by Christal Blackburn for DearCreatives.com.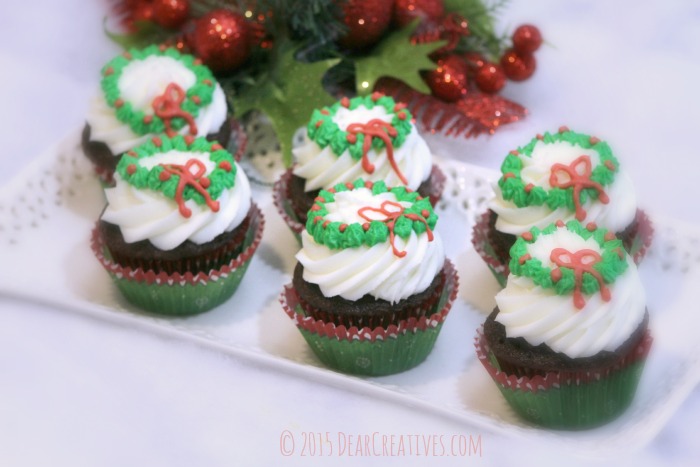 Cupcake Baking Tips
To have all your ingredients out prior to starting. This helps you make sure you have everything you need.
Soften butter if it's called for prior to starting.
Get your eggs at room temperature.
Measure and gently mix all your dry ingredients in one bowl.
Have your wet ingredients in the larger bowl.
Baking recipes most always have you adding dry ingredients slowly to wet ingredients.
Read through directions and ingredient list prior to starting your recipes.
We enjoy baking along with hosting gatherings. We hope these tips help you!
Need help learning how to pipe frosting? This video ButterCream Piping Tips and Techniques
Here's a blog post with a break down of each tip and what the frosting will look like (in images not a video but, she does have videos) How to Frost Cupcakes With Piping Tips
I think both the video and post are helpful if you have never tried piping icing. Looking for other cupcake recipes? I've got you covered with my Cupcake Recipes Pinterest Board.
Follow Theresa Huse's board Recipes: Cupcakes on Pinterest.