Apple Cinnamon Cake is one of my favorite cakes. It's easy to make, moist and the apples are swirled with brown sugar, cinnamon mixture. If you are a fan of apples and cinnamon this is the cake for you to try. It's a delicious apple dessert that you can enjoy any time of year!
It bakes in a 13 x 9-inch pan and is a good size cake. It keeps well in the refrigerator for several days. Enjoy this cake anytime you have apples on hand to use, have gone apple picking or are just craving an apple cake. Looking for something to bake? Try any of our easy cake recipes!
Apple Cinnamon Cake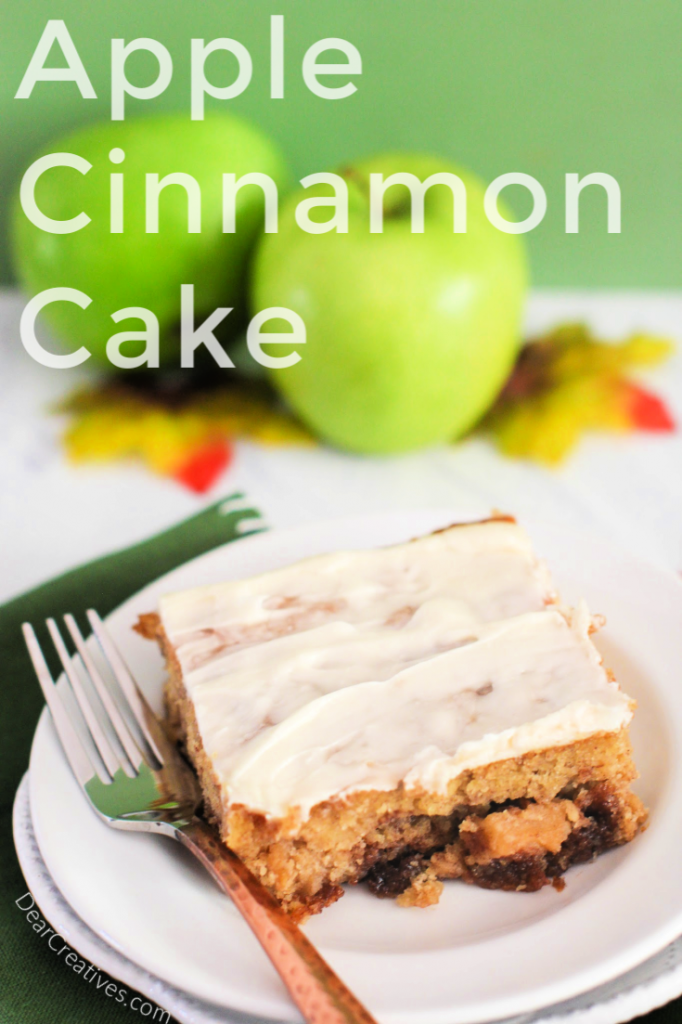 Yes, you can make this apple cinnamon cake from scratch (the apple cinnamon cake from scratch recipe is in the recipe card for that) but, today's recipe is with a boxed mix, it's a cake mix recipe. We enjoy a good baking hack when we are busy or just are looking for a sweet treat without all the work. Do you? We hope you enjoy this cake box recipe idea.
What will this cake taste like?
It has all the flavors of a cinnamon roll but, with the addition of apples. Scrumptious!
What you will need to make this apple cinnamon cake recipe
Ingredients
How To Make Apple Cinnamon Cake
Apple Cinnamon Cake With Cake Mix
All you have to do is prep the apples, make the cake box mix, make the brown sugar mixture for the apples, and assemble! When cooling make the frosting or icing (or use store-bought). Then frost with cooled.
Directions
Gather your ingredients
Preheat the oven to 350F degrees
Wash, peel and chop 3 regular to large size apples (I used red/yellow apples but, any apples will be fine)
Add your chopped apples to a bowl and mix with 3 tablespoons granulated sugar, 1 tsp. cinnamon. Reserve until needed.
Mix your cake mix per the directions on the cake mix box
Add your chopped apples (reserve some for the top layer of the cake)
Coat your baking dish with a non-stick baking spray
Pour the cake batter into the baking dish

In a separate bowl mix up the brown sugar, softened butter, flour, and cinnamon until it's creamy and combined (recipe for brown sugar crumble below)
Add your reserved chopped apples to the top of the cake (they may sink but, not to worry!)
Spoon and drop the brown sugar mixture onto your cake batter

Swirl in the mixture into the cake with a knife

Bake the cake for about 35 minutes or until your cake is done (test cake with a toothpick in the center to see if it is done, when it comes clean it is done)
Let the cake cool completely before frosting
Frost and Serve!
Brown Sugar Crumble
1/2 cup softened butter
1/2 cup brown sugar
1 tablespoon flour
1 1/2 tsp. cinnamon
Mix together in a bowl. Add to cake mixture after step 9, Step 10 in the instructions.
How to Make a Butter Cream Icing
Ingredients
1/2 cup of softened butter
1 cup of powdered sugar
1 tablespoon of vanilla extract
Frosting Directions
Start with these measurements creaming the butter and sugar together with the vanilla. Adjust if needed until the mixture is creamy and easy to smooth onto your cooled cake. If you like a thick frosting you might want to double the ingredients. Or try this recipe – (How to make Butter Cream Frosting)
Optionally, you can purchase a pre-made mix for buttercream frosting
or premade vanilla buttercream frosting
.
Frost your cake. It's ready to serve and enjoy!

Apple Cinnamon Cake Recipe
Enjoy this snack cake any time with coffee, friends, and family.
Cake mix recipes to make
You might remember our apple upside-down cake from a long time ago? Apple Cake Apple cake topped with caramel. Elevate your yellow cake mix. Or use a yellow cake recipe which you can find in the post. This is an upside-down cake.
Are you looking for a pumpkin cake? This Pumpkin Dump Cake is an easy cake to make. Mix in one bowl, swirl spices into the batter while in the pan, bake, cool, frost, and then enjoy! Let them eat cake for Halloween, Thanksgiving, a party or fall gathering this is one sweet treat sure to please everyone!
Make this Peach Dump Cake, it is so easy and a crowd-pleaser. Serve warm, top with ice cream or whip cream. Make it for dessert any time of year
Jelly Bean Cake (easy) How to make a jelly bean cake. And of course we have cakes from scratch with our cake recipes.
Pinata Cake – Make this cake for Cinco de Mayo and other celebrations. Alternate Uses, Gender Reveal Cake. There is step by step images with the instructions. Truly be a no-fail cake to make. Add this to your must-make list!