I decided to create a list of 10 Valentine's Day Crafts To DIY. I have quite a few Valentine's Day projects here on the site and am working on more to share. But, in the meantime, if your looking ahead here are some great Valentine's Day ideas to get you started!
Valentines Day Crafts To DIY
If this isn't what you are looking for. Find our other craft ideas by looking here
Couch Picnic for two Invite and Diy
I love this Valentine's Day DIY idea and free printables. What is not to love about a cozy night on the couch with a romantic movie, popcorn, and candy with the one or one (s) you love if you want to make it a family night of love. I know this is on my list to print and do for Valentine's Day. Shh, don't tell!
If you don't have a Cricut and want to see how to make a simple paper banner for your home you'll love this easy idea with minimal items needed.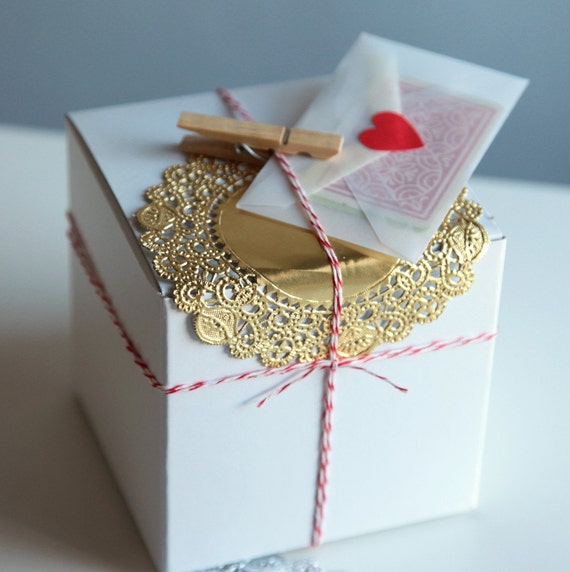 Giving gifts is all about the packaging especially on Valentine's Day. It doesn't have to be hard. pretty gold doilies, bakers twine, and a little felt heart. Take this example of a great idea from HunterandCoDesigns on Etsy. You'll find gold heart stickers, stamps and glassine bags for your goodies.
These are a simple way to create your own tags for your Valentine's day gift. Don't sew any worries just make the sewing line with a white chalk marker or even gold marker!
Homemade Play Dough Valentine Recipe and Diy
This homemade playdough recipe can be found along with a free printable to make kids a fun Valentine holiday gift. You could also just buy a can of play dough and a heart cookie cutter and use the printable for them to make their own on another day. Either way, this is a great idea for kids 2 or 3 years old – 8 years old or ….
This is a super easy gift idea for Valentine's day to put together. Use a pretty jar and give it re-purposed Valentine Flair!
Purl Bee has a step by step DIY for making these cute barrettes any little girl would love or even make them magnets by gluing the hearts to the magnet vs the barrette.
Valentine's Day Kids Craft –Salt Dough hearts. Of course you don't have to be a kid to create these. Make them as simple or creative as you like! DIY, tutorial, and salt dough recipe included in the craft project.
Related Content-See all our
Crafts for Valentine's Day
You can also search Valentine's Day crafts and more ideas will come up right here on the site!
What is your favorite Valentine's Day Craft to make?
More fun starts with these Valentine's Day Craft Supplies – Shop supplies on Amazon