I just read a new creative book, checking this book off my creative business books to read book-list. The book I read is, "Your Creative Career" by Anna Sabino. Do you enjoy finding books worth reading? What about books for creative careers? Or books to inspire you to move forward with your passions, while growing your creative career? This one might be of interest to you. Today I'm going to share a few thoughts, and overview of the book that I read. At the end of today's post I've added a few other creative business books worth reading to propel your creative lifestyle, and businesses.
Your Creative Career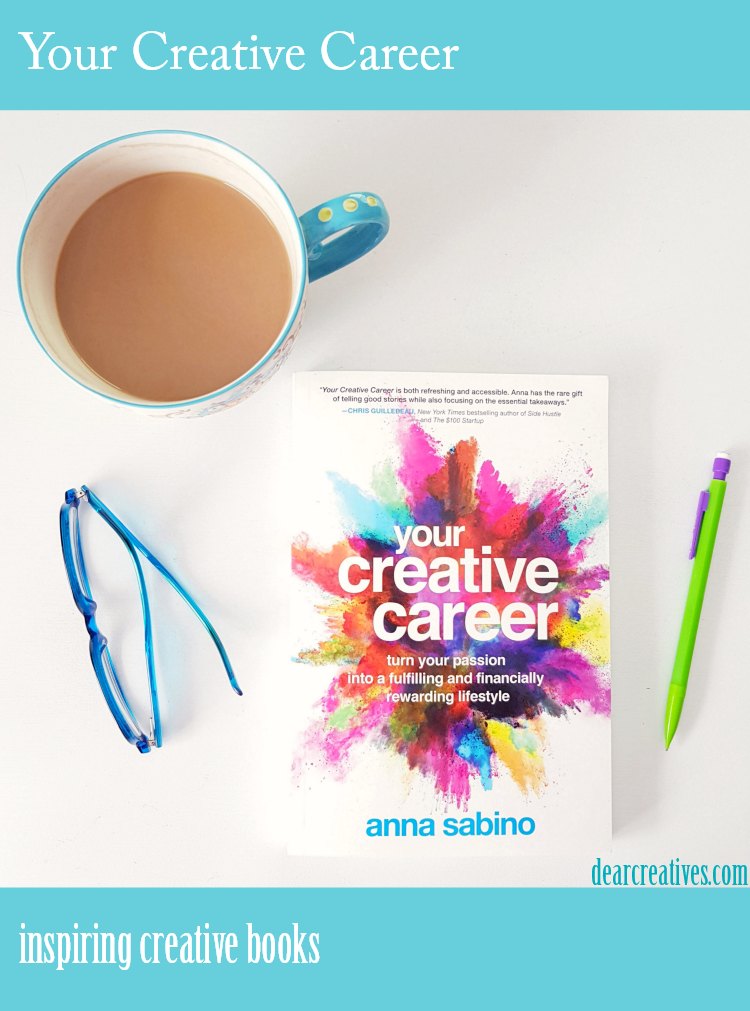 I love reading both indoors or outdoors, and love having a book in my purse where ever I go. Perfect for the pickup line or days waiting for sports practice to be done. When do you read? This book is available also on Kindle, and audio.
About today's book author. If your not familiar with Anna Sabino she is the designer behind the brand Lucid New York. Her jewelry brand is sold in over 100 stores all over the world, and she has been featured in magazines such as StyleWatch, and Vogue… I did receive a copy of the book for free for reviewing purposes. All thoughts are my own.
What I think you will like about the book,
"Your Creative Career"
Anna references, and quotes some great resources throughout each section.
She has questions prompting thought, and spaces for you to answer or make notes on what you have just read.
She offers tips for building your brand, and staying true to your brand.
Anna shares her failures, as well as success + tips to keep you from making those mistakes.
At the end of the book are pages of reference resources mentioned in the book.
The advice has practical, and insightful steps to consider or implement to grow your creative business.
From exploring creativity, living unconventionally,timing, connections, creative blocks, pivoting, to up-selling.
Anna talks about serving your customer, and meeting their needs.
Below a snapshot of part of the book. In a section about how to find, and create the space you are most productive in. With questions at end, and writing space.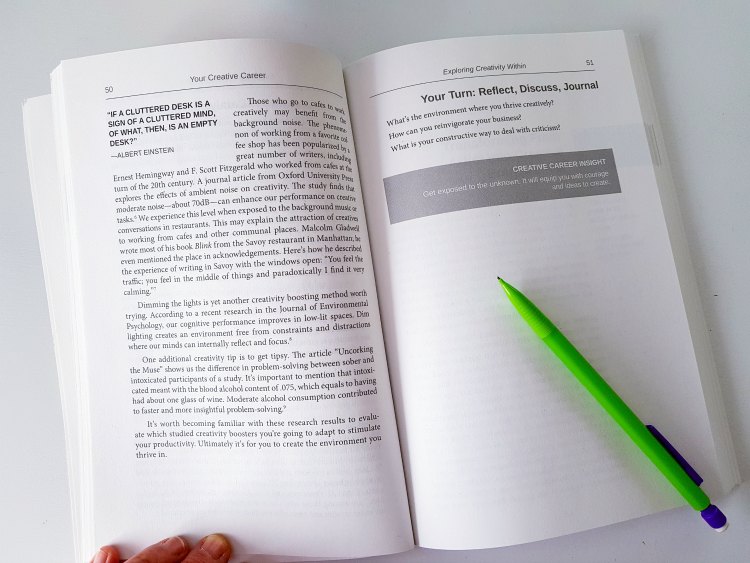 This book really covers a lot in 178 pages. I found Anna's book, "Your Creative Career" worth reading but, at first I had a hard time diving in. As she unseemly was repeating, thoughts or ideas. But, after page 25 things start to pickup, and I was able to really focus on the reading, and what was being told in the book by her. At that point her thoughts were clear, and directed to sharing tactics, and strategies for your creative career. (Although this is not a straight up business book. She also refers to her business, and experience through story telling of her career, while giving you insights, and tips for making your own creative career.) This is a super fast read, that sheds insights into turning your passion into a financially rewarding lifestyle.
The book "Your Creative Career" could pertain to anyone interested in creating products to sell in an Etsy or online shop, or has a business started already and would like insights into growing. Who else could this book be for? Anyone wishing to leave their desk or day job, and enter into a creative career.
If your interested in listening to her talk about her career, and book you can on this videoed pod cast with Anna Sabino.
What will you add to your must read list?
Books to read
What are you reading? Do you know any good books to read? Do spill!