This Wardrobe is the prettiest, most extensive upcycled furniture that I have seen in a long time. Are you looking for furniture upcycle ideas? I love it when someone in our blog community shares their furniture makeovers with us and I get to share it with you. This diy project is all that! It literally was guts and rebuild making the prettiest furniture restoration.
Upcycled Furniture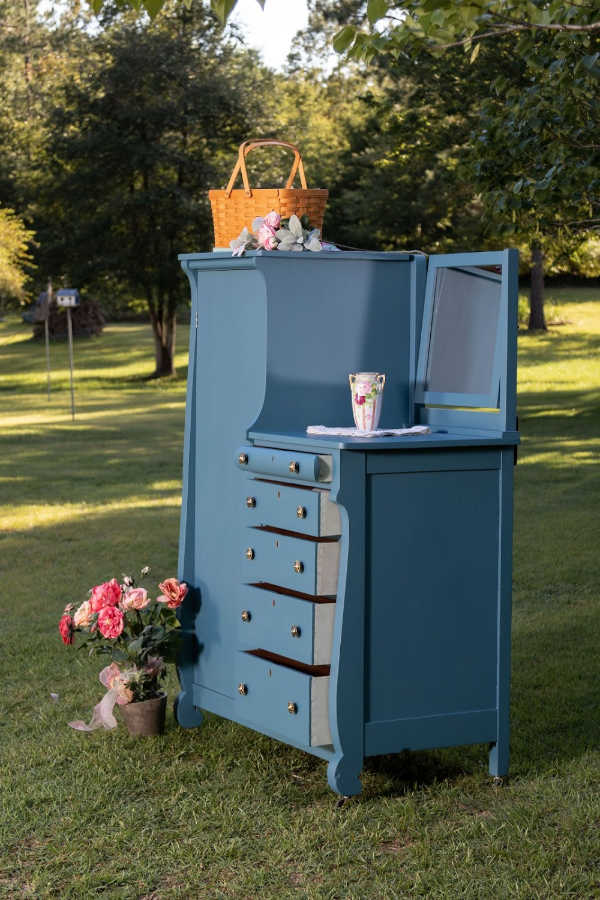 I admit the average person might not be able to tackle a fixer upper
this big. But, if you are handy or have someone handy to help you this furniture project will inspire you to get working on your next project.
Not as handy? Look for a piece of furniture on Craig's List, a yard sale or thrift shop that just needs a little TLC such as painting. I know I will be looking for pretty pieces to makeover this spring when I'm out at yard sales and the flea market.
The paint color choice of this wardrobe is impressive. It makes me want to redo my dresser to kitchen island with a pop of color!
It is almost due for a deep cleaning and new paint job it's been a few years since I gave it a furniture makeover. Enough about that check this antique wardrobe out.
Upcycled Furniture Before and After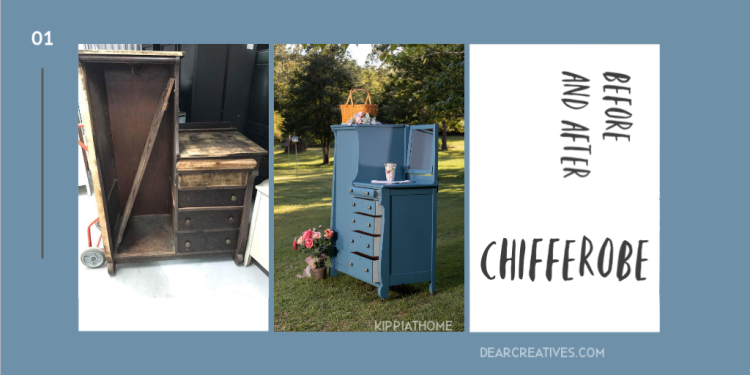 What is a chifforobe?
It's a piece of furniture having both drawers and a space for hanging clothes.
What were repairs were done to this antique dresser?
Restored and painted an antique wardrobe
Replaced pulls
Build a mirror holder and frame
Had mirror cut
Ordered special mirror tilt hardware
Added castors
Painted
The finished results is a beautifully restored and finished antique wardrobe. PS. If you live in the Pensacola Florida area this piece (antique wardrobe, chifforobe) might still be for sale.
Do you have a project to inspire us with?
We'd love to share your ideas, flea market flips, diys, home projects, crafts and recipes.
Are you looking for more upcycling ideas?